#POPxoReviews: This Hair Serum Completely Transformed My Hair And How
St. Botanica Pro-Keratin & Argan Oil Hair Serum
In This Article
As soon as I got my hands on the St. Botanica Pro-Keratin & Argan Oil Hair Serum, my haircare routine totally transformed for the better. Instead of wasting my time with a 5 step-curly girl routine, all I do is apply a little bit of this magic serum before I wash my hair. And at first, I did not believe the results!
This Kit Includes: A Deeply Nourishing Hair Serum
The ultimate solution to healthy, luscious hair, St. Botanica's Pro-Keratin & Argan Oil Hair Serum offers deep nourishment to your hair, while effortlessly detangling to prevent hair breakage. Along with keeping the hair nourished for hours, it also makes the frizz go away like magic. With a super handy pump system, a little goes a long way with this formula. You'll only need 1-2 pumps!
Why We Love It: Formulation, Ingredients, etc. 
The St. Botanica Pro-Keratin & Argan Oil Smooth Therapy Hair Serum is a super-lightweight, non-greasy serum that tames your frizzy hair. The serum is formulated with keratin (helps with detangling), argan oil (adds shine and smoothes out edges) as well and Vitamin E (protects hair from damage and adds moisture).
How To Use It: It's So Simple!
Pump a little quantity in your palms. Apply the serum on wet or dry hair, starting from the tips to the top of your head. Do not apply to the roots since it might be a little heavy for the scalp. Avoid rubbing your hair aggressively since that may cause breakage and/or split ends.
The Product Looks Like: A Sneak Peek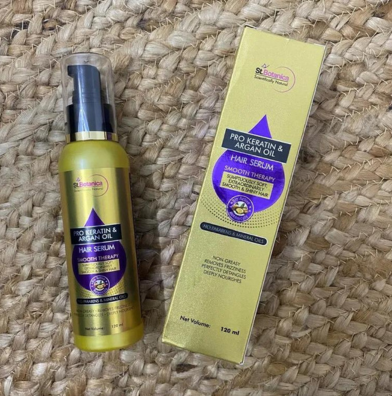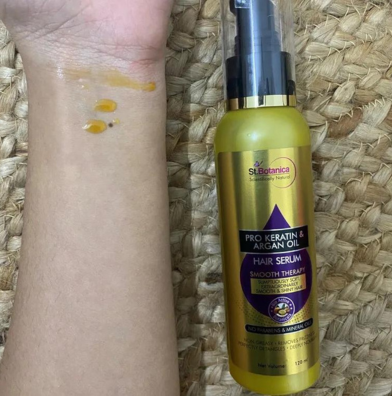 Key Ingredients::
Keratin, vitamin E and argan oil.
Easy To Use::
Comes in a convenient pump bottle you can leave on your vanity.
In Conclusion
This serum has been an after-hair wash essential for me for the past few months. It is super easy on the pocket and does the job so well, I don't need any other styling products!
Recommended For You
The MyGlamm Jet Set Eyes Kajal Eyeliner Won't Budge Till You Want It To
The POPxo Glow Goals Illuminating Sunscreen Gave Me Glazed Skin + SPF Protection!
Want Buttery Smooth Skin? Try The Bath & Body Works Gingham Ultimate Hydration Body Cream
Nothing's Set In Stone, Except Your Makeup After The MyGlamm POSE HD Setting Powder!
The MyGlamm LIT Liquid Matte Lipstick Is Shraddha Kapoor's Go-To & I See Why
The MyGlamm LIT Lipliner Pencil Is The Best Lipliner I Tried In 2023
---
© 2023 THE GOOD GLAMM GROUP