#POPxoReviews: Get Rid Of Your Tan With This Brightening Sheet Mask
POPxo De-Tan Jam Instant Brightening Yoghurt Sheet Mask
In This Article
The POPxo De-Tan Jam Instant Brightening Yogurt Sheet Mask is a multi-tasking, de-tanning sheet mask that was made to make post-sun skincare easy. As easy as putting on a mask and forgetting about it! Here's how this after-sun care product has been saving my skin and time.
This Kit Includes: A Serum-Infused Sheet Mask
The POPxo De-Tan Jam Instant Brightening Yogurt Sheet Mask is a biodegradable, delicious-smelling sheet mask that was formulated to reverse any damage done to your skin by the sun! It works to bring back your natural radiance by sloughing off dead skin cells and nourishing the skin.
Why We Love It: Formulation, Ingredients, etc.
Created with niacinamide, hyaluronic acid, and sandalwood, the mask works overtime to brighten your skin and fade dark spots while reducing the dullness caused by sun exposure. With apricot and yoghurt, the mask also improves skin elasticity and hydrates your face for that coveted plumpness.
How To Use It: It's So Simple!
Wash your face with a cleanser and then apply a toner. Remove the sheet mask from the packaging and place it over your face ensuring that the eye, nose, and mouth cutouts are placed correctly.
Adjust the sheet mask to the contours of your face and just sit back and relax for 20 minutes with the mask on. When the time is up, discard the sheet mask and massage the residue on your face, neck, elbows, and knees.
The Product Looks Like: A Sneak Peek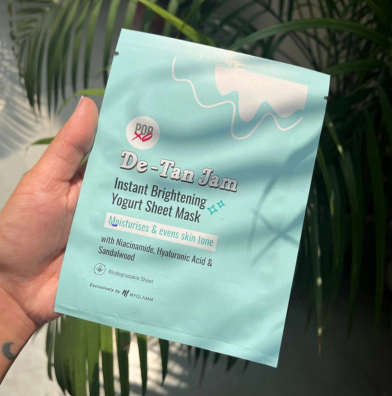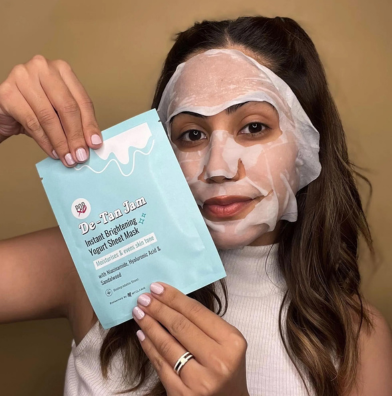 HERO INGREDIENTS:
Apricot, yoghurt, niacinamide, hyaluronic acid and sandalwood.
Quick Fix:
De-tans your skin and plumps in 20 minutes.
In Conclusion
The POPxo De-Tan Jam Instant Brightening Yogurt Sheet Mask is my go-to mask when I need something to help my skin reset. It gets rid of all the grime and leaves my skin feeling like it just had a mini-vacation. Did I also mention that it comes in three variations which are super pocket-friendly and easy to use? Try them out, I vouch for them!
Recommended For You
The MyGlamm Jet Set Eyes Kajal Eyeliner Won't Budge Till You Want It To
The POPxo Glow Goals Illuminating Sunscreen Gave Me Glazed Skin + SPF Protection!
Want Buttery Smooth Skin? Try The Bath & Body Works Gingham Ultimate Hydration Body Cream
Nothing's Set In Stone, Except Your Makeup After The MyGlamm POSE HD Setting Powder!
The MyGlamm LIT Liquid Matte Lipstick Is Shraddha Kapoor's Go-To & I See Why
The MyGlamm LIT Lipliner Pencil Is The Best Lipliner I Tried In 2023
---
© 2023 THE GOOD GLAMM GROUP