#POPxoReviews: This Sunscreen Spray Is The Easiest Way To Reapply Sunscreen
POPxo Beach Bum Multi-use Sunscreen Spray SPF 50 PA+++ 50ml
In This Article
The POPxo Beach Bum Multi-use Sunscreen Spray SPF 50 PA+++ promises zero greasiness, zero white cast, zero breakouts. From the first spritz, I knew we were going to be inseparable. This spray-on sunscreen is now my go-to SPF, making suncare super hassle-free!
This Kit Includes: A Super Handy, Spray On Sunscreen
The POPxo Beach Bum Multi-Use Sunscreen Spray is a multitasking product that's easy to use and even easier on the pocket. Since it comes in a spray bottle, you can carry it around in your bag and reapply sunscreen whenever required without greasing your hands or your makeup. As a broad-spectrum sunscreen, the spray gives you SPF 50 PA+++ protection AND you can even use it on your hair!
Why We Love It: Formulation, Ingredients, etc. 
Formulated with hyaluronic acid and a blend of potent superfood oils, this sunscreen is more than just a sunscreen. It has a lightweight formula and nourishes your skin while blocking 98% of UVB rays (giving you more than 8 hours of UVB protection). Furthermore, the texture is water-resistant and works perfectly on acne-prone skin.
Additionally, this sunscreen makes reapplying a breeze. All you have to do is spray this on before your makeup and then you can easily reapply throughout the day, as and when you need.
How To Use It: It's So Simple!
Start with a well-prepped, clean face. Add toner and moisturiser, then shake the bottle and spritz a generous amount of this sunscreen from head to toe and let it soak in. Do this at least 30 minutes before stepping out in the sun. Reapply this sunscreen 2 hours later, by spritzing it on your skin. 
The Product Looks Like: A Sneak Peek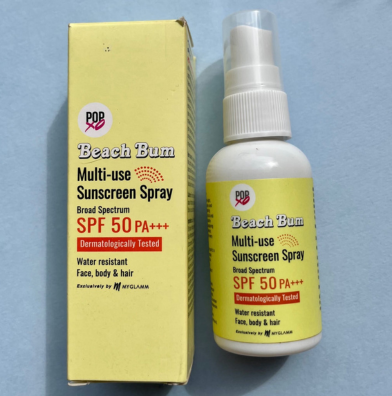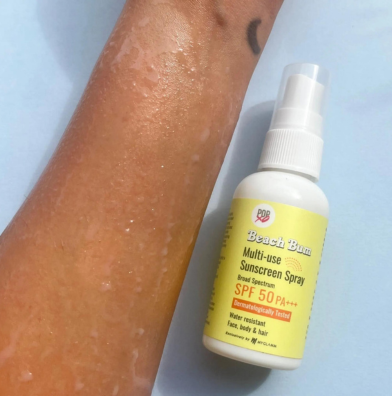 Free of:
Parabens, alcohol.
Hero ingredients:
Hyaluronic acid, broccoli extract, raspberry seed oil, and cucumber extract.
In Conclusion
Nothing is ever going to make your life easier than the POPxo Beach Bum Multi-use Sunscreen Spray SPF 50 PA+++. So what are you waiting for? Get yours before it runs out!
Recommended For You
The MyGlamm Jet Set Eyes Kajal Eyeliner Won't Budge Till You Want It To
The POPxo Glow Goals Illuminating Sunscreen Gave Me Glazed Skin + SPF Protection!
Want Buttery Smooth Skin? Try The Bath & Body Works Gingham Ultimate Hydration Body Cream
Nothing's Set In Stone, Except Your Makeup After The MyGlamm POSE HD Setting Powder!
The MyGlamm LIT Liquid Matte Lipstick Is Shraddha Kapoor's Go-To & I See Why
The MyGlamm LIT Lipliner Pencil Is The Best Lipliner I Tried In 2023
---
© 2023 THE GOOD GLAMM GROUP