#POPxoReviews: This Beginner-Friendly Eyeliner Gives Pro-Level Results
The MyGlamm LIT Glossy Liquid Eyeliner
In This Article
The MyGlamm LIT Glossy Liquid Eyeliner definitely has to be the next addition to your makeup closet. It's everything you want your eyeliner to be: paraben-free, available in a wide variety of shades, and ridiculously easy on the pocket.
This Kit Includes: The Only Glossy Eyeliner You Need
The MyGlamm LIT Glossy Liquid Eyeliner comes in a variation of five gorgeous shades: black, blue, green, purple, and pink. As the name suggests, each shade leaves a glossy finish fit for editorials or daily wear, totally your call! But that's not all, the intense colour payoff compliments every shade of the Indian skin tone. It makes sure all your eye looks complement the rest of your makeup, instead of competing with it.
Why We Love It: Formulation, Ingredients, etc. 
The formula is crease-proof and smudge-proof, staying on for 24 hours without flaking, no matter how experimental your look is. And, since the pigment is super lightweight, it doesn't feel too heavy or flake into your eyes. Furthermore, the eyeliner's unique flexi-tip brush makes drawing precise, which means you're not going to spend hours applying and removing the perfect wing.
How To Use It: It's So Simple!
Make sure to clean your skin and moisturise well. Usually, you would apply a primer before any eye products but with this, you can just go in with the product. For the perfect wing, draw a thin line close to your lashline from the inner to the outer corner.
From the outer corner, create the tail of the wing, angling it towards the end of your eyebrow. Connect the tail back to the lashline, creating a sharp triangular shape. Fill in any gaps to intensify the colour and use some makeup remover/oil on a cotton swab to perfect and sharpen the edges. Voila, it's the perfect wing!
The Product Looks Like: A Sneak Peek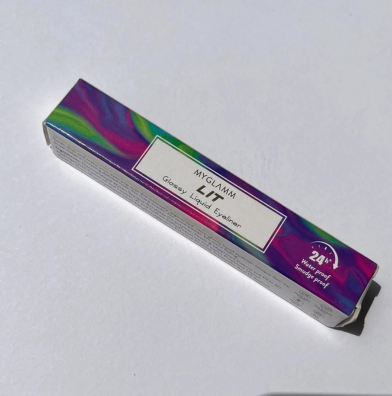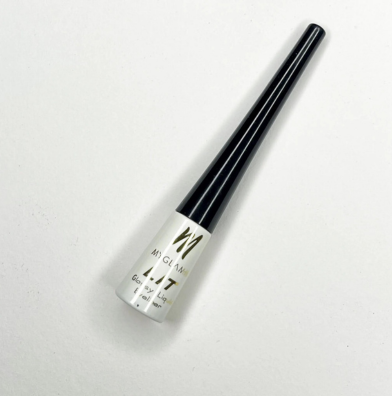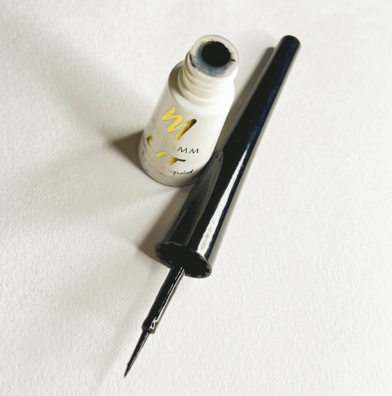 Budge-Proof:
Smudge proof, flake free and crease proofs.
Lots Of Variety:
Available in 5 unique, glossy shades.
In Conclusion
My makeup looks have gotten a luxe upgrade thanks to this amazing liquid eyeliner.
Recommended For You
The MyGlamm Jet Set Eyes Kajal Eyeliner Won't Budge Till You Want It To
The POPxo Glow Goals Illuminating Sunscreen Gave Me Glazed Skin + SPF Protection!
Want Buttery Smooth Skin? Try The Bath & Body Works Gingham Ultimate Hydration Body Cream
Nothing's Set In Stone, Except Your Makeup After The MyGlamm POSE HD Setting Powder!
The MyGlamm LIT Liquid Matte Lipstick Is Shraddha Kapoor's Go-To & I See Why
The MyGlamm LIT Lipliner Pencil Is The Best Lipliner I Tried In 2023
---
© 2023 THE GOOD GLAMM GROUP