POPxoReviews: My Go-To For Instant Skin Relief? This Hydrating Sheet Mask!
POPxo SunDowner Soothing Chamomile Sheet Mask
In This Article
The POPxo SunDowner Soothing Chamomile Sheet Mask is one of my go-tos when nothing else works, and my skin needs some quick hydration. One mask is obviously not going to solve the problem forever, but organic ingredients can go a long way in the journey to healthy skin.
This Kit Includes: A One-Of-A-Kind Sheet Mask
The POPxo SunDowner Soothing Chamomile Sheet Mask is just one version of three, and the ultimate solution to irritated, inflamed, sunburnt skin. Formulated with a trifecta of wholesome ingredients that work to restore your natural glow, this sheet mask is a skincare essential that is super easy to carry when you're travelling, or prepping for a big day!
Why We Love It: Formula, Ingredients, etc.
The formula is infused with a series of powerful, soothing ingredients like chamomile (calms and soothes the skin), niacinamide, and hyaluronic acid (to brighten and hydrate) as well as rice water and calendula (for cooling). It's super hydrating without making the skin oily and smells absolutely amazing.
With anti-inflammatory and antibacterial properties, the The POPxo SunDowner Soothing Chamomile Sheet Mask works to reduce any unwanted redness and irritation instantly, while also protecting the skin against free radical damage.
How To Use It: It's So Simple!
Chill the sheet mask packet in the fridge before opening it. Remove the mask from the packaging and unfold it. Apply the sheet to your cleansed face and place the holes over your mouth and eyes. Adjust the sheet mask to the contours of your face well. Let it sit for 20 minutes.
When the time is up, discard the sheet mask and massage the residue on your face and neck. You can even use a jade roller or kansa wand to further massage your face.
The Product Looks Like: A Sneak Peek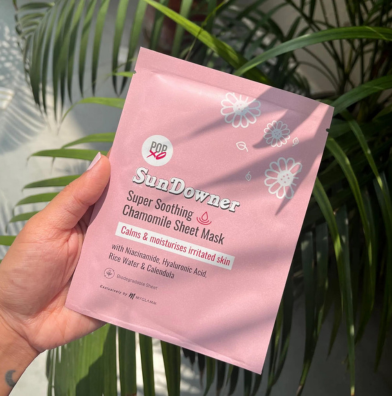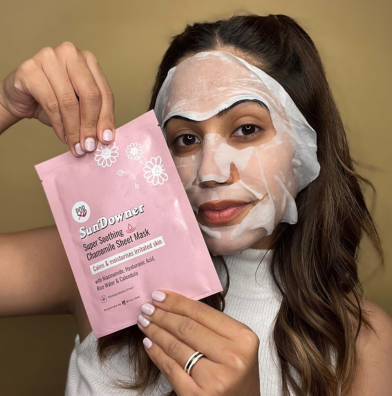 Hero Ingredients:
Chamomile, hyaluronic acid, rice water, niacinamide.
In Conclusion
My skin is in love with this sheet mask! It drinks up the formula and makes my face super plump and radiant without clogging my pores. A total must-have for your next self-care Sunday routine. 
Recommended For You
The MyGlamm Jet Set Eyes Kajal Eyeliner Won't Budge Till You Want It To
The POPxo Glow Goals Illuminating Sunscreen Gave Me Glazed Skin + SPF Protection!
Want Buttery Smooth Skin? Try The Bath & Body Works Gingham Ultimate Hydration Body Cream
Nothing's Set In Stone, Except Your Makeup After The MyGlamm POSE HD Setting Powder!
The MyGlamm LIT Liquid Matte Lipstick Is Shraddha Kapoor's Go-To & I See Why
The MyGlamm LIT Lipliner Pencil Is The Best Lipliner I Tried In 2023
---
© 2023 THE GOOD GLAMM GROUP