#POPxoReviews: Meet The Tinted Sunscreen That Changed My Life
The POPxo Selfie-Ready Tinted Sunscreen SPF 50 PA+++
In This Article
The POPxo Selfie-Ready Tinted Sunscreen SPF 50 PA+++ is everything that I want a sunscreen. This one is easy to apply, super lightweight, and tinted! This means you can replace your foundation with it, especially if you're travelling or live in a humid city like Mumbai.
This Includes: A Super Lightweight, Tinted Sunscreen
The POPxo Selfie Ready Tinted Sunscreen is a water-resistant, tinted sunscreen that offers broad-spectrum protection with SPF 50 PA+++. This means it blocks 98% of UVB rays while offering blue light protection from electronic devices. Furthermore, while the sunscreen is tinted, it's a universal shade that is formulated for Indian skin tones and provides an ultra-sheer coverage. All in all, it's perfect for that no makeup, makeup look!
Why We Love It: Formulation, Ingredients etc. 
Trust me when I say that this is like an Instagram filter for your skin. The lightweight mousse formula is non-sticky and leaves no white cast all while blurring any appearance of lines. The product is formulated with spinach extract which is a great source of antioxidants and soothes your skin post-application. The tint adjusts to any skin tone and the sheer coverage formula works surprisingly well to conceal any spots or blemishes.
How To Use It: It's So Simple!
Follow your three-step CTM routine and then blend the POPxo Selfie Ready Tinted Sunscreen on your face and neck. Make sure to apply it at least 15 minutes before you step out into the sun.
The Product Looks Like: A Sneak Peek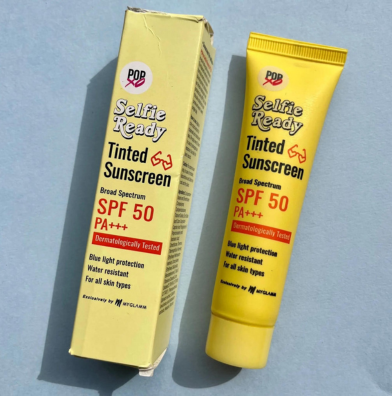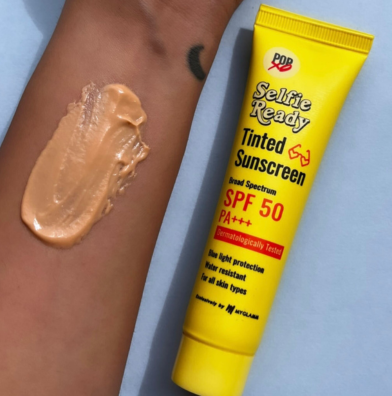 Specifications:
SPF 50+++, blocks 98% of UVB rays, blue light protection from electronic devices.
In Conclusion
Remember: all the cool girls wear sunscreen, and this one's really worth the hype. So, go on and add it to your skincare stash.
Recommended For You
Everyone's Obsessed With The Clinique Almost Lipstick Black Honey, But I Just Don't Get The Hype
Here's Why I Won't Be Repurchasing The Body Shop Chamomile Cleansing Balm
The Simply Nam Hydrating Lip Butter Gets Me Compliments, Even From Strangers!
Flossy Cosmetics' Get Glazed 24k Lip Gloss Has Travelled With Me On Every Single Flight, Here's Why
Eye Creams May Be A Scam But Trust Me, The Ordinary's Caffeine Solution Eye Serum Actually Works
The MyGlamm Jet Set Eyes Kajal Eyeliner Won't Budge Till You Want It To
---
© 2023 THE GOOD GLAMM GROUP