POPxoReviews: Get Brighter Skin With This Affordable Vitamin C-Infused Face Wash
Brightening Face Wash: Kakadu Plum & Acai Berry by Organic Harvest
In This Article
I'm the kind of person who likes to keep things simple when it comes to my skincare. Using too many products usually tends to make it more perceptible to redness and breakouts. So when it was time to get my glow back I wanted to do my research on glowing skin before investing in random products I saw all over my feed.
One thing I had to get myself was the Vitamin C-infused Brightening Face Wash: Kakadu Plum & Acai Berry by Organic Harvest!
What To Expect: Formulation, Texture, etc.
The Organic Harvest Brightening Face Wash: Kakadu Plum & Acai Berry is a total glow-getter. Formulated to deliver fresh and hydrated skin, it effectively washes away dirt and impurities along with dead skin cells that accumulate and cause dullness.
Furthermore, the gel-based formula feels nourishing and soothing on the skin. It doesn't dry your skin as it works to unclog pores and promote an overall even texture and baby-smooth skin.
Why We Love It: For It's Ingredients
Vitamin C is a powerful ingredient for glowing skin. With face wash, my skin got the best treatment with visible results pretty quickly. The Kakadu Plum works tirelessly to soothe and brighten your skin while the acai berry helps fight acne and pollution exposure.
How To Use It: It's So Simple!
Wet your face with water. Take a small amount of the face wash gel in your palm and massage it on your skin using circular motions. Rinse it off with water and pat dry. Follow it up with a toner and moisturiser.
The Product Looks Like: A Sneak Peek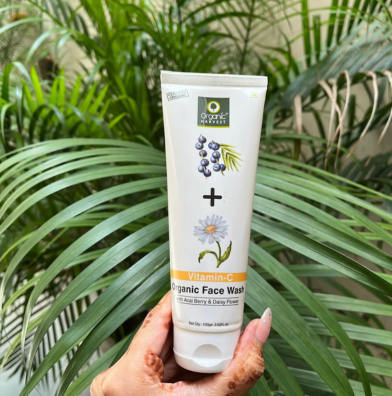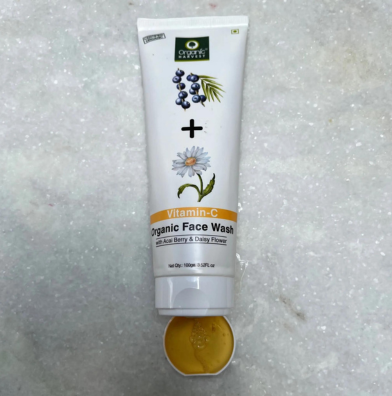 Free from:
Parabens and mineral oils.
Vitamin C:
Brightens skin.
Acai Berry:
Fades blemishes.
In Conclusion
Suitable for both men and women, including all skin types from oily to dry, the Organic Harvest Brightening Face Wash: Kakadu Plum & Acai Berry is your best budget-friendly bet for radiant, hydrated and clean skin.
Recommended For You
Everyone's Obsessed With The Clinique Almost Lipstick Black Honey, But I Just Don't Get The Hype
Here's Why I Won't Be Repurchasing The Body Shop Chamomile Cleansing Balm
The Simply Nam Hydrating Lip Butter Gets Me Compliments, Even From Strangers!
Flossy Cosmetics' Get Glazed 24k Lip Gloss Has Travelled With Me On Every Single Flight, Here's Why
Eye Creams May Be A Scam But Trust Me, The Ordinary's Caffeine Solution Eye Serum Actually Works
The MyGlamm Jet Set Eyes Kajal Eyeliner Won't Budge Till You Want It To
---
© 2023 THE GOOD GLAMM GROUP