Just like your mood on the weekends, your skin could use a drink as well! So let it unwind and chill with the latest range of hydrating sheet masks by POPxo. Why? Because dehydrated skin is the root cause of most skincare concerns and hydrating it right will have your glow game untethered and thriving. Be it inflammation, breakouts, dryness, or greasy skin, a shot of hydrating skincare with a sheet mask is just the ticket to make these skin troubles go away.
So give in to your skincare cravings and slap on these POPxo Sheet Masks for they hit the sweet spot with their glow-boosting ingredients. Here's an exclusive lowdown of the collection with a direct course to add them to your beauty kit ASAP!
The New POPxo Sheet Masks Collection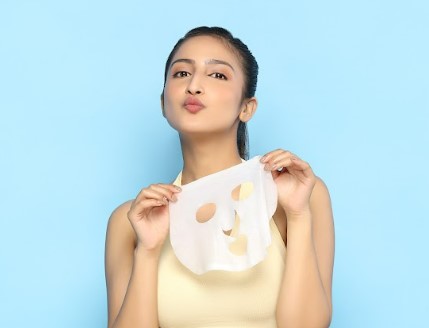 Here are 3 hydrating sheet masks that will soothe your skin and give you an instant glow-up.
Soothe Operator
An after-sun sheet mask infused with soothing chamomile, it's the perfect skin hydrator for your EOD skincare ritual. The sheet holds a serum formula that calms skin while also delivering the benefits of niacinamide and hyaluronic acid to brighten and hydrate. Rice water and calendula extract further provide a calming effect on inflammation like redness or breakouts so that you feel comfortable in your skin when the sun goes down. The mask is lightly scented with lily so that you have a complete therapeutic spa-like experience right in the comfort of your home.
Ditch The Tan
Spending time in the sun will slightly darken your skin, especially if you forget to reapply sunscreen in time. But don't worry because the POPxo De-Tan Jam Sheet Mask will get your glow back. Perfect to instantly brighten your skin and remove tan, it is enriched with radiance-boosting ingredients like yoghurt and sandalwood. Your skin will regain its lost glow without a fuss and other issues like dryness, oiliness, or acne will also be resolved. Niacinamide and hyaluronic acid in the mask ensure that your skin is hydrated and soothed with complete clarity. Even dark spots will fade and dead skin will be wiped off your skin with this amazing skin solution.
Cucumber Number
Hop on the dewy skin bandwagon by opting for the POPxo Fresh Start Sheet Mask. With the benefits of cucumber, this mask will put a stop to oxidative stress, reduce fine lines, and thoroughly hydrate your skin. It has calming abilities that will put skin trouble to rest with a dose of cooling moisture. The sheet mask is rich in vitamin C and also contains hyaluronic acid and niacinamide which will all help in boosting radiance and healing post-breakout scars. So, kiss puffy and irritated skin goodbye with the help of this soothing skincare find.
What are you waiting for? Add these sheet masks to your cart and checkout already, because we don't want you to miss out on these skin-hydrating heroes.
Featured Images: Author's Own