Nothing can compare to the taste of street food in India, not even the fanciest of restaurants. From the bursting flavours of golgappa to the buttery deliciousness of pav bhaji– the taste that you'll find in Indian street food items is unmatched! Pav bhaji is among the most loved street food items and is every Mumbaikar's favourite. Did you know this outstandingly delicious dish is very easy to cook? It's basically a mixture of vegetables and spices, served with butter pav, crunchy onions, lemon wedges. If you wanna try cooking it at home, below are some easy pav bhaji recipes that you can try!
Pav Bhaji Ingredients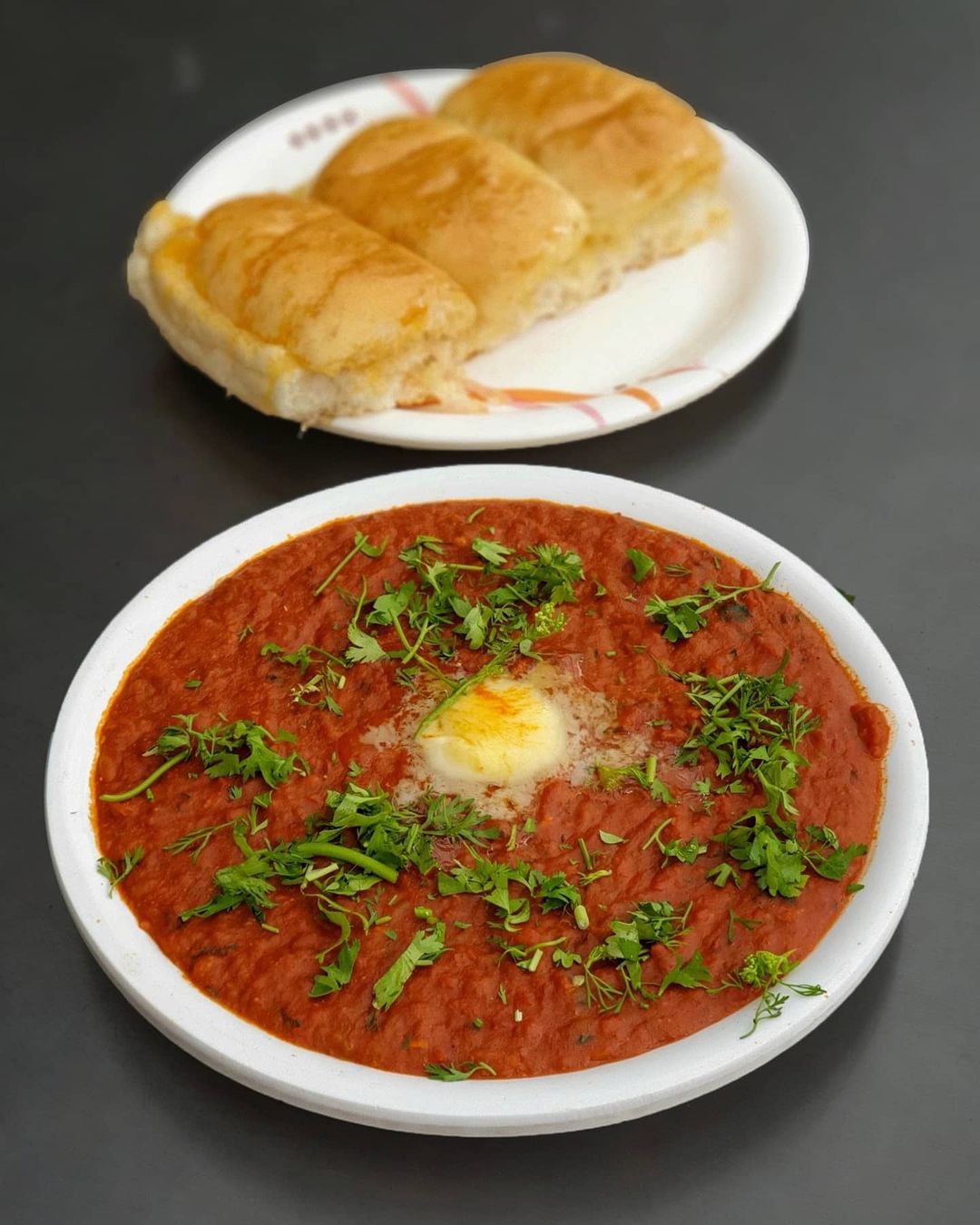 Most of the ingredients needed for making pav bhaji can be easily found in your fridge, and you won't need to specially buy anything else. As for pav bhaji masala, you can also make it at home, however, there are many pav bhaji masala powders available in the market that you can use directly. Without further ado, here's a list of ingredients that you'll need for the pav bhaji recipe. 
1 tablespoon oil
2 tablespoon butter
2 teaspoon cumin seeds
1.5 cups chopped tomatoes
1.5 cups chopped potatoes
½ cup cauliflower florets
½ cup finely chopped onions
½ cup chopped capsicum
½ cup green peas
¾ tbsp ginger-garlic paste
1 tablespoon chilli powder
1.5 tablespoon pav bhaji masala
1.5 tablespoon finely chopped coriander
Salt to taste
How To Make Pav Bhaji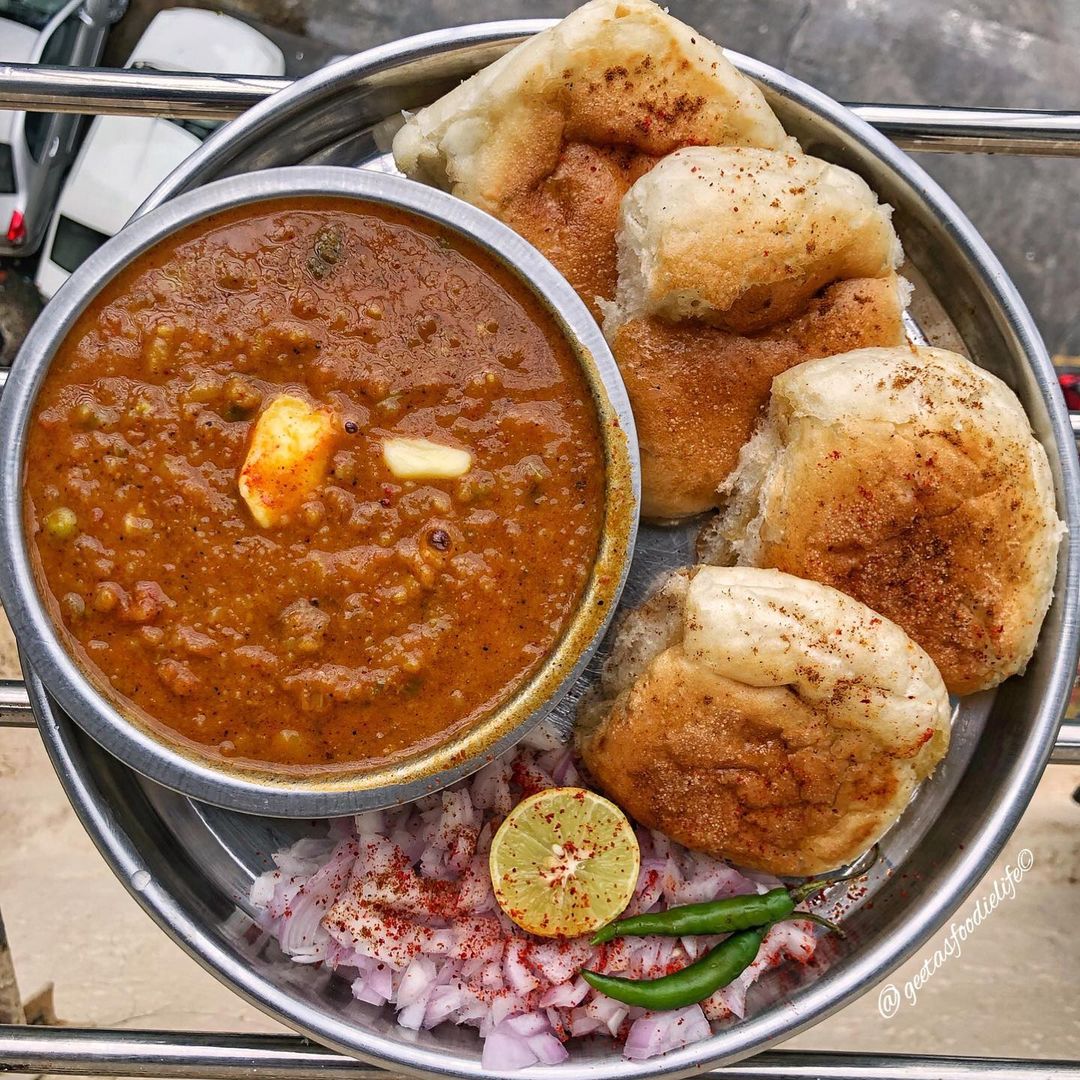 There are two ways you can make pav bhaji. Street-style pav bhaji is usually made in a tawa, and the flavour is simply amazing. However, a quick version can be made using a pressure cooker. It's the best recipe for when you don't have a lot of time on your hands, and want to come up with the dish in under 30 minutes. Check out how to make pav bhaji at home.
Heat 2 tbsp butter and 2 tbsp oil in a pressure cooker, keeping the lid open.
Add cumin seeds, and let them crackle.
Add onions and capsicum and sauté them. After 2 minutes, add ginger-garlic paste and mix it for about 2 more minutes.
Simmer the flame and then add chilli powder, pav bhaji masala, salt, tomatoes, potatoes, cauliflower, peas, ¾ cup water. Mix well.
Close the pressure cooker and set the flame to high
Wait for 3 whistles and then take the cooker off the flame. Let it cool for 10 minutes before opening the cooker.
Using a masher, mash the pav bhaji until it is smooth.
Add chopped coriander leaves, and the pav bhaji is ready to serve!
Serve it with butter pav, and chopped onion, lemon wedges and coriander on the side.
Mumbai Style Pav Bhaji Recipe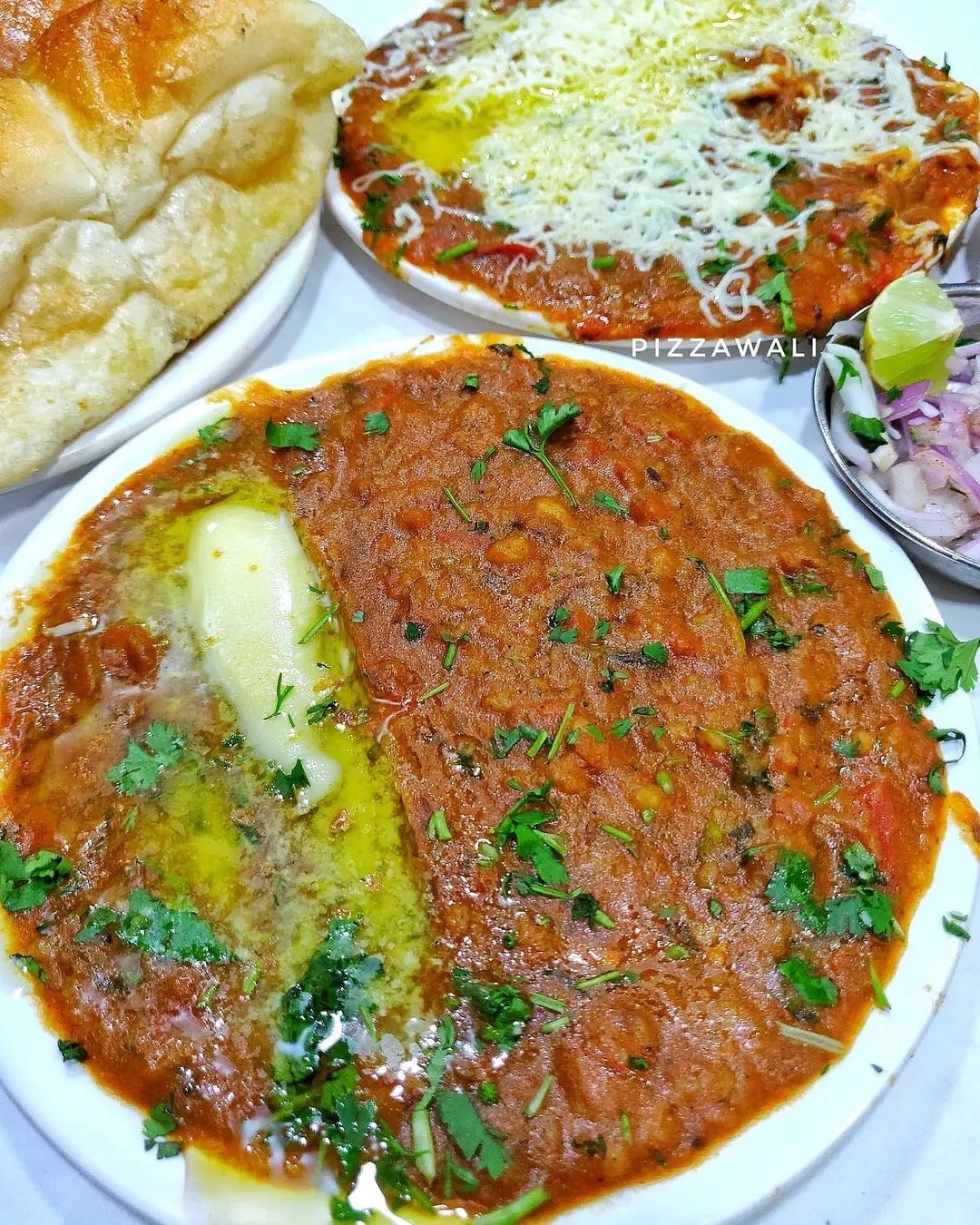 If you've had street-style pav bhaji in Mumbai, you must have noticed that they cook pav bhaji on a massive tawa. The secret behind the mouth-watering delicacy is the tawa-cooked masala, and the right amount of heat and spices. While the pressure cooker recipe is easier and doesn't require a lot of effort, this recipe may take a bit longer and has more processes involved. A few pav bhaji ingredients and the proportions they are used in are different in this recipe, so let's look at the ingredients required for Mumbai style pav bhaji recipe.
Ingredients
1 tablespoon butter
1 tablespoon oil
1 cup chopped onions
1 tablespoon ginger-garlic paste
1 green chilli
1/2 cup chopped capsicum
1 cup chopped tomatoes
2 cups boiled and mashed potatoes
1 cup boiled cauliflower florets
1/2 cup boiled green peas
1/4 cup boiled and grated beetroot
1 teaspoon Kashmiri red chilli powder
1.5 tablespoon pav bhaji masala
Salt to taste
Chopped coriander leaves
3/4 teaspoon lemon juice
Steps
Mash the boiled potatoes, cauliflower, peas, beetroot together and keep them aside.
Now, heat oil and butter in a pan or tawa. Add chopped onions to it and sauté, until they are transparent (not brown).
Add ginger-garlic paste and green chilli into it and fry it. Make sure it doesn't burn.
Add chopped capsicum to the pan and fry it for 2-3 minutes.
Next, add tomatoes and salt. Fry until the tomatoes turn soft.
Once the tomatoes turn mushy and soft, add Kashmiri red chilli powder, and pav bhaji masala, and mix well. Fry for 2-3 minutes.
Now add all the boiled and mashed potatoes, cauliflower, peas, beetroot that had been kept aside earlier. Add ¾ cup water, and simmer for a while.
Once the pav bhaji reaches the desired consistency, add some coriander leaves and lemon juice. Your Mumbai style pav bhaji is ready!
You can add extra butter on pav bhaji when you eat it, for that delicious buttery taste. 
FAQs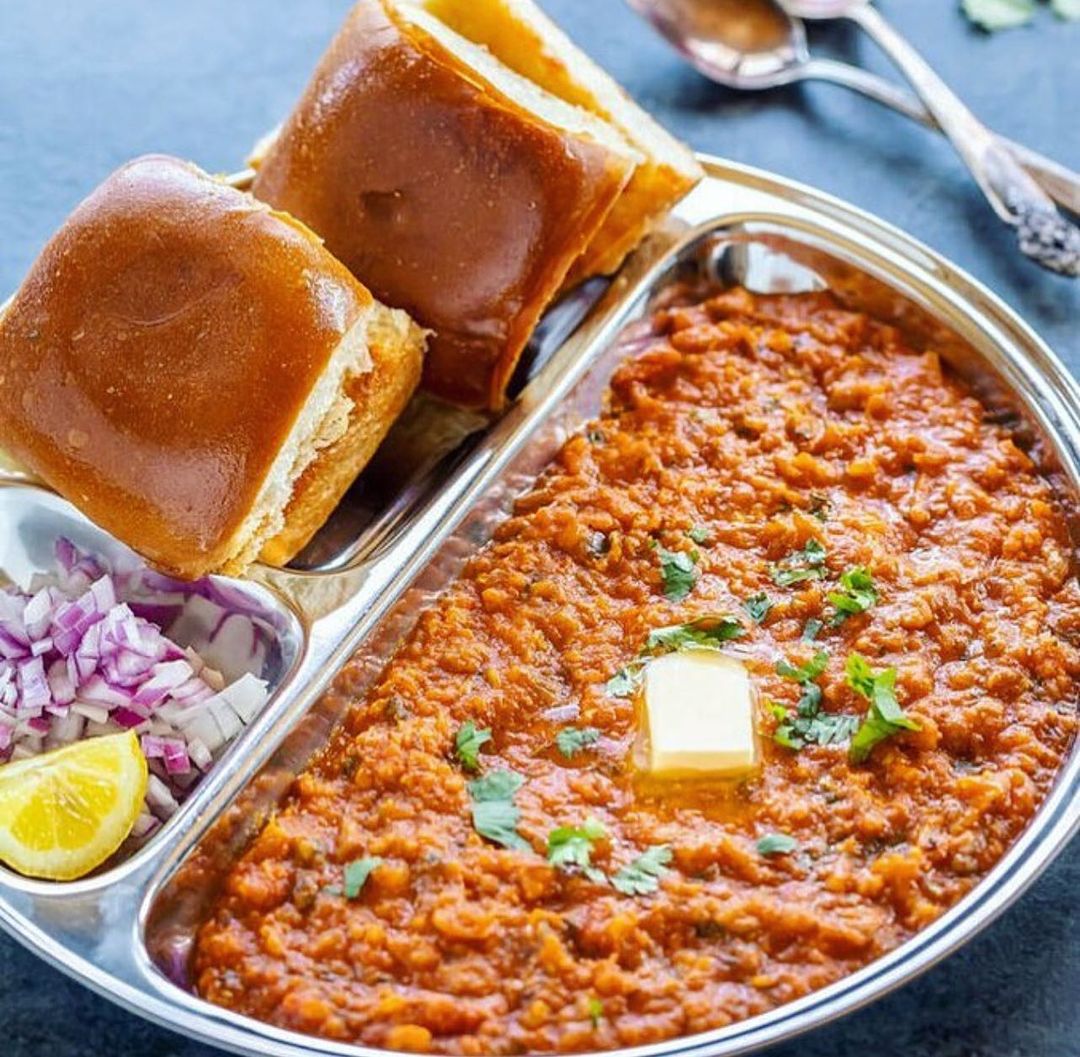 How to get dark red colour for pav bhaji?
Street-style pav bhaji sometimes contains red food colouring that gives it a dark red colour. However, when cooking pav bhaji at home, the artificial food colour can be skipped, and beetroot can be used instead. Besides this, Kashmiri red chilli also imparts red colour and can be used in the pav bhaji recipe. 
Which pav bhaji masala is the best?
There are many brands of pav bhaji masala powders that are easily available in the market. The most famous and the best ones include Badshah, Everest and MDH pav bhaji masala powder. Each one differs in flavour slightly because of the difference in a few ingredients. So choose the one which you like the best. 
Is pav bhaji good for health?
This can depend on how you make pav bhaji. While adding loads of butter to the dish can elevate its flavour, a lot of butter can also be unhealthy. However, you can make pav bhaji by using minimal oil and butter, in which case, it can be a healthy option. Besides, pav bhaji is a delicious way for you to eat loads of healthy vegetables that you may not eat otherwise.  
Does pav bhaji increase weight?
Once again, this depends on how the pav bhaji is cooked. Adding dollops of butter while cooking or on top of pav bhaji after cooking, will definitely cause you to gain weight. While it is okay once in a while, eating pav bhaji with too much butter regularly may lead to an increase in weight. 
What can I use instead of pav बhaji Masala?
Pav bhaji masala is quite different from garam masala or chaat masala, so using anything other than pav bhaji masala will give different results. If you do not have ready-made pav bhaji masala, you can also prepare it at home. Check out this pav bhaji masala recipe!
First, take 4 tbsp coriander seeds and 2 tbsp cumin seeds in a pan, and dry roast them until they turn aromatic. Keep them aside.
Next, dry roast 2 bay leaves, 10 cloves, 2 cardamoms, 2-inch cinnamon stick, 1 tablespoon pepper and ¾ tablespoon saunf. Keep this aside too.
Now, dry roast 10 Kashmiri red chillies. Once done, transfer all the roasted spices and chillies into a blender, and allow it to cool completely.
Once cooled, add 1 teaspoon turmeric powder and 1 tablespoon dry mango powder, and blend everything together without adding water.
Your pav bhaji masala powder is ready!
How to make pav bhaji without onion & garlic?
There's not just one way to make pav bhaji. You can make changes to the pav bhaji recipe, and skip or add whichever vegetables you want. If you want to cook Jain pav bhaji, you'll have to skip onion, garlic and even potatoes. In place of potatoes, you can add raw bananas instead for that thick texture. Beetroot is also optional. 
More Recipes That You'll Love
Ridge Gourd Recipes: Not sure about how to make ridge gourd or turai? Check out these simple and easy ridge gourd recipes that you can try at home.
Leftover Rice Recipes: Check out out these amazing recipes that will help you create mouth-watering delicacies for breakfast, lunch, or dinner.
Christmas Cookie Recipes: We have curated a list of fab Christmas cookies recipes that you can bake and make your festival jollier than ever.
Easy Breakfast Recipes: From instant breakfast recipes to healthy egg breakfast recipes and more- check out these easy and quick breakfast ideas. 
Healthy Food Recipes To Make At Home: Yes, healthy food can be delicious too! Check out some easy-to-make healthy food recipes for breakfast, lunch and dinner that you'll love. 
Bread Pizza Recipe: Bread pizza is a delicious and easy snack to make. Here are a few bread pizza recipes that you've gotta check out! 
Mushroom Recipe: Wanna taste some of the most mouth-watering and flavourful mushroom dishes? Indian mushroom recipes are the ones you need to try out!
Gobi Manchurian Recipe: Check out these quick and easy-to-follow gobi manchurian recipes that will help you make lip-smacking manchurian at home without any hassle!
Now that you know how to make pav bhaji at home, go ahead and try it! Once you get the hang of it, you can also add your own twists and variations to the pav bhaji recipe, and make it more interesting! 
Featured Image: mumbaitadka_toronto and things2doinmumbai on Instagram