Parineeti Chopra finally tied the knot with Raghav Chadha in Udaipur and congratulations are in order! The duo looked ethereal in white, at their intimate affair, but I expected this to be a classic Punjabi wedding. You know, over-the-top makeup, bright outfits, heavy makeup, maximalist decor, band baaja, and the works. But the duo took me by surprise by keeping it minimal with everything from their outfits, to even Pari's lehenga and makeup!
Parineeti Chopra's bridal look yet again proved that minimalism is in. Her white lehenga looked ethereal, of course, but it was her makeup done by Savleen Kaur Manchanda that I'm obsessed with. I think it'll set the base for every minimal bride and bridesmaid look this wedding season. Want to recreate it on a budget? I gotchu!
Recreate Parineeti Chopra's Bridal Makeup Look On A Budget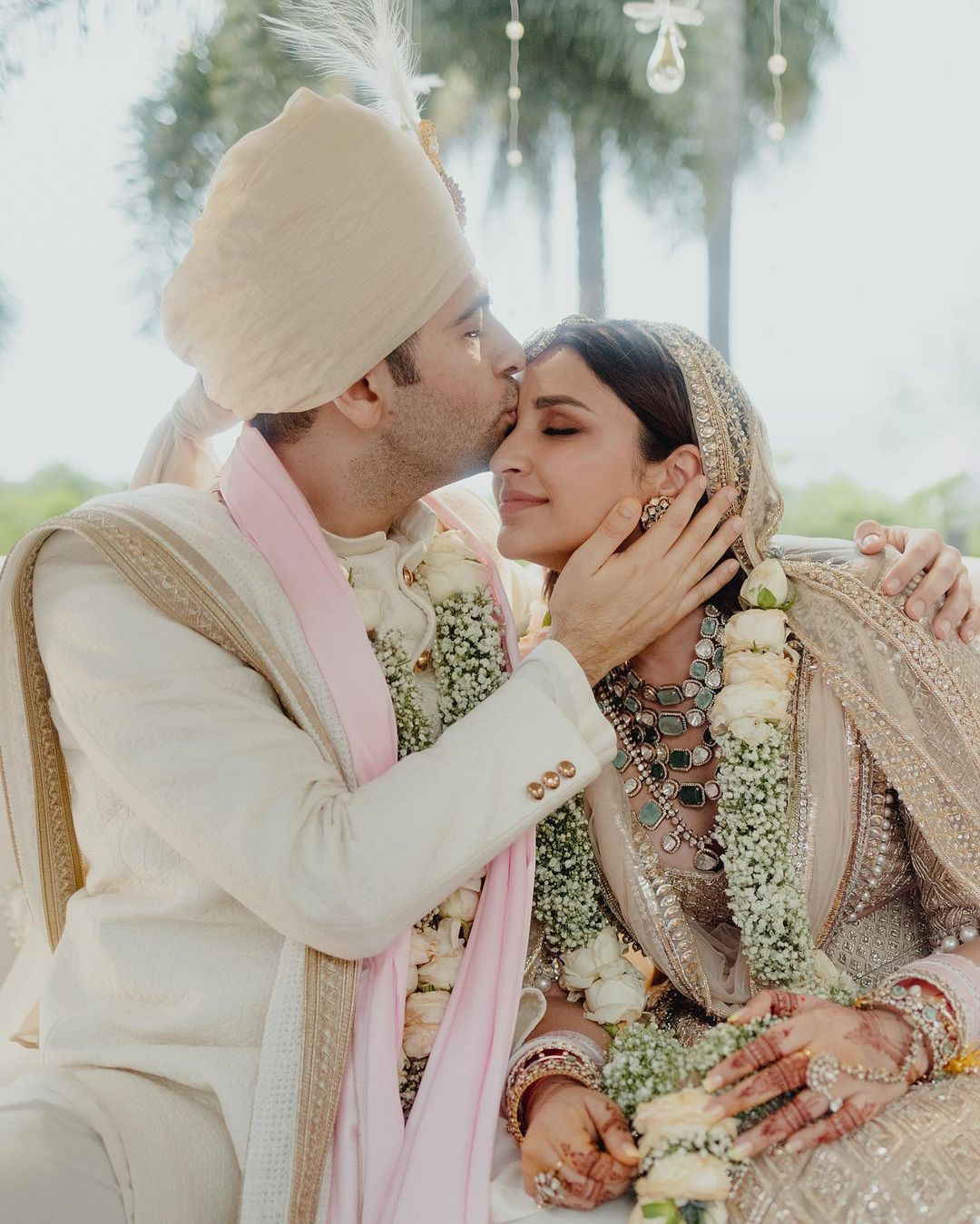 A classic Manish Malhotra bride, Pari let her outfit do the talking and kept her makeup to a minimum. She already has gorgeous, clear skin so all she needed to do was enhance it further.
First things first, it's best to start off with a primer. This will ensure your makeup is intact for longer and blur out the pores on your skin, giving it a supple, even look. The Manish Malhotra Luminous Moisturising Primer gives a soft focus finish to the skin while hydrating and nourishing it.
For that glowy look, I'm sure Pari used a foundation that was light, and had high coverage and SPF in it since it was a day wedding. A foundation that also has the benefit of skincare in it, is the MyGlamm Super Serum foundation. It lasts up to 8 hours and is water reistant, enriched with the goodness of Vitamin E which helps keep the skin hydrated and light.
Coming to the highlight of the bride's makeup – her eyes. They were the only part of her makeup look that glittered, and even that so minimally! To get this look, first, fill in your eyebrows, but don't go overboard with it. The MyGlamm LIT Brow Definer Pencil is affordable and gives a natural-looking shade, perfect for Indian skin tones.
For your lids, I recommend the Manish Malhotra 9 in 1 Eyeshadow Palette in the shade Soire. First, start off my dabbing a little of the creamy white shade. This will enable your eyeshadow to really pop. Then blend in the glittery brown shades but remember not to go overboard!
A pair of falsies topped up with a thin black liner really gave her that coveted doe-eyed look that's so feminine. The Sephora Collection False Eyelashes – Volume topped off with the MyGlamm Wonder Glide Gel Eyeliner is all you'll need to achieve this look.
A closer look at her makeup tells me that she was aiming for the glowy, blushing bride look. And what better way to achieve it than loading up on blush? The Spotlight Illuminating Liquid in the shade Rouge is honestly the only product you'll need to get that flushed, dewy look. It's the perfect in-between for a highlighter and blush.
Coming to the last leg of Parineeti Chopra's bridal look, her lips. She picked out the perfect shade of pink that can easily be worn every day and the POPxo Galentine Valentine Lip Kit has a shade – Keeper that matches Pari's lip shade so well. I'm all hearts for this heart-shaped lippie!
Finish off the look with two coats of mascara and then use a setting spray to ensure the makeup doesn't budge. The Manish Malhotra Mascara followed by the MyGlamm Set On You Makeup Setting Spray will ensure that you need not worry about your look until you need to take it off!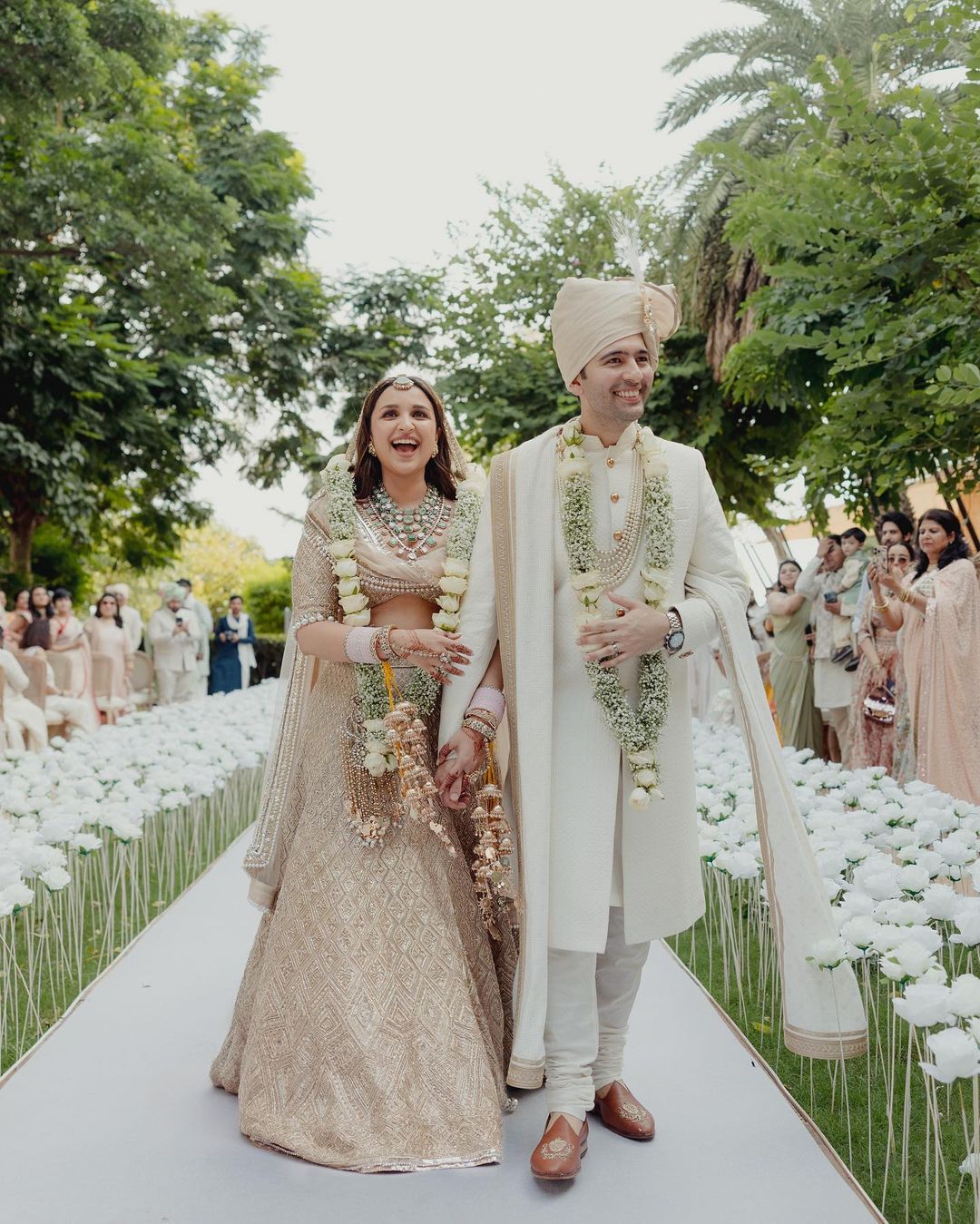 And while her hair was covered by a veil (which we loved the detailing of, btw), I loved that she didn't pin it up into a bun and let it free. Priyanka S Borkar, her hairstylist gave Parineeti Chopra fuss-free breezy waves that again, didn't steal her outfit's thunder on her big day.
Congratulations to the beautiful couple! I know Parineeti's bridal look is going to be big this shaadi season and I'm copping it myself for a few sangeet ceremonies.
Featured Images: Instagram