The MyGlamm LIT Matte Eyeliner Pencil Is The Best Coloured Kajal In The Market, Here's Why!
MyGlamm LIT Matte Eyeliner Pencil - Girl Crush
In This Article
The MyGlamm LIT Matte Eyeliner Pencil has truly, truly become one of my go-to's. I'm obsessed with the formula, the pigment, and how it manages to remain smudge-proof. Here's why I think it's the best eye product I own right now.
What Is It?
The MyGlamm LIT Matte Eyeliner Pencil is not your average, boring eyeliner. With a rich pigment and smooth formula, it glides like butter without smudging or transferring to your under eyes. Available in 8 versatile shades, it can really make or break your look and make your eyes the center of attention!
Why We Love It
The formula is one of the best in the market. Made from vegetable wax obtained from berry kernels of the Japanese Cherry Blossom tree, it has the perfect melting point which allows for perfect, precise lining. The vivid shades are eye-catching and can take you from day to night without smudging.
How To Use It
Just how you would use any other eyeliner. Remove the lid and draw a line over your eyes. Use it as a kajal or eyeliner. You can even use it to line your lips for a more different approach to this multifunctional product.
What It Looks Like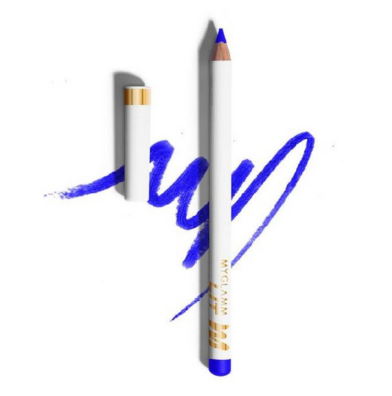 Easy On The Pocket:
Super affordable and multi-functional.
Great Ingredients:
Made of vgetable wax from berry kernels of the Japanese Cherry Blossom tree.
In Conclusion
Since it comes in so many colours and is so diverse, it is a must-have in your cart.
Recommended For You
The MyGlamm Jet Set Eyes Kajal Eyeliner Won't Budge Till You Want It To
The POPxo Glow Goals Illuminating Sunscreen Gave Me Glazed Skin + SPF Protection!
Want Buttery Smooth Skin? Try The Bath & Body Works Gingham Ultimate Hydration Body Cream
Nothing's Set In Stone, Except Your Makeup After The MyGlamm POSE HD Setting Powder!
The MyGlamm LIT Liquid Matte Lipstick Is Shraddha Kapoor's Go-To & I See Why
The MyGlamm LIT Lipliner Pencil Is The Best Lipliner I Tried In 2023
---
© 2023 THE GOOD GLAMM GROUP