No fashion girl ever hated waking up to an Instagram feed flooded by haute couture fits. With looks from Met Gala 2022 spreading like wildfire, today def seems to be our lucky day. With this year's 'Gilded Glamour' dress code for the benefit, we were anticipating some avant-garde red carpet fashion. The expectations were to feast on unrestrained opulence and over the top glamour. In a nutshell, we were looking forward to one of the most iconic Met Gala red carpets to date, something that would top up the 2018 Met Gala's success. Did that happen though?
For starters, 'Gilded Glamour' was a relatively easier dress code. Way easier than the 2019 Camp theme, everyone will agree. Plus, it was literally in continuation of the last year's "In America: A Lexicon of Fashion" theme. The idea was to go as grand on the red carpet while referencing an age in American fashion that literally laid the foundation for red carpet looks as we know them today. Despite it all, we do not think that the celebs managed to deliver. This is not to say that there were no winning looks. However, they were easily trumped by the more chaotic and off-theme ones. 
To sum it up, the 2022 Met Gala red carpet witnessed a mix of hits and misses. Here's a lowdown on all the looks that caught our attention (the great ones and the "what on the Earth" ones). Scroll through:
HITS
Here are all the winning Met Gala 2022 that made an impression:
Billie Eilish In Gucci
All thanks to the new age fashion lingo shaped by Diet Prada across the world and Diet Sabya in India, netizens are saying Billie "understood the assignment." They are right. From pristine draped satin to the corset bodice and lace sleeves, this look is giving Gilded Glamm. Her platinum Fred Leighton looks like the perfect addition to the ensemble.
Kim K In Jean-Louis
It's being said that Kim K shut down the Met Gala 2022 red carpet with her historical dress. We just wanna ask, at what cost? Confirming all the rumours, Kim treaded the 2022 Met Gala red carpet in Marilyn Monroe's iconic "Happy Birthday, Mr Kennedy" dress. Oh, and she openly accepted that she had to shed pounds in three weeks just to fit in the dress. The dress is an archived piece of American history and there was no way they could tamper with the size. Thus, to ensure no harm is done, Kim only wore it for a few minutes and then changed into a replica. All this trouble while setting up a horrible example for impressionable girls worldwide? Yes, Kim did pull it off with aplomb but we will always be conflicted on this one.
Blake Lively In Versace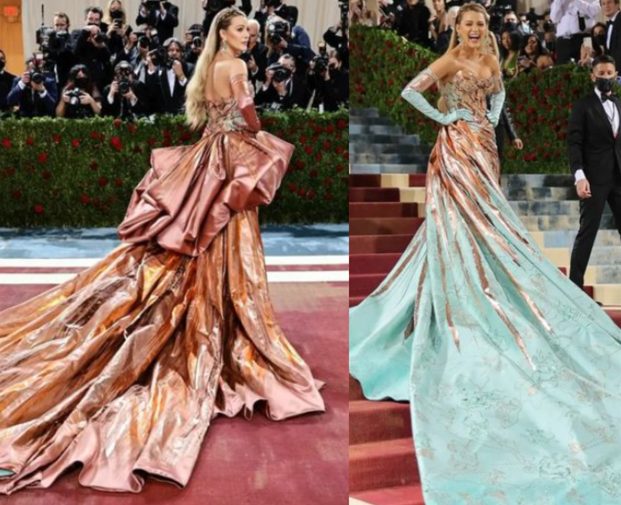 Two pictures for Blake's Versace dress because one will not do justice. Blair brought the gilded age and all that jazz to the Met Gala red carpet with her transforming dress. The fit went from a metallic copper to a gorgeous blue thus referencing The Statue Of Liberty and its oxidisation. The opulence was off the charts with this one and the metallic trims did hit the sweet spot in terms of the theme.
Natasha Poonawalla In Sabyasachi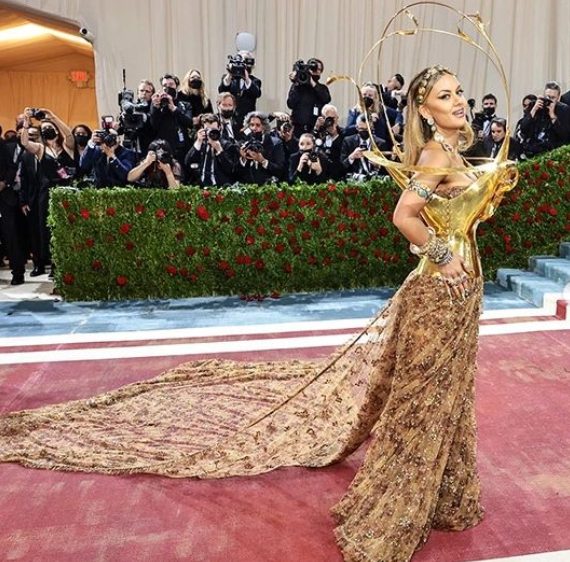 Behold for this is the very first time a saree has taken over the Met Gala red carpet. This is the perfect antidote for all the fashion girls still squirming over Sudha Reddy's disastrous look from last year's red carpet. Speaking of the details, Natasha's printed tulle Sabyasachi saree has been embellished with bevel beads, semi-precious stones, crystals, sequins and appliquéd printed velvet. The trail adds to the drama that is further accentuated with a Schiaparelli hand-forged metal bustier. The look has been aptly finished off with custom pieces from Sabyasachi Fine Jewellery and limited edition collectables from Sabyasachi's Curiosity Art & Antiquity Project. Say what you may but this is going down the history annals as an iconic moment. Plus, Natasha has aced the theme here. There is gold, there is OTT opulence, and her own version of Asian aesthetics—the perfect recipe for all standout Gilded age looks.
Kacey Musgraves In Prada
Opera gloves, elaborate hair, a bustle gown, bow detailing, and a fan as the standout accessory—Kacey ensured to do her research for the 2022 Met Gala. We do love the use of her De Beers' platinum jewels and how they provide a soft contrast.
Cardi B In Versace
In a literal adaptation of the theme, Cardi B walked the red carpet dripping gold in a Versace along with the creator of her all-gold gown. 
Alicia Keys in Ralph Lauren
Alicia Keys represented an "Empire state of mind" in her Ralph Lauren ensemble complete with an embellished cape. Brownie points for the dramatic plait!
Hailey Bieber in Saint Laurent
A welcome departure from all the cinched waists and metallic details, Hailey's outfit seems to take inspiration from the Aesthetic Movement during the Gilded Age. The idea was to let women be and wear comfy clothes that often raised eyebrows. Hailey's pristine gown with a waist-high slit fits the idea. So do her minimal Tiffany & Co. platinum jewels.
Kris Jenner In Oscar De La Renta
Yes, surprising but it is what it is. Chris's gown again reminds us of the Aesthetic Movement and that minaudière is doing the trick.
MISSES
Now, now. Is there any point in celebrating the Met Gala hits without shedding some light on the misses? Sounds unceremonious to us. Scroll through:
Sarah Jessica Parker In Christopher John Rogers
Colour-blocking and checks? Yeah, that's so not the Gilded Age! There is no missing out on the Philip Treacy hat either which might be a little on the theme but is def reminding us of the saree-lehenga gate with its pink-purple hues. Not getting over it any time soon.
Phoebe Dynevor In Louis Vuitton
It would have served Phoebe better had she just showed up in one of her Regency looks from Bridgerton. 
Camila Cabello In Prabal Gurang
Is it just us or does it look like a reversible comforter was clumsily draped around Camila for some effect? Fire your stylist, sweetie!
Mindy Kaling In Prabal Gurung
This is so not on the theme and just too sweet for the Met red carpet. 
Emma Stone In Louis Vuitton
Nope, this ain't it, Met Gala or otherwise. Plus, she is dangerously close to the Roaring 20s and the new rich aesthetic with all that feathered tackiness going on the satin slip dress.
Bella Hadid In Burberry
Corset? Check. Lace deets? Check. Opera Gloves? Check. Elaborate hair? Check. Bella got the ingredients right and yet she miserably failed to give us the right look. Not even close. 
Tell us, fam, which one of The Met Gala 2022 looks did you like the best?
Featured Image: Instagram