From Cocktails To D-Day, 30 Matching Bride And Groom Outfits For The Perfect Pictures
Twinning is winning, it is said. We second it and think that the equation gets all the more interesting when romance is involved. Well, of course, we are talking about couples' matching outfits and NGL, the obsession is real. With a plethora of celeb weddings and engagements in tow, love is in the air and we are currently rolling in a puddle of mush. Katrina Kaif and Vicky Kaushal might tie the knot any time now. So might Alia Bhatt and Ranbir Kapoor. And while the wait is killing us a little, we have been pacifying ourselves by playing make-believe dress-up and imagining our favourite celeb couples in matchy matchy outfits. Not to brag or anything but we might have gotten a tad too good at it at this point. What? Don't trust us? Here is a curated list of 30 couple's matching wedding outfits for D-day festivities and beyond that will have you convinced.
Latest Matching Wedding Couple Dress Combination
Tying the knot with the partner of your dreams this shaadi season? How about you take the things a notch up and go for equally dreamy outfits? Here are some bride and groom's matching dresses for wedding that will have you convinced:
Go Regal In Chikankari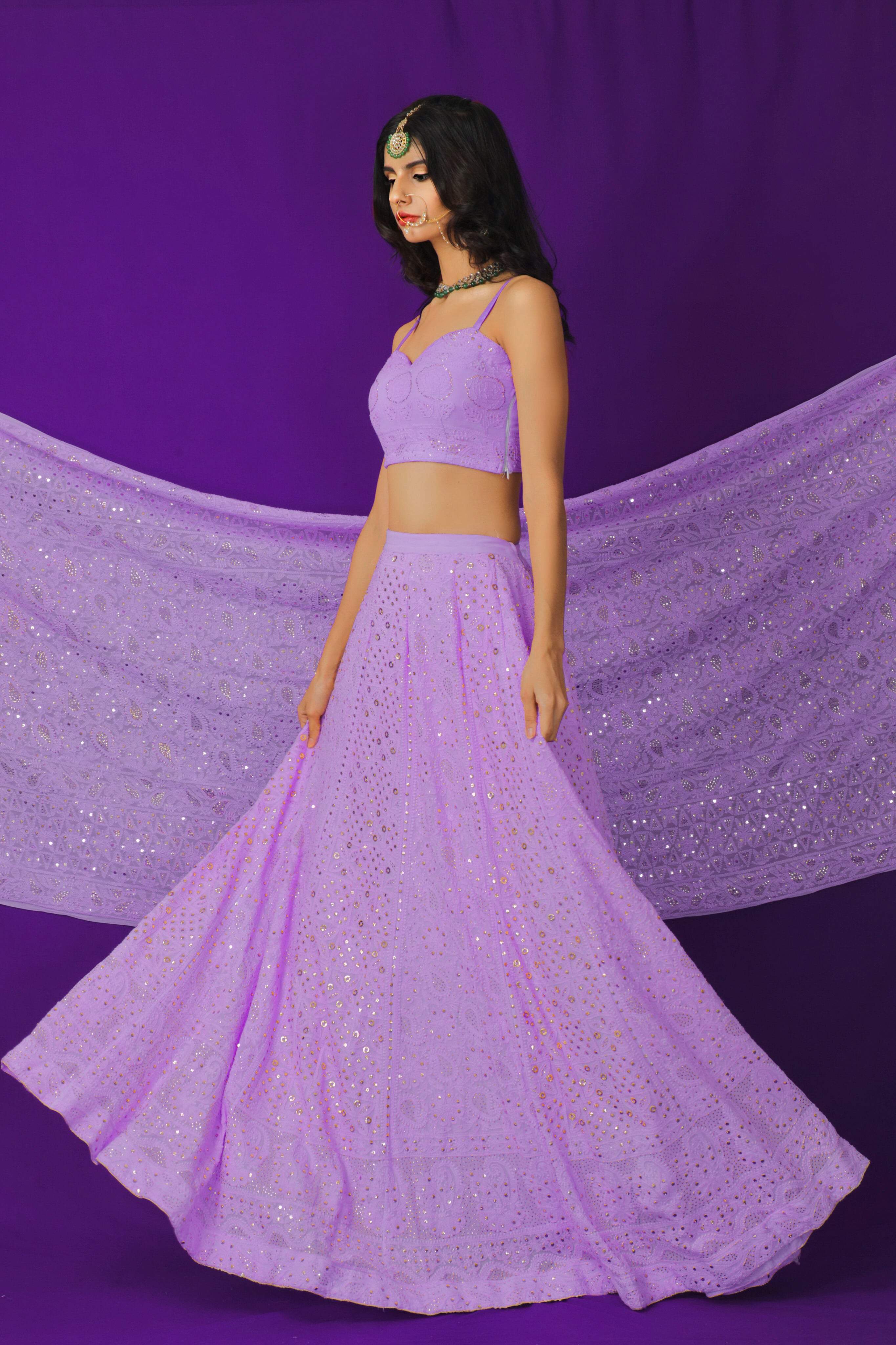 Loved Anushka Ranjan's off-beat bridal lehenga in lavender? So did we and here is a similar hued piece by Label Aishwaryrika that is equally striking if not more. The pure chikankari lehenga has our attention for the intricate jaal work and painstakingly done mukaish and resham embroidery. Every bit unique, this is an heirloom piece that you'd like to proudly pass over to the next generation.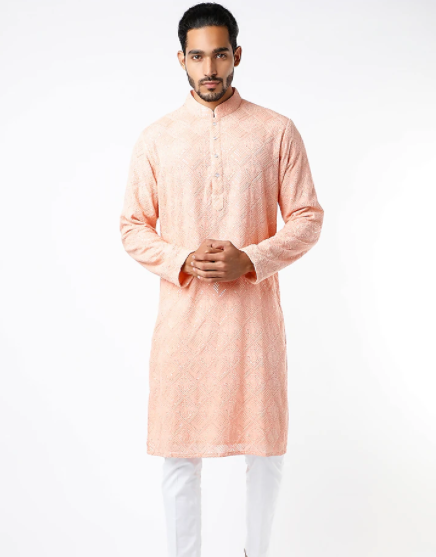 To create the perfect matching couple's wedding outfit, we have paired the lavender lehenga with a peach chikankari kurta by Kasbah Clothing.
Something For The Love Of Tradition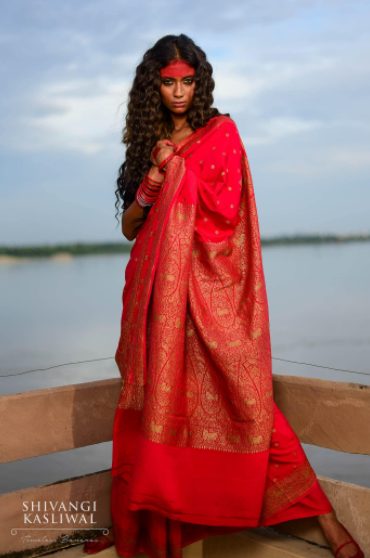 This has been the year of saree-clad brides and we stan the trend. Here is a Banarasi silk beauty by Shivangi Kasliwal that will never disappoint.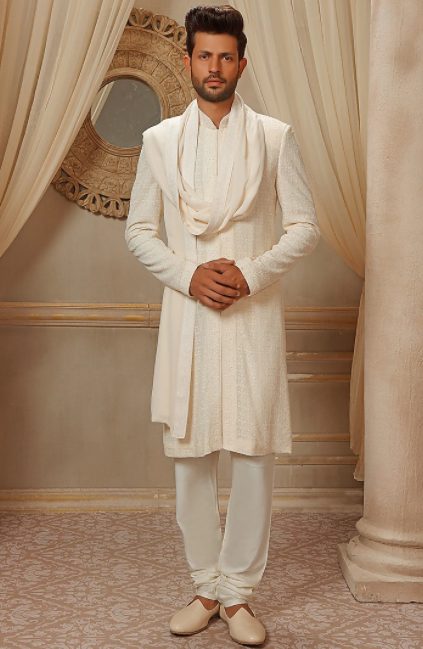 To get the best matching couple's outfit, we have paired Banarasi with a pearl white Lucknowi embroidered sherwani set by Vanshik.
For The Connoisseur Of All Things Opulent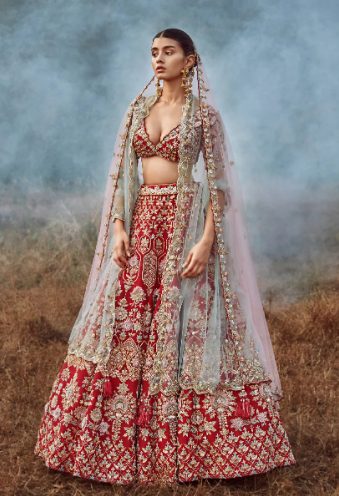 Always been a red bride at heart? We get you and suggest that you go for a traditional look mixed with some contemporary accents. This scarlet red Kalki Fashion lehenga paired with sky blue net dupatta would be the perfect example.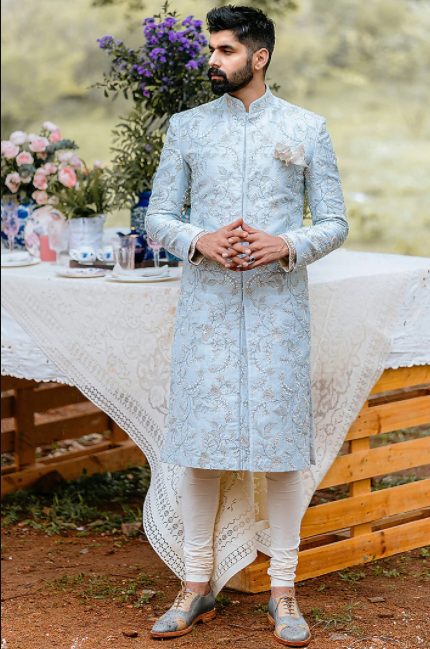 Pair the opulent lehenga with this powder blue silk sherwani set by Anushree Reddy Men for a perfectly matching couple's outfit at the wedding.
Trending Matching Dress For Indian Couples
Currently, scouring the net for ample inspiration on matching wedding dresses for couples in Indian wear? Here is the list that you have been looking for:
Match Matchy In Pastels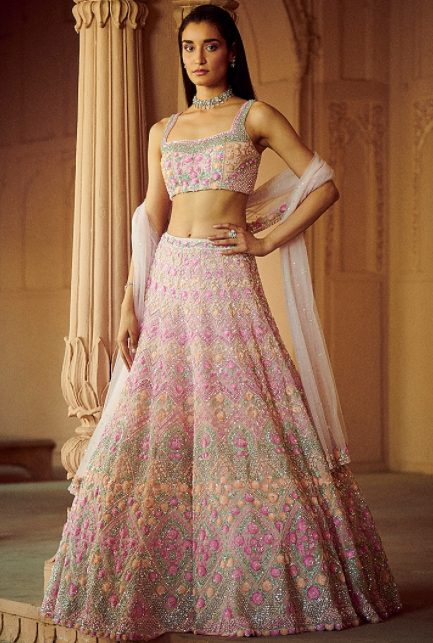 This blush pink lehenga by Seema Gujral has our attention for its multi-coloured mint, peach, and pink embroidery and itsy bitsy blouse. We love how the dupatta has been kept clean to let the skirt do all the talking.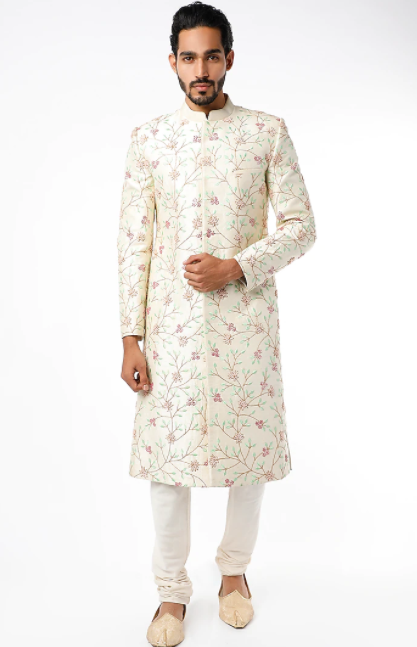 This ivory floral jal sherwani set by TISA would make for the best matching couple outfit when paired with the pink Seema Gujaral lehenga.
Turn On The Glamm Meter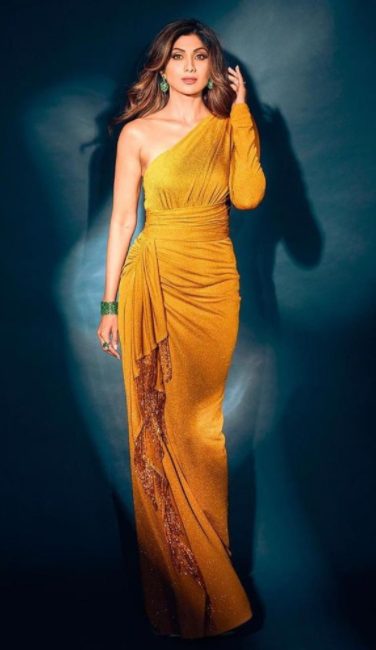 Fancy a sleek, draped gown for your pre-wedding festivities? This embellished mustard gown by Neetu Rohra needs to be your pick. From the tonal embellishments to the one-shoulder design, everything has our heart.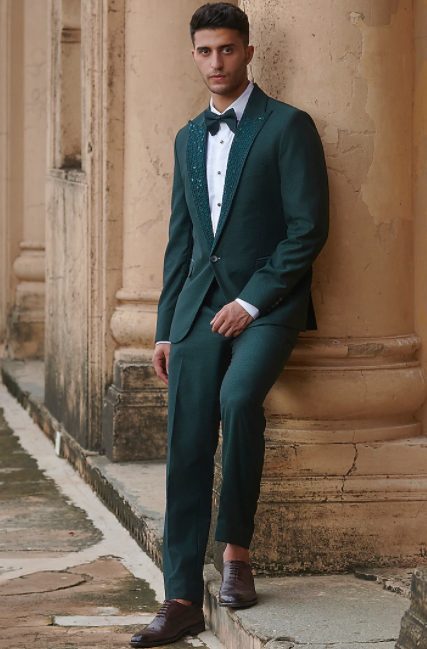 Contrast it with this emerald green tuxedo by Rachit Khanna Men for the most striking couple's matching wedding outfits.
Easy Breezy Matching Outfits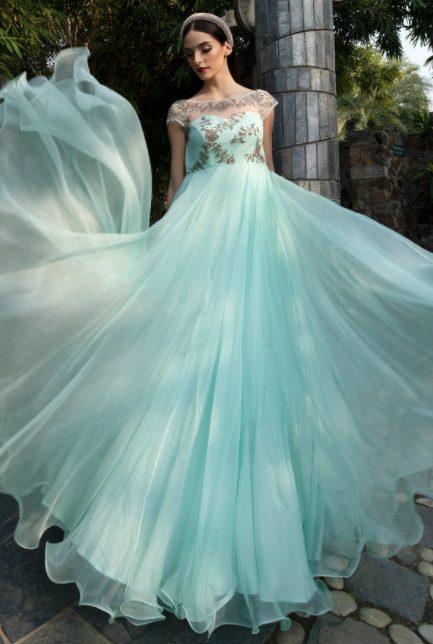 This breezy beauty by Keerthi Kadire is a great pick for pre-wedding festivities and would work great if you are looking for something grand that does not weigh you down.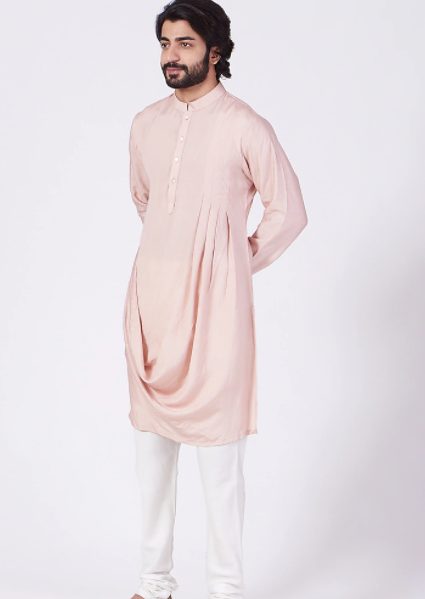 Equally breezy, this delicately draped blush kurta by Ankit V Kapoor will perfectly compliment the mint gown and ensure that you two put up a great show with the best matching couple outfits.
Something For Day Time Festivities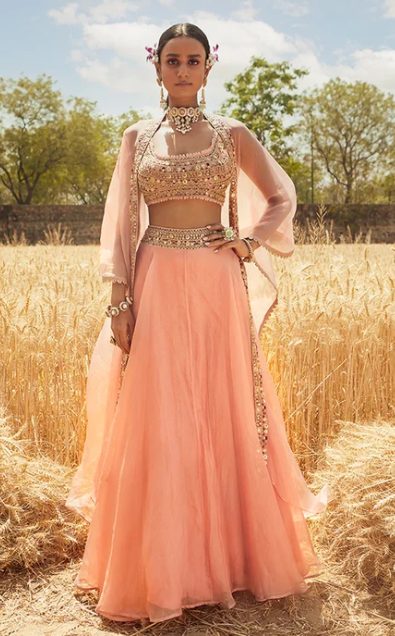 In case you happen to be all about that pink girl life, this Ridhima Bhasin lehenga is here to fuel all your sartorial fantasies. Light, practical, and oh-so-gorgeous, this outfit will ensure that all eyes are on you at the party.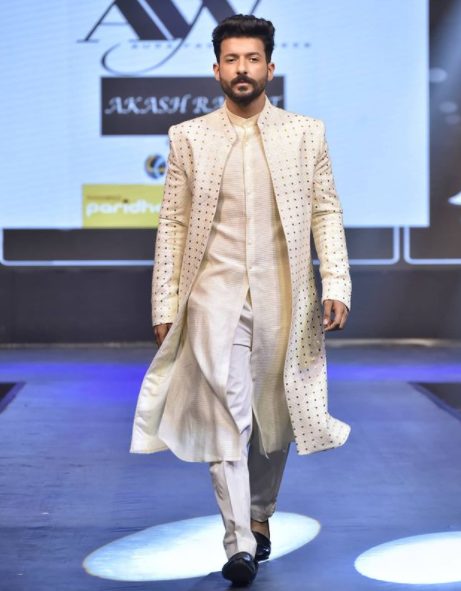 We recommend that you pick up this three-piece white chikankari set by Label AHAM to complement bae's Ridhima Bhasin lehenga. We love how the inner kurta has been kept soft and delicate and a tailored appeal has been added to the look with the structured jacket.
Unique Matching Couple's Wedding Outfits
Looking for unique couple's matching dresses that make everyone do a double-take? This curation is especially for you:
Take The Handloom Route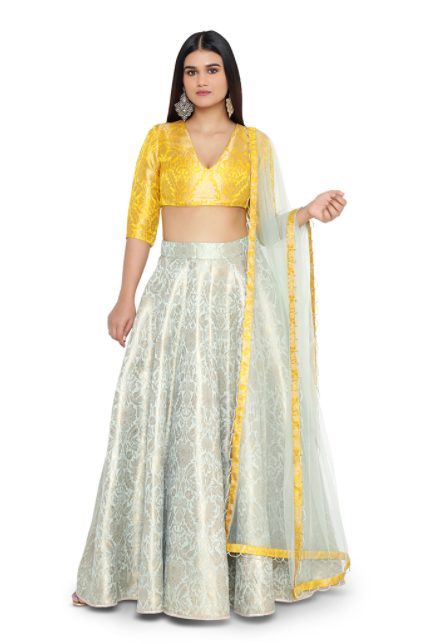 The real beauty of a handloom silk lehenga lies in the fact that each one of the garments is truly unique. This brocade Payal Singhal ensemble is no exception.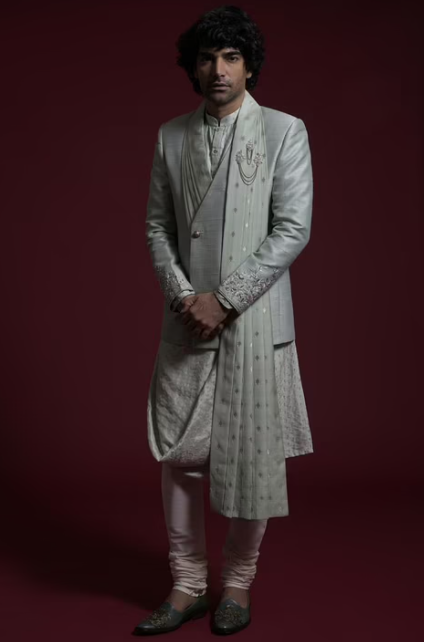 If the two of you are looking for something that screams 'husband-wife in matching dress,' then you have to opt for this blue resham embroidered Indo-western sherwani by Samyakk to go with the Payal Singhal outfit.
Outfits That'll  Make Everyone Stare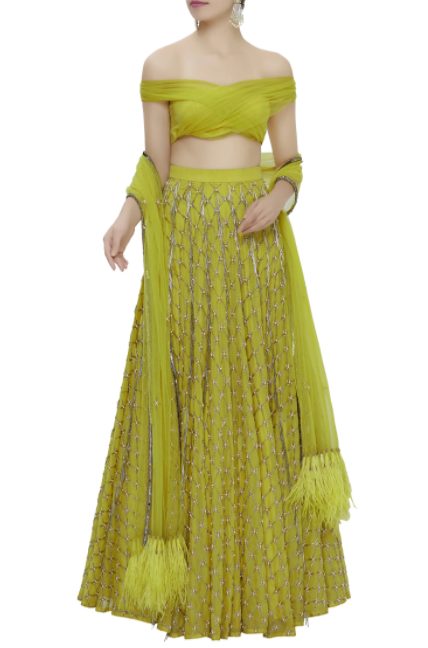 Just like every other Maison Blu outfit, this off-shoulder lehenga set is as unique as it gets. We love the dangling tassel embroidery and the deliciously draped blouse.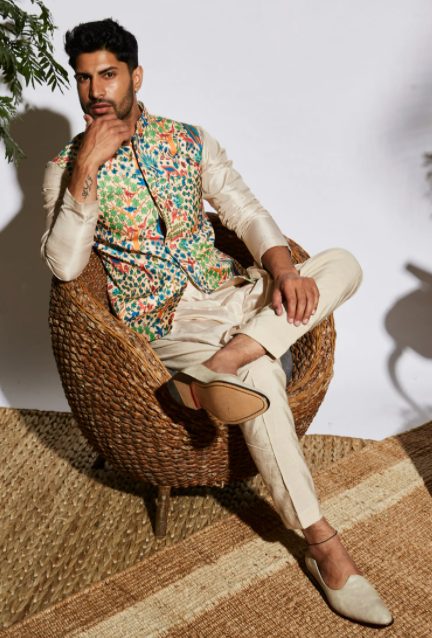 Match the Maison Blu lehenga with this silk three-piece outfit by SVA by Sonam & Paras Modi to ensure that you have the best matching couple's outfits at the party.
When Tradition Meets Standout Designs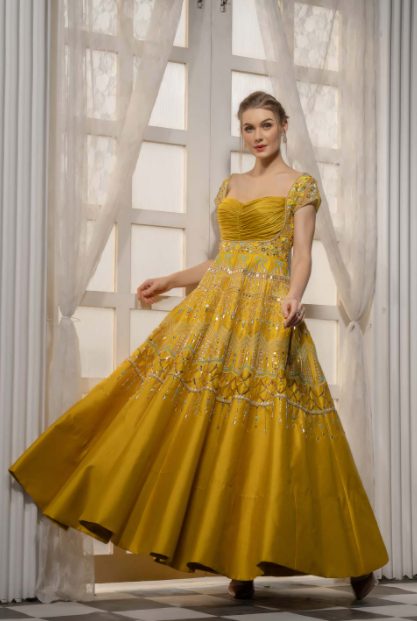 This Tamaraa By Tahani gown is a treat to the eyes and it is the ruched neck detailing and subtle mint accents that have our heart.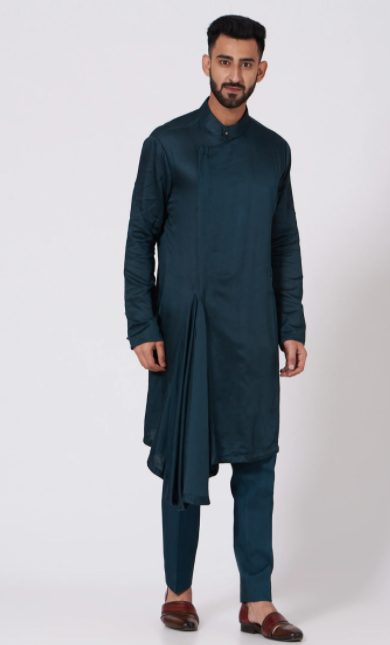 Get this silk linen jacket and draped kurta by Jatin Malik if you really wanna kill it in the couple's dress matching department.
Understated Elegance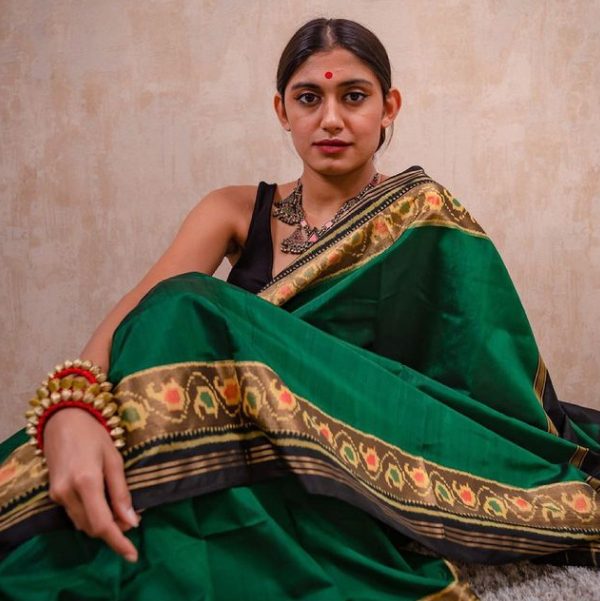 If you are not into heavily zari-laden silks and all that gold and glitz, then this understated emerald and black patola saree by Varastraa will instantly catch your eye. The handcrafted saree is a unique beauty and can take you from formal settings to festive ones sans any hassles.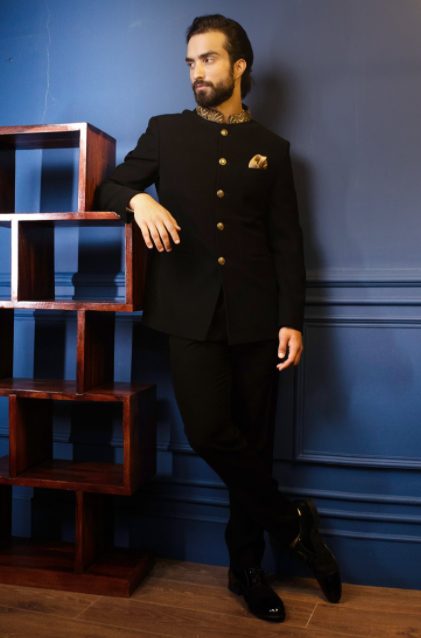 A subtle bandhgala is the best outfit to complement your partner's silk saree and this Contrast By Parth suit is an absolute beauty.
Couple's Matching Dress For Party
On the hunt for striking couple's matching dresses for the party season? Scroll on:
Take The Western Route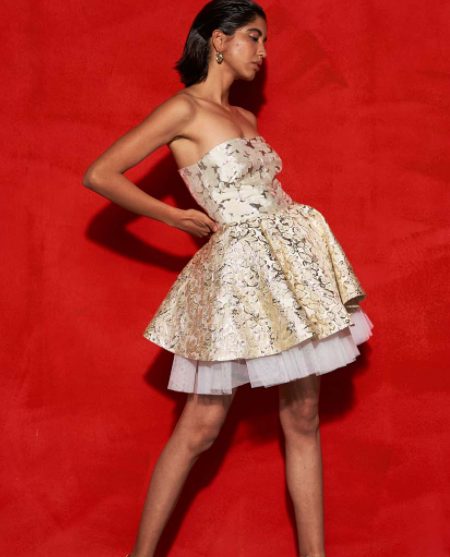 TheRealB is constantly updating the Western occasion wear segment in India with fresh aesthetics and their Jacquard Bell Dress is a shining example of the same. It is the Vietnamese tulle and structured silhouette that has our attention here and it would definitely make for a great party dress.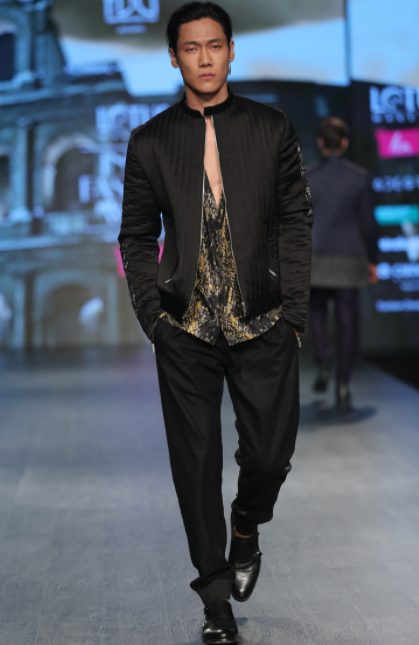 Take the all-black route to match your very stylish bae in this dapper quilted jacket pant set by Kommal Sood. Rest assured, this combo can help you win the best matching couple's outfits award, it is that good.
Matching Earthy Fits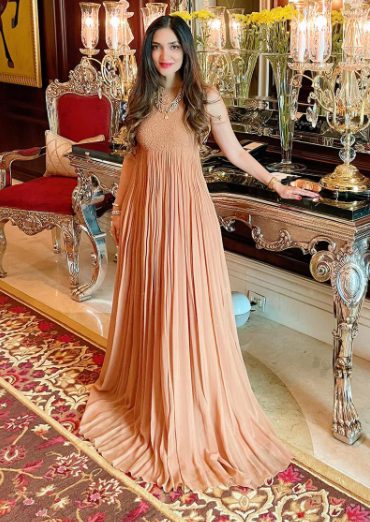 Next on our fashion radar is this Swatee Singh gown for its relaxed silhouette and earthy hue.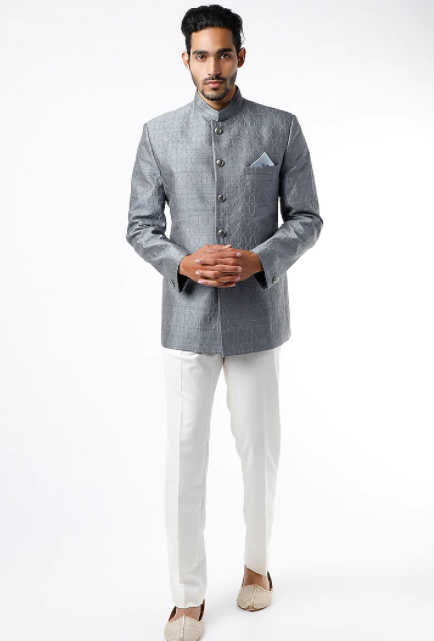 Opt for something equally Earthy like this grey silk badhgala by Bhavin Arora for couples matching dresses that subtly complement each other.
The Best Mehendi Outfits Out There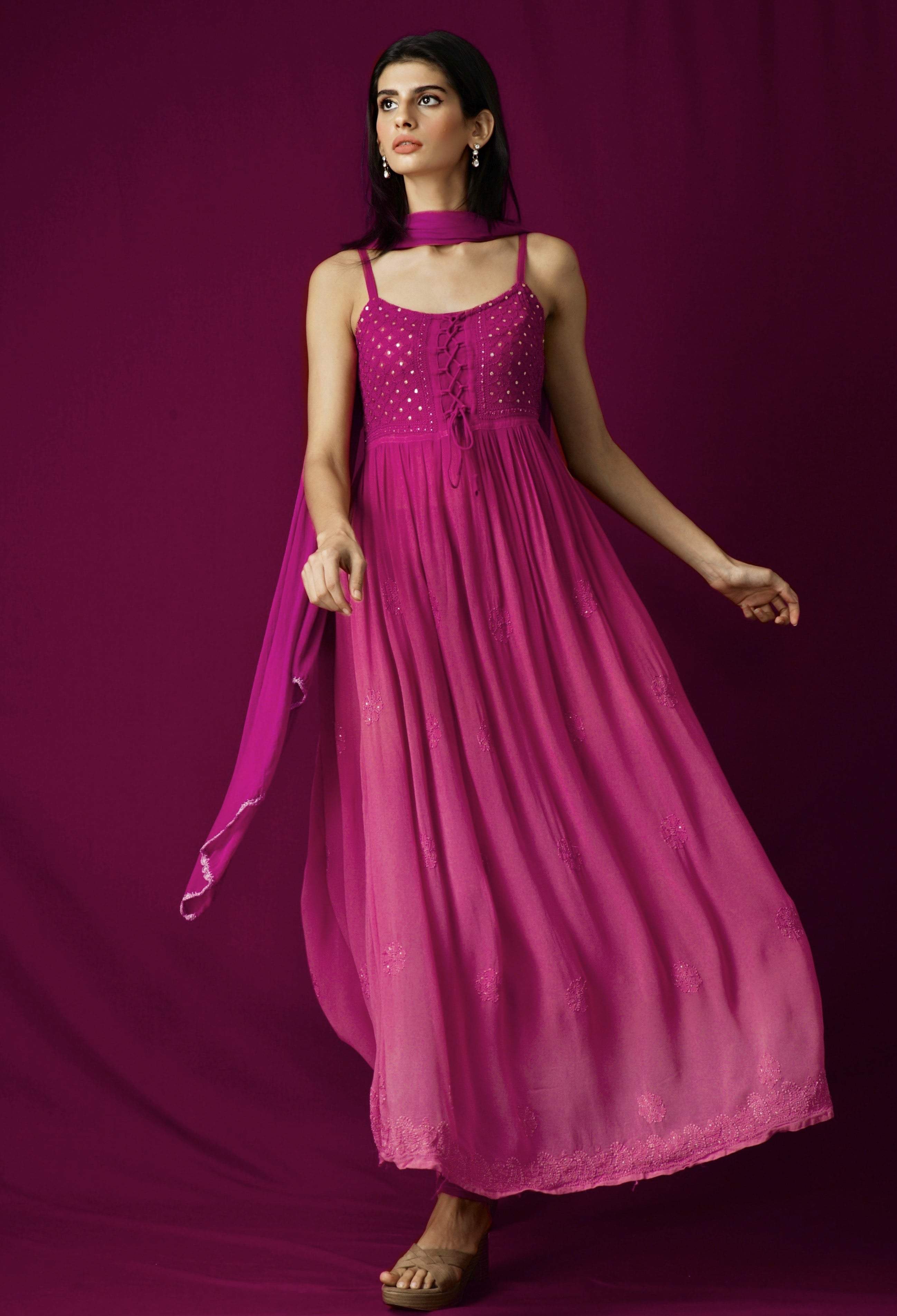 Label Aishwaryrika is reinventing chikankari with fresh hues, styles, and silhouettes. The appeal is equal parts contemporary and traditional. The French Rose Anarkali set from their latest lines is the culmination of this aesthetic. This is a great mehendi outfit owing to the strappy design and is so light that you dance the night away while looking like a dream.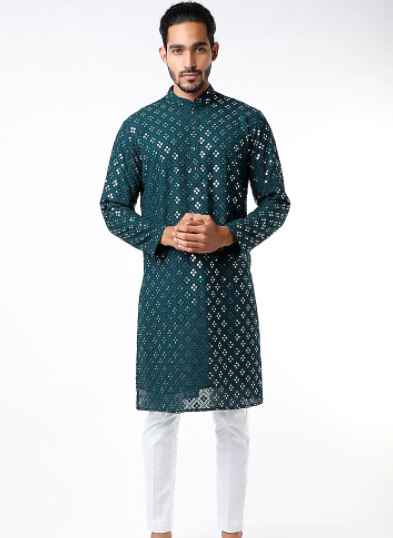 It sounds only fitting that you pair your partner's chikankari in a complementing Lucknowi outfit and this teal kurta by Kasbah will do the task pretty well.
Something Glamm For The Pre-Wedding Festivities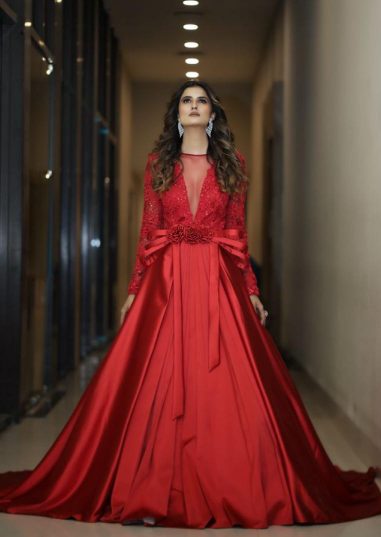 If you are all for channeling some serious drama and diva vibes for the pre-wedding festivities then this scarlet gown by Sims Designer Studio is the one for you.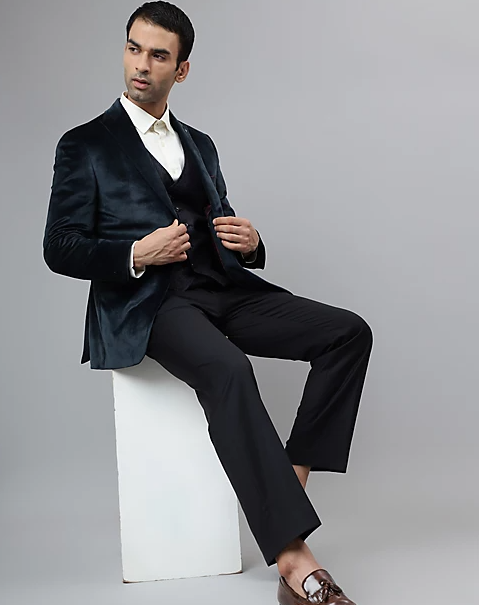 Take the drama a notch higher by matching bae in this velvet peak lapel blazer by Marks & Spencer for a gloriously matching couple's outfit.
Also Read 
Latest Lehenga Designs: Have you been flicking through lehenga designs on social media, but haven't found the right one yet? Here is a list of some of the latest lehenga designs that are trending this season.
Best Makeup Artists In Delhi: Hey brides-to-be, we are bringing you a special edition of the best makeup artists in Delhi! You have to check this out. 
Reception Dresses For Brides: Today we are here to help you tick off one of the entries on your shopping list with our curation of reception dresses for brides. From opulent lehengas to off-beat picks, there is a reception look for every bride.
Curvy Girl Sangeet Outfit: If you're blessed with some beautiful curves, we've curated the ultimate sangeet dress guide for all you curvy girls. Check it out!
Nail Art Designs For Brides: Hey brides-to-be, start bookmarking these designs cause you're going to want to show them to your manicurist right now!
So, fam, all set to ace the party fame with our curation of matching couple's outfits?
Featured Image: Instagram
© 2023 THE GOOD GLAMM GROUP