Malaika Arora and Arjun Kapoor's subtle yet adorable PDA moments on the 'Gram are my favourites. However, nothing prepared me for their recent NSFW post. This time Malaika and Arjun took things to a whole new level of hotness and everyone is shook. I bet even you aren't ready for it!
Malaika has left Instagram burning with her recent story with an almost nude picture of AK. The Chaiyya Chaiyya star captioned the picture, "My very own lazy boy." In the snap, Arjun can be seen opening his arms wide open as he covers his privates using just a pillow. Scroll down to take a look: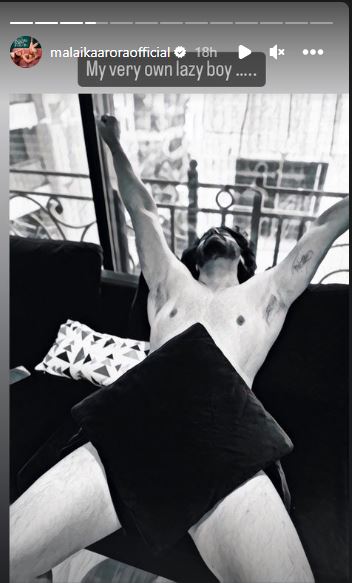 While global warming is already turning the world a hotter place, Malaika and Arjun just pushed it further. I might need a few days to recuperate!
When Malaika Talked About Her Relationship With Arjun
It has been almost five years since Mala and AK went public with their relationship. In these years, they have seen it all—trolling for their 12 years of age gap, gossip, nasty rumours, controversies and more. But Malaika and Arjun didn't let their spark burn out 'coz of people's opinions. 
Back in 2022, Mala attempted a stand-up comedy routine and spoke about her relationship with AK. She said, "Just a PSA for everyone, I'm not ruining his life. It's not like he was going to school and he wasn't liking his studies. Every time we are on a date, it's not like we are bunking classes. I didn't catch him on the streets where he was catching Pokemon. Guys, he's a grown-up man. We are two consenting adults."
AK and Mala have stopped caring about 'log kya kahenge?' P.S. I am living for this whole new side of their PDA. 
Feature Image: Instagram