You know the Koreans are doing something right when the whole world swears by their tips. From snail mucin to double cleansing, the trends they've kickstarted have really taken over the beauty industry.
Using rice water in beauty rituals is a DIY remedy for both skin and hair, that stems from Korea. And you know what? It really works. It's not just me who vouches for it, a bunch of celebrities also swear by the benefits of rice water for their skin and hair. Kim Kardashian, Cardi B, and have spoken up about how much they love the ingredient. Closer to home, even Athiya Shetty revealed in an AMA that she applies rice water to her face every single day to attain glowing skin.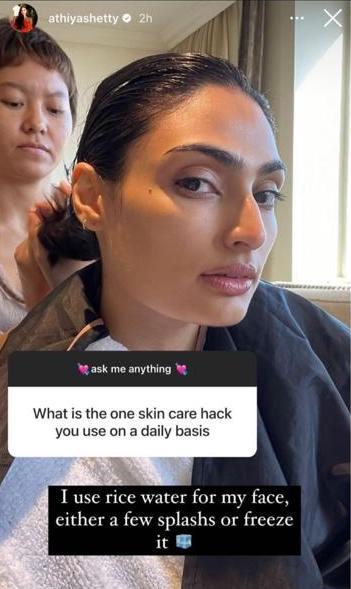 Is Rice Water Really Good For The Skin?
The short answer, yes. The water that's left over after you cook your rice in it does wonders for both, the skin and hair. There's a reason the Koreans and my favourite celebrities love it. It is rich in vitamin E, amino acids, minerals and antioxidants to name a few.
Rice water has antioxidant properties that slow down the signs of ageing. Think – wrinkles, fine lines, pigmentation, etc. It reverses cell damage and keeps the skin feeling and looking healthy. It also helps boost collagen production in the skin.
The ingredient is also known for its skin brightening properties. If you struggle with patchy or extremely pigmented skin, make rice water your go-to.
It can also help reduce skin irritation, clear up eczema and acne, soothe the skin and heal any inflammation.
Rice Water For Hair
Not just the skin, rice water is also an excellent DIY remedy for the hair. Rinsing the hair with rise water post cleansing it with a shampoo, helps make the hair smoother, boosts shine and reduces breakage. With consistent use, you will also observe an increase in hair growth.
How To Make Rice Water?
While regular 'ol rice water (rice soaked in water for a minimum of 30 minutes) works just fine, a lot more people believe in the power of fermented rice water. To ferment the water, leave the rice in water for around 2 days, allowing it to ferment. Strain this water and then it's ready for use.
That's it! While I've tried rice water and vouch for it as well, fermented rice water is next on my DIY bucket list.
Feautred Image: Pexels