There is nothing that we wouldn't do to be a fly on the wall of Vicky Kaushal and Katrina Kaif's wedding venue! NGL, we have been glued to social media for a long time to get the latest scoop on their shaadi. After waiting for months, today marks the beginning of the couple's wedding festivities and we are beyond excited! 
On Monday night, Vicky and Katrina made their way to the wedding venue with their friends and family. Upon arrival, the wedding guests were greeted with a special note and its pictures have gone viral on the 'Gram!
The welcome note reads, "You are finally here! We hope you enjoy the road trip from Jaipur to Ranthambore. Please enjoy the refreshments that we have put together, while your journey through scenic villages and roads. Sit back, relax and brace yourselves for a fun-filled, exciting adventure! We request you to please leave your mobile phones in your respective rooms and refrain from posting pictures or using social media for any of the ceremonies and events. We can't wait to see you!"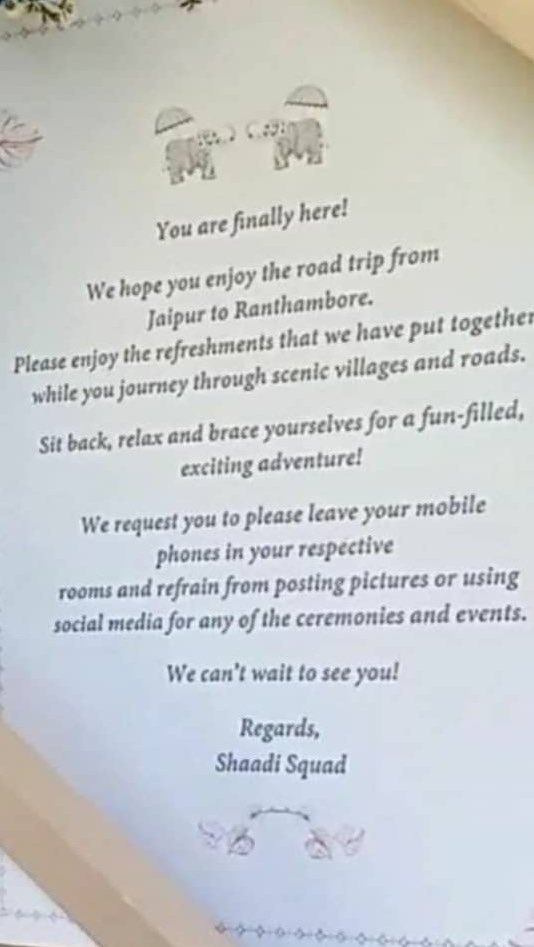 It is pretty obvious that Katrina and Vicky are quite serious about their no phone policy. Surprisingly, a little while ago, a friend of the couple discarded the rumours of the mobile ban. During an interaction with a leading daily, they said, "The couple has been laughing over some of the absolute rubbish stories that are floating around in the media."
NGL, we really wish that the no phone policy was just a rumour, but it is quite real. The two stars have left no stones unturned to keep everything under the wraps. So far, Katrina and Vicky have not even made any wedding announcements on the 'Gram.
According to a little birdie, the wedding guests may not be allowed to take pictures at the ceremonies as the actors will allegedly be selling the rights of their wedding photographs to a streaming platform for a whopping amount. From what we have heard, Vicky and Katrina have been offered Rs 100 crore for their wedding footage by a streaming giant.
While the couple has not said yes to the proposal, this does explain the 'no phone' rule in the note.
Truth be told all this fuss around the wedding has made us curious AF about the #VicKat ki shaadi! We can't wait for the couple to share all the happy pictures with us super soon.
Featured Image Credit: Instagram