Karan Kundrra has been playing around with his style lately. And while he manages to impress us with most of his experiments, sometimes the looks don't land. That's exactly what happened with the Tere Ishq Mein Ghayal star's latest fashion outing.
Karan was recently spotted at a promotional event wearing the exact opposite of what you call a weather-appropriate outfit. Here's why his look has left us hella confused:
Whatcha Wearing, Karan?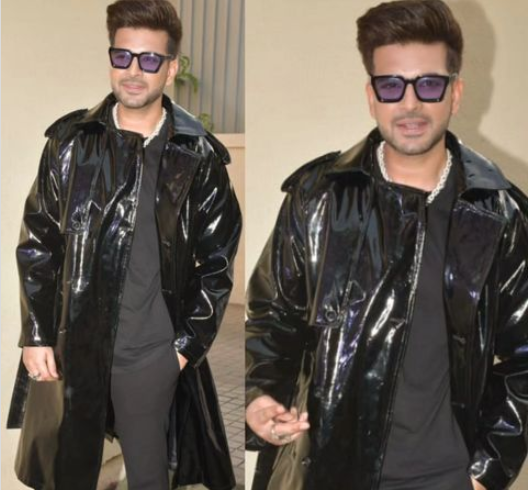 A trench coat is the last thing you'd imagine someone wearing in Mumbai. Given that it is super hot and humid currently, the thought might even make you break a sweat. But our Roadies gang leader is made different. He legit roamed around in sweltering Mumbai wearing a shiny trench coat.
Karan's latest fashion experiment comprised a charcoal black t-shirt, matching trousers, statement kicks, and a glossy trench coat. No points for guessing, it was the trench that caught everyone's attention. Firstly, no star who claims to understand fashion should even be spotted in the proximity of this coat, irrespective of the weather. But more importantly, what kind of prompts is Karan's style team working on lately? Is a look just meant to attract attention? Why have we completely stopped caring about practicality? WTF is happening?
Karan is such a good-looking man and would have looked so much better in a tailored linen blazer or maybe just a crisp cotton shirt. Here's hoping his styling team stops trying so hard when it is so easy to dress up someone who looks like Karan Kundrra!
Featured Image: Instagram