Kajol has always been the queen of hilarious posts and quirky captions on Instagram. However, her recent act has left her fans worried! The actress just announced she is taking a break from social media, without mentioning the reason. However, what has left her 'Gram fam perplexed is the concerning post she shared right before going off the platform. Kajol's note reads, "Facing one of the toughest trials of my life". Here, take a look:
While people have flooded her comment section with best wishes, a few have pointed out that this might be just a promotional gimmick for her upcoming project! A user writes, "Lol this is just part of her promotion guys. Chill. She's doing the remake of the show "The Good Wife" where the protagonist is a lawyer. Hence, the trial. Senti he ho jaatein hain log". Here, take a look at some of the comments: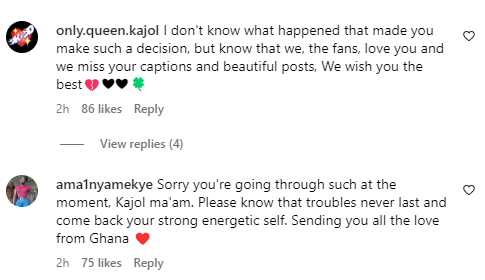 NGL, we also want this to be a mere promotional event and nothing serious. Here's hoping Kajol soon breaks her silence on the move.
Feature Image: Instagram