Those constantly in the public eye tend to get very conscious of how they look. We often see influencers talking about how they gained weight or maybe lost it. Fashion blogger Aakrti Rana did something similar recently. However, it didn't look like she was trying to start a conversation about her weight or body.
The influencer just posted a throwback picture of herself and talked about how she used to be chubbier a few years ago. Akriti captioned her post, "I was going through my old pictures and found this. I was so golu haha. Roz raat ko I used to order desserts and eat."
However, Aakrti calling herself 'golu' didn't sit well with the netizens. Her story was then shared by a Reddit user and soon people called her out for being 'delusional' and 'insensitive' about her weight. People also pointed out how she used to look healthier before. One Reddit user commented, "Attention seeking actions. Just to hear everyone say " no. You are so thin. Bla bla bla" This is actually so so so disrespectful to people with insecurities regarding their weight. (Which is like 50% of population). She is just adding fuel to fire." 
Another person commented, "This is the reason why young girls have body image issues. I am so glad insta didn't blow up with these influencers in my teenage years. Cannot even fathom the peer pressure of looking good and greater in pictures and stories in fancy locations and postcard updates."
Here, take a look at some of the comments on the thread: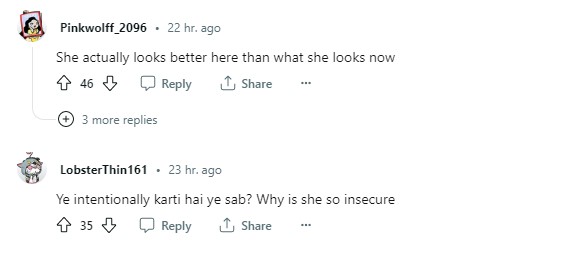 Honestly, looks like people are making a mountain out of a molehill here. Aakrti obviously looks different in the old picture but I am failing to understand the problem here. Isn't she just comparing her old body to her current level of fitness? She is not making any claims about losing a ton of weight or gaining some. Akriti hasn't even compared herself with anyone. She had just made an observation about her own damn body. What's the point of reading so much into it?
Featured Image: Instagram