Guneet Monga & Kartiki Gonsalves Register India's Historic Win At Oscars 2023!
We did it! India just made history at the 95th Academy Awards. India's entry in the Best Documentary Short Subject, The Elephant Whisperers, has won an Oscar!
This is the very first time an Indian film has won in the category. In fact, The Elephant Whisperers is only the third Indian film to get nominated in the category after The House That Ananda Built in 1969 and An Encounter With Faces in 1979.
At Oscars 2023, The Elephant Whisperers beat other critically-acclaimed movies like Haulout, The Martha Mitchell Effect, Stranger At The Gate, and How Do You Measure A Year? to secure the award!
A Women-Led Show!
The best part? Two women steered India to this mega win at the Oscars 2023. The Elephant Whisperers has been directed by Kartiki Gonsalves and produced by Guneet Monga! The duo accepted the award and looked ecstatic. My fave bit from the evening? Guneet was wearing a rani pink silk saree while accepting the Oscar for The Elephant Whisperers!
Also, this is Guneet's second win at the Oscars. In 2019, her Period. End of Sentence won Oscar in the Documentary Short Subject category!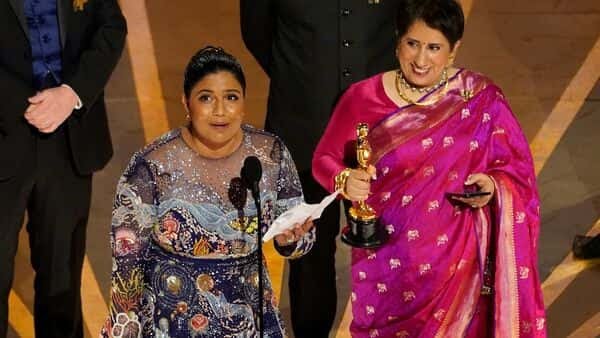 All You Need To Know About The Elephant Whisperers
Here's everything you need to know about The Elephant Whisperer:
The Plot
The Elephant Whisperers movie is a Tamil short documentary film. It is about the heart-touching story of Raghu, an orphaned elephant calf. Bomman and Billie, an indigenous South-Indian couple, dedicate their lives to looking after him. The film is a celebration of the bond that they share! It is set in the Mudumalai National Park in Tamil Nadu and sheds light on how indigenous people are capable of co-existing with nature.
The Process
A lot of hard work has gone into the making of this moving documentary. Director Kartiki Gonsalves followed the human-elephant blended family that features in the film for five and a half years to make this documentary. She started filming when Raghu was just three months old!
The Stellar World-Premiere
The film has been produced by Guneet's own production and distribution company called Sikhya Entertainment. Its world premiere happened during the Doc NYC Film Festival on November 9 2022.
Other Nominations
Before The Elephant Whisperers Oscar win, it was also shortlisted by DOC NYC in the 'Shorts: Change Maker' category. It was nominated for Hollywood Music in Media Awards and IDA Documentary Awards as well.
Where To Watch The Animal Whisperers?
You can watch the film on Netflix!
Clearly, India is having a great year on the international turf. Here's manifesting many more global wins for the country. Our heartiest congratulations to the team The Elephant Whisperers!
Featured Image: Twitter
© 2022 THE GOOD GLAMM GROUP