7 Iconic 90s Bollywood Hairstyles That'll Take You On A Trip Down Memory Lane
Let's be honest guys, they don't make films like they did in the 90s anymore. There's no overdramatic crying, no iconic wedding scenes, no 20-minute long song sequences, and no dishoom dishoom fight scenes. Ah, I miss those good times when we would go to a single screen, order popcorn and a Coca-Cola, and just enjoy the exaggerated saga of love, revenge, and heartbreak.
To give you a dose of nostalgia, we thought we'd take a trip down memory lane by showing you the most iconic Bollywood hairstyles. Don't lie to yourself, you thought they were super cool and trendy at the time too.
Iconic 90s Hairstyles That'll Make You Super Nostalgic
*Starts humming Tip Tip Barsa Paani to get into the mood*
The Bob That Everyone Wanted
Anjali and her hairbands were the real love story in Kuch Kuch Hota Hai, we just didn't realise it back then. She rocked matching ones with all her outfits during her sporty, basketball playing days. And that bob would look hella chic even today!
Spring Curls For The Win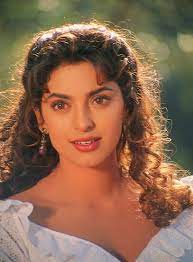 Juhi Chawla did a fabulous job playing the role of Shalu in Mr. And Mrs. Khiladi. She had her hair down throughout the film in spring curls that framed her face beautifully. Also, was having flyaways in the shot a thing back in the day?
Retro Style At It's Best
Urmila Matondkar in Rangeeela rocked a curly hairstyle that looked fab. Throughout the film, she used bows and hair accessories to spruce up her look and it's the classic retro style that could look great for a theme party. White shirt, high waisted pants, and loose curls tied up in a bandana–that's what we call a lewk!
Curls, Having Their Moment In The Sun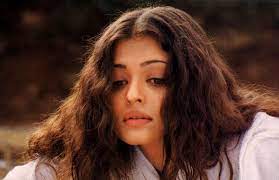 Aishwarya Rai in Taal was a thing of beauty in herself. Her gorgeous and free-flowing curls looked stunning as she sang in the remote hills of Chamba. The image of her rocking a centre parting and the wild tresses singing Dil Yeh Bechain Ve is etched our minds.
Athleisure Hair, Don't Care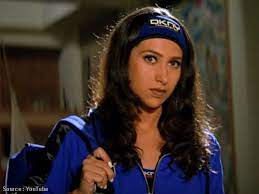 Karisma Kapoor did athleisure way before it was cool. Along with her outfits, she even sported graphic hairbands and looked gorgeous while doing it. For most of the film, her hair was down in a sort of unkempt, wavy fashion but she did rock the odd high pony too. 
The Bigger, The Better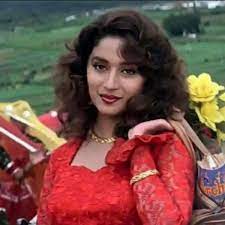 Big hair was a huge hit in the 90s and honestly, thinking of it now, how did these stars manage to keep it in place? Madhuri Dixit in Hum Aapke Hai Kaun was the ultimate flirty younger sister whose style and beauty aesthetic was typically 90s. If you're not a fan of high-maintenance hairdos, maybe avoid it in today's day and age?
Frizz Was In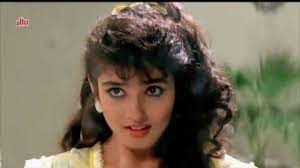 Half ponytail loving Raveena Tandon in Andaz Apna Apna won over everyone's hearts. She matched her hair ribbons to her outfits and kept the front section in a messy fringe. Who said your bangs have to be straightened out–just get inspired by this hairdo and keep it au naturale! 
Did you feel like you went back in time for a bit there? Yeah, same here!
Featured Image: YouTube
© 2023 THE GOOD GLAMM GROUP