There exist two types of people—those who go all out on Holi and those who like to stay miles away from any semblance of colour. Today, we come bearing gifts for both. Irrespective of whether your loved ones are going full loco or staying tight and snug in their homes, they deserve some Holi cheer. And all fun and festive as colours might be, gifts come a close second we believe. You know where we are going with this, right? Scroll down to see our curation of epic Holi gifts that are sure to impress this festive season:
Thrivin' Mini Nail Kit By POPxo Makeup
Buy it here
Here is a gift set that is fun, colourful, and just perfect to distribute among all your style-savvy buddies this Holi. Plus, just a coat of these colour pop enamels and you can ensure that your nails remain unstained. Win-win!
Everything You Need Kit By Sirona
Buy it here
This is the perfect kit for your menstruating buddy and to ensure that periods do not dampen the Holi fun for them. 
Red Onion Haircare Range By St Botanica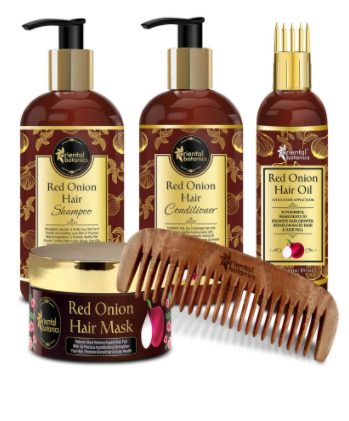 Onions are a rich source of sulphur and provide deep nourishment to your hair. The Red Onion Haircare Range by St Botanica is godsend for anyone dreading the post-Holi damage and dryness.
Skin Prep Essentials Kit By Simply Nam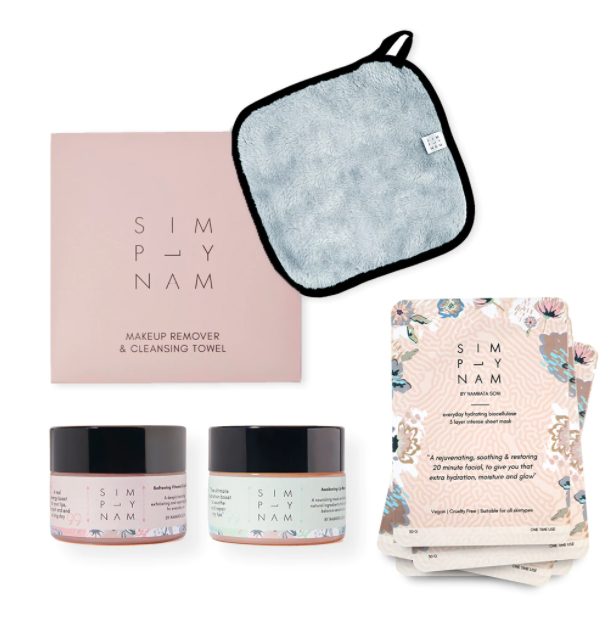 Everything you need to create a good makeup base or to unwind after a long day of Holi— consider it already done with the Simply Nam skin prep kit!
Professional Molecular Repair Mask By K18
Buy it here
Wild Holi plans? We say 'aye' and you should too! Oh, and we have got you covered for the post-Holi pampering as well. This leave-in treatment mask by K18 works for all hair types and clinically reverses damage in four minutes. 
Skin Rejuvenating Gift Set By Juicy Chemistry 
Buy it here
Comprising the Damask Rose, Geranium & Saffron Organic Soap, and Damask Rose & Ylang Ylang Body Oil, this kit is what you'd need during and after an aggressive post-Holi rinse.
Hemp Youth Glow Range By Lotus Organics+
Buy it here
This heavy-duty combo set by Lotus Organics+ consists of the Hemp Youth Glow range. This AM-PM everyday skincare set features a formulation curated to refine and renew skin, boost collagen, and restore hydration!
Estee Lauder Advanced Night Repair Serum
Buy it here
Experience the next generation of Estee Lauder's revolutionary formula—the most comprehensive Advanced Night Repair serum ever. Powered by Chronolux™ Power Signal Technology, this deep-penetrating serum reduces multiple signs of ageing and makes skin looks smoother, more radiant, and even-toned.
M.A.C Studio Moisture Cream
Buy it here
A super-rich, hydrating moisturiser boosted with skin-nourishing extracts that will nurture and restore the skin. 
Dr G Gentle Facial Foam
Buy it here
This sulphate-free facial cleansing foam is a must-have for that post-Holi cleanse. It is enriched with alpha hydroxy acid that gently exfoliates, brightens, and refreshes the skin. 
Travel Kit By Fix My Curls 
Buy it here
Here is the perfect gift for all the curly-haired divas. From a cleansing shampoo to hydrating flax seed gelly, it has got everything that their curls would need post the Holi assault.
Advanced Curl Care Detox For Moisturized, Lush Curls By Arata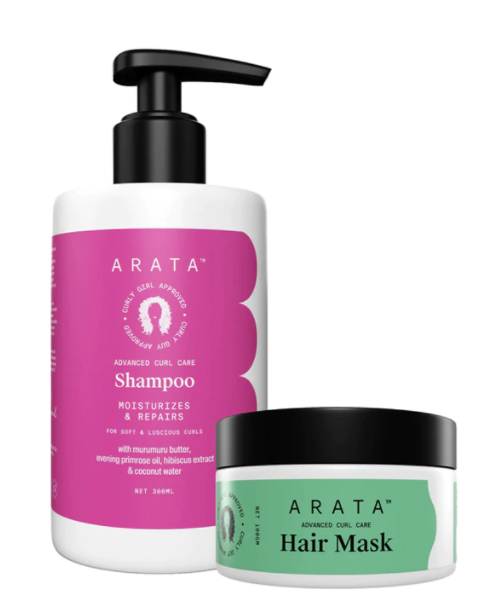 Arata's Advanced Curl Care Detox combo is here to cleanse and deep condition your curls from root to tip with a generous dose of moisturisation.
Black Charm Hair Oil By Secret Hair Care
Buy it here
Speaking of hair care, this Black Charm hair oil will be an equally good gift. It controls hair fall and dandruff, strengthens roots, and adds volume when used regularly.
Damage Remedy Mask By O3+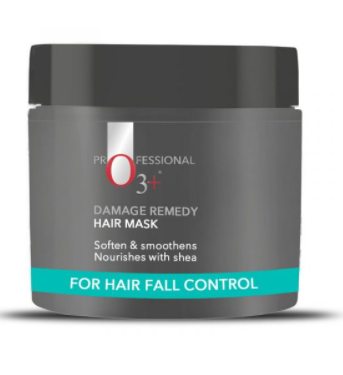 This is a unique formula that delivers immediately noticeable results. This hair fall control mask will deeply nourish your scalp and will soften and repair damaged hair.
Acai Of Relief Hair Mask Bars By The Switch Fix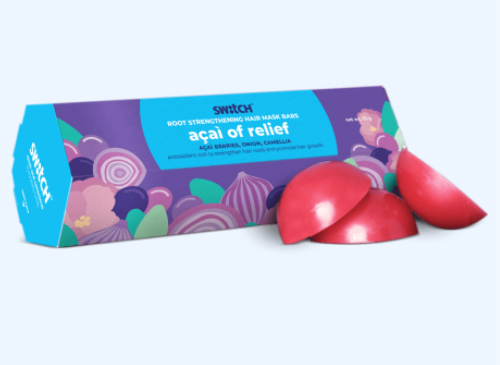 Take this from us— this pack of root strengthening hair mask bars for dry, fragile hair is a game-changer. Packed with açaì berries, camellia, and plant keratin, the mask strengthens your hair roots, stops hair fall, and gives you luscious locks in the process.
Complete Oral Care Gift Hamper By Bentodent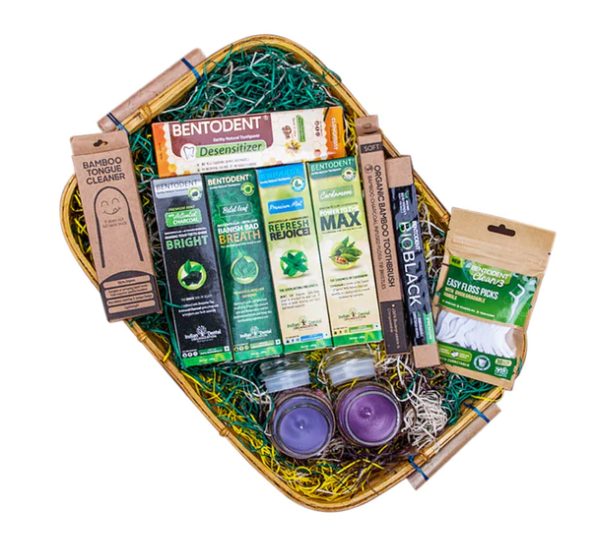 This Holi, spread smiles with Bentodent's first-ever gift basket. From toothpaste to floss, this beautiful bamboo basket contains all that you need for a healthy smile.
Coffee Date Bathroom Edition Gift Kit By Mcaffeine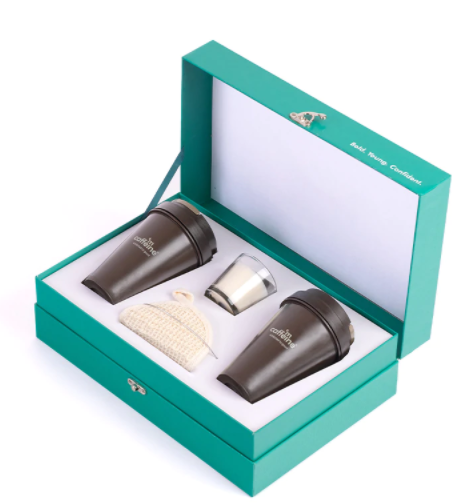 It's time to go skin-sipping on some caffeine goodness with the relaxing gift kit which is packed with naked & raw Coffee Body Wash, Espresso Coffee Body Wash, and Natural Loofah. 
Essential Face Kit BySkinKraft
Buy it here
This gorgeous gift set by Skinkraft is a curation of five power-packed skincare care products, which are gentle, safe, and effective on your skin.
Kaya Super Hydrator
Buy it here
Dry, colour-assaulted skin needs extra love and a lot of hydration boost and Kaya's Super Hydrator will do the task pretty well. 
Prebiotix™ Instant Flash Facial By Juice Beauty
Buy it here
This is a facial + exfoliating mask + cleanser—all in one! The product is perfect for some instant rejuvenation to reveal fresher looking and glowing skin. 
Wild Rose Body Lotion By Neal's Yard Remedies
Buy it here
House of Beauty just launched this iconic brand in India on Boddess and we are loving their Wild Rose body lotion. It is formulated with organic wild rosehip seed oil and sweet almond oil to intensely nourish the skin, leaving it feeling soft and smooth.
Vitamin C Sheet Mask By Studiowest 
Buy it here
Here's some extra skin TLC for those who never say 'never' to added hydration. 
Facial Essentials Gift Set By Forest Essentials
Buy it here
This Forest Essentials gift set on TATA Cliq Luxury is a fine selection of facial care products for that perfect post-Holi glow. 
Kumkumadi Thailam By Ozone Signature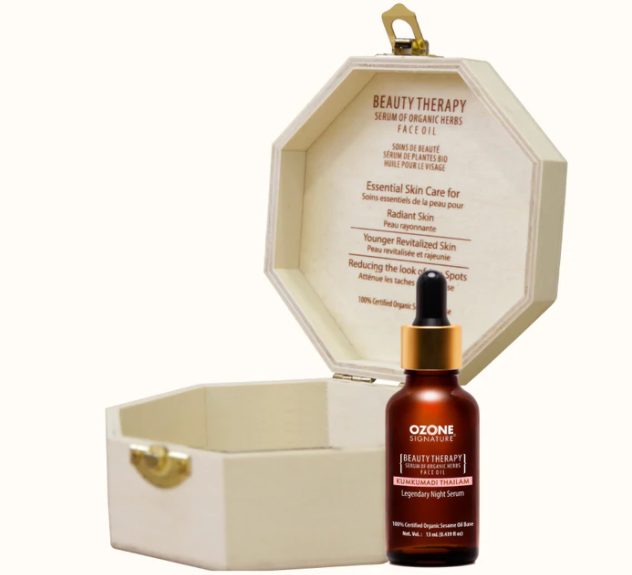 Here is a powerful formula to reduce pigmentation, dark spots, brighten the overall complexion, and visibly reduce pore size. This is the Ozone Signature product is the perfect fix for your post-Holi skincare blues.
Ombre Leatheroes By Tom Ford
Buy it here
Gift the special men in your life the tactile sensuality of rich black leather, textured with addictive patchouli, and vetiver. This Tom Ford perfume is pure magic.
NORVINA® Chroma Stix 
Buy it here
Want 8+ hours of undeniable pigment and shades that take your Holi look to new levels of awesomeness? This vibrant kajal stick will be the perfect pick.
Inaayat Votive Candles By Rad LIving
Buy it here
With intricate craftsmanship and hand-picked fabric wrapped around these lovely beauties, the 'Inaayat' set of four candles is perfect to spread some joy. The candles come bearing the memories of the lush spring season and remind of a country house, and happy days.
Vibrant Planters By ProjectCo
Buy it here
ProjectCo is all about gifts that grow on you. Take, for instance, these vibrant planters that will make a bold statement and instantly add a touch of warmth to any living space.
Colour-Pop Glasses By The Tinted Story
Buy it here
This Holi, let The Tinted Story do the dress-up for you with their quirky offerings. Featured here are their classic cat-eye spectacles complete with blu-ray glasses and colour-pop options.
Retro Chic Glares By Vogue Eyewear 
Buy it here
These retro-chic glares are the perfect way to add an element of colour to your BFF's everyday style.
Quirky T-shirt By ONLY X MINIONS
Buy it here
Add a serious pop of colour to their wardrobe with this quirky T-shirt by ONLY.
Riot Of Colours Maxi Dress By Vero Moda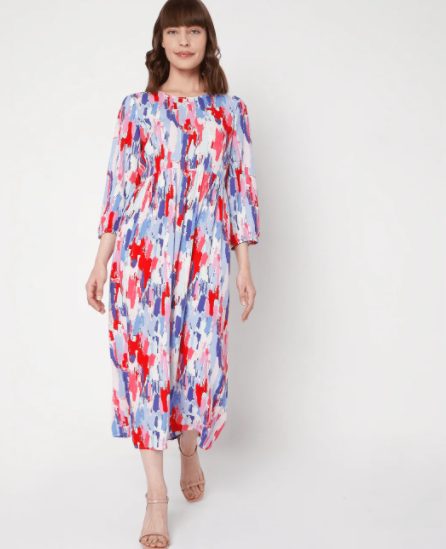 This blue and print maxi dress by Vero Moda packs in a punch of colours that would be perfect to bring some Holi cheer to the special ladies in your life.
Printed Dress By Rareism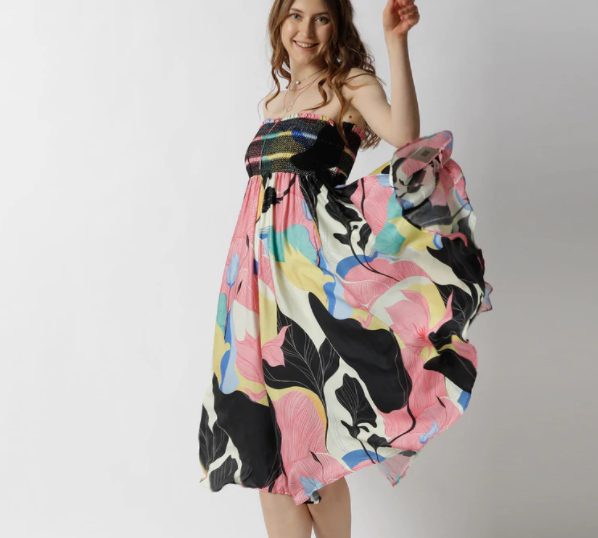 Here's a contemporary full flared tube dress in a distinct vibrant print that will serve as the perfect Holi gift for your special lady.
Cutesy Sling By The Gusto 
Buy it here
The Gusto crossbody bag is made from durable vegan leather and is a fail-proof gift. 
Vibrant Bucket Bag By Outhouse
Buy it here
Feeling fancy? This Holi, buy the OH Poppi Bucket by Outhouse for the special women in your life. A celebration of contemporary style that encapsulates the spirit of the house's stunning design code, this piece is crafted in PETA approved vegan leather and takes over 20 hours of hand-done artistry. It's as exquisite as it gets. 
Aster Mustard Sling By Fastrack 
Buy it here
Here's another vibrant bag option from Fastrack for your bestie who is always on the move and likes to keep it easy, breezy, and fuss-free.
Geometric Style Tote Bag By ArtzFolio
Buy it here
In the spirit of Holi, help your loved ones make the sustainable switch with this vibrantly coloured canvas tote by ArtzFolio.
A Blast Of Colours By Anayah Jewellery 
Buy it here
Add a regal touch to your Holi celebrations with this breathtaking navratna choker set by Anayah Jewellery. As Olaf would say, some people are worth splurging for!
Holographic Chunky Sneakers
Buy them here
Here is a pair of chunky sneakers equipped with dual lacing which would be perfect for a party-ready ensemble. Its PU upper is accented with bold holographic, iridescent panels to create a multi-dimensional look and we can't think of a better Holi gift for a sneaker enthusiast.
Premium Linen Long Sleeves Shirt By Uniqlo
Buy it here
Holi marks the beginning of the summer season and thus, is the perfect time to invest in some linens, for yourself and your loved ones. We are currently drolling over the breezy linen range by Uniqlo and recommend that you give it a try as well.
Summery Maxi Dress By A Knot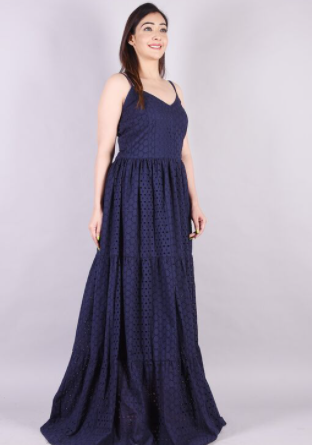 Here's another breezy pick that we are eyeing this summer. We love the laidback silhouette of this A Knot maxi which makes it equal parts comfy and chic.
Cotton Sweatshirt By United Colors Of Benetton
Buy it here
Cotton sweatshirts to fend off the summer heat? Hell yes, baby! This colour-pop stunner by United Colors Of Benetton reins numero uno on our current wishlist. 
Traditional Kurta By Manyawar
Buy it here
The green chikankari kurta by Manyawar is the perfect Holi/Bhaidooj gift for your pyara bhai. 
Vibrant Bedsheet By Boutique Living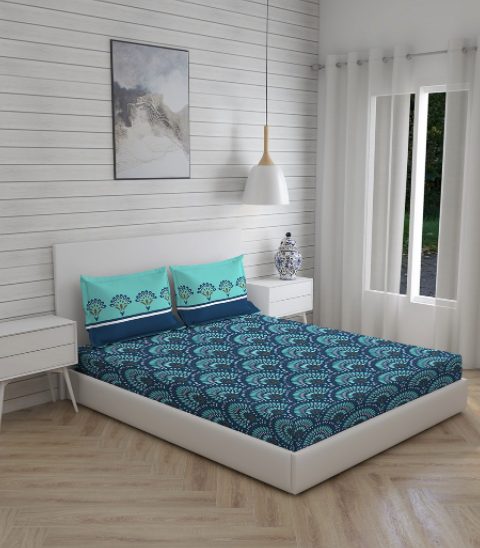 Boutique Living is a premium lifestyle brand from the stable of Indo Count Industries. Their premium bedsheets are great gifts for every occasion and we have picked a particularly vibrant one for Holi. Isn't it a beauty?
Linen Slumber Bedsheet Set By Live Linen
Buy it here
Breathable and comfortable, this exquisite 100% linen-made bedding set will feel like a feather against your skin, while the subtle colours will add a cool, relaxed vibe to your room.
A Colourful Gift For Your Doggo
Buy it here
Wuttt? You weren't planning to leave out your best buddy, right? This nylon collar with an attractive Indie pattern by Waudog is the perfect gift for your little show stealer. It is super comfy and sure to make heads turn!
Drinkable Skincare By Kapiva
Buy it here
Here's some drinkable skincare for naturally healthy & glowing skin. Designed by Kapiva Academy of Ayurveda with 10+ plant-based ingredients, this product naturally boosts the synthesis of collagen, glutathione, and hyaluronic acid for radiant, even-toned skin. Just mix, sip, and glow!
Gujiya And Thandai With Herbal Gulaal Holi Hamper By IGP
Buy it here
Behold this all-in-one Holi gift hamper for your friends and family! Isn't it a riot of colours?
Almond & Apricot Booster By Mio Cucina
Buy it here
Delicious and wholesome, these almond and apricot yummies are the perfect mithai swaps for your health-conscious fam.
Vibrant Holi Hamper By Taj Palace, New Delhi
Buy it here
This Holi, Taj Mahal Palace Delhi brings to you customisations and corporate gifting solutions available on request. Thoughtfully designed, curated with care, and filled with sweet pleasures, these Festive hampers will make for steller gifts. 
Holi Box By Snackible
Buy it here
The carefully curated Holi Box by Snackible is the perfect gift for your foodie fam. It contains a range of classic munchies along with Organic Gulaal (100gms) from Nirmalaya to serve as a wholesome gift. 
So fam, all set to spread the colours of joy this Holi?
Featured Image: Instagram