TikTok and Instagram might have made these lyrics popular, but whoever came up with these, experienced Dubai in its truest sense. Just about a three-hour flight from India, there is a glittering skyline, made up of skyscrapers, and grandiose lavishness waiting for you. So when an opportunity for a trip to Dubai hit my inbox, I couldn't say no to it. Dubai is *the* place to surround yourself with avant-garde architecture, coastal cool, big-city vibes, global cuisine and a thriving art scene. Yup, this city is your key to luxe life, friends. But what's the right way to experience this jet setter's paradise? Dubai's diverse hotels (trust me, that's where you see the real 'life-is-good' spirit). 
From sleek, high-rise rooms for business travellers, romantic seaside resorts for couples to luxury hotels with top-notch restaurants, the real 'Dubai Bling' lies in its hotels. Now, if you allow me–let me give you a peek into the luxe serenity I experienced on this five-day itinerary. 
Hyde Hotel Dubai, Chic Rooms & Playful Vibe
My first stay was at Accor's Hyde Hotel Dubai, Business Bay. The hotel gives you an Instagram-worthy welcome with its flower wall lit up with neon lights. Record covers, bookshelves, artworks and curios give the hotel its modern city vibe. The rooms are chic and offer uninterrupted views of Downtown Dubai with the looming Burj Khalifa (psst..ask for Downtown Dubai views when booking the hotel).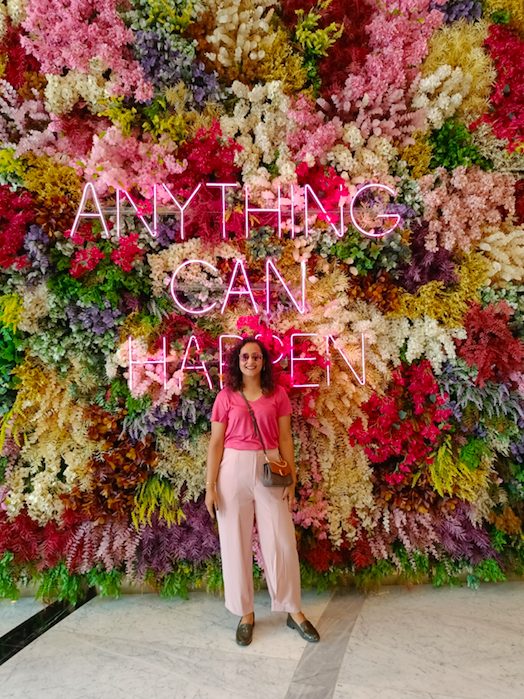 Eat, Play, Relax..Repeat
The food scene at Hyde is a high-key treasure to uncover, and I'm about to let you in on *the* best cocktails and dishes to have. Head to Cleo for all things Mediterranean. 
The restaurant offers a modern take on Levantine sharing dishes, an extensive grape cellar and a lively ambience. A must-try here is plant-based Signature mezze, complete with Hummus, Muhammara, Moutabel and Baba Ghanouj. Don't forget to polish off your meal with a baklava tower that comes layered with pistachio ice cream (heaven on earth…yummmm).
Another highlight at Hyde is its Japanese restaurant Katsuya. The restaurant  pays homage to 15-year-old Katsuya legacy (the first one opened in Los Angeles). Plating up dishes using age-old Japanese cooking techniques, Katsuya offers sushi and sashimi platters, along with dumplings and meats.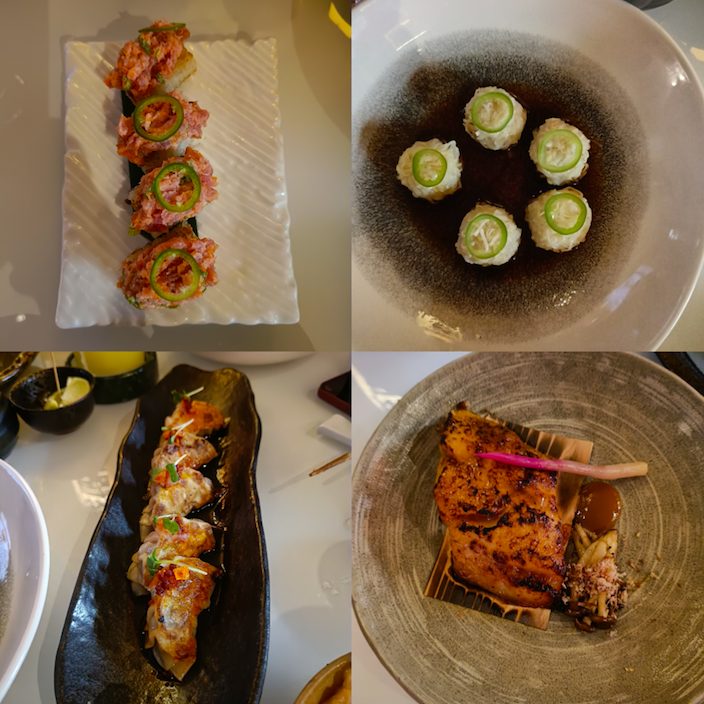 This Speakeasy Will Really Speak To You…
Your hotel stay is incomplete without tasting the lip-smacking cocktails at their speakeasy-style bar, called Hudson Tavern. Hidden behind the curtains, it lives up to its speakeasy reputation. This is *the* spot for a nice glass of Negroni (the pours are generous my friend). JFYI, the vibe here is playful and the American-inspired food is worth a try.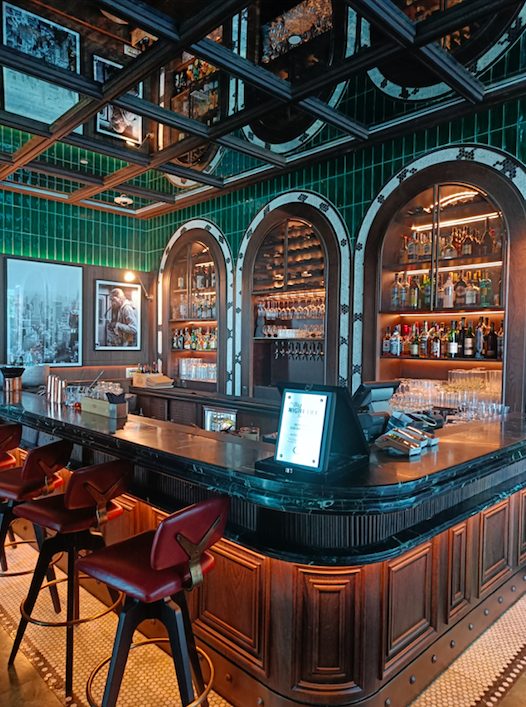 Next stop…Raffles, The Palm, Dubai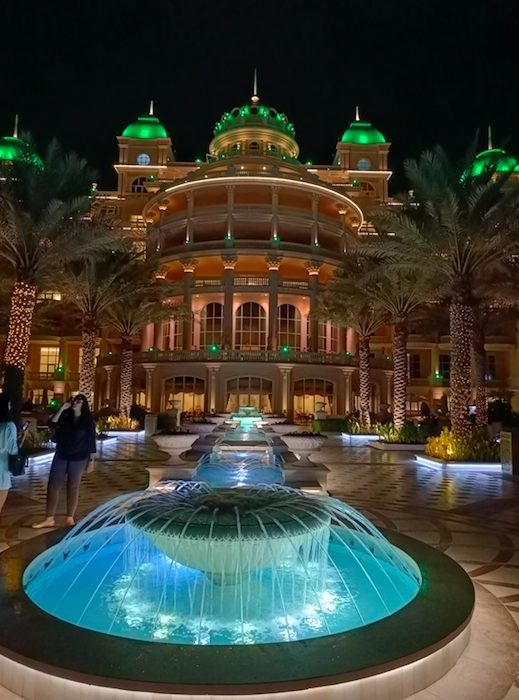 After a three-day stay at Hyde Dubai, we were scheduled to spend two nights at Dubai's most luxurious hotel. For someone who has never been to Raffles, the hotel transports you into a different world. If you are in Dubai and you are not staying at the Raffles, then you are doing it all wrong. Okay, I am kidding but let me tell you one thing: Raffles, The Palm is unlike anything I've ever experienced. From the moment you walk into the grand foyer (that dazzles you with more than 6,000 Swarovski Crystal chandeliers) to the extravagant rooms, this is a stay you won't forget in a hurry.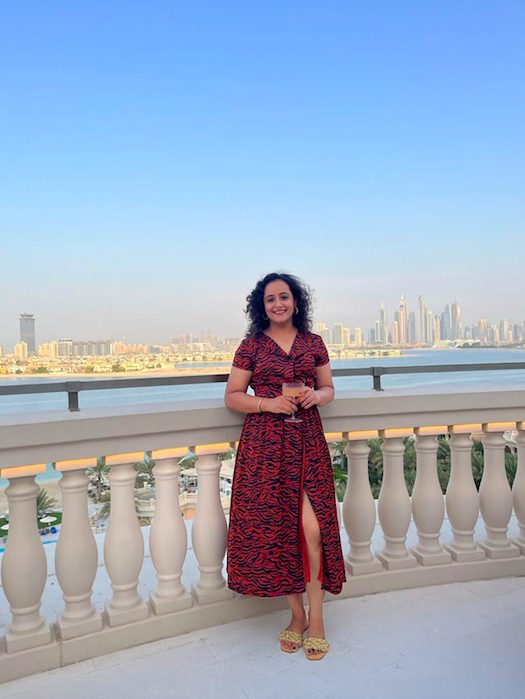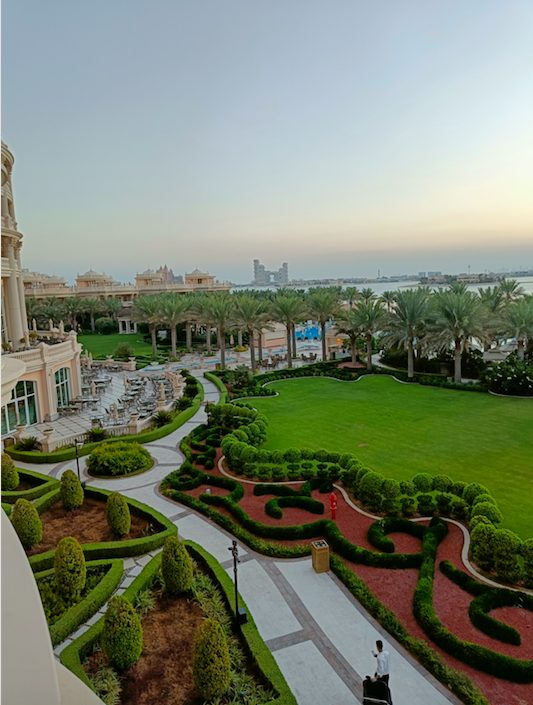 The hotel is beautifully positioned to take in the stunning views of the Arabian Gulf and the Dubai skyline. At night, the interiors of this hotel lit up with its gold and silver toned antique furniture making it look like a palace and this is when you get to see this beauty of a hotel in all its glory. The hotel features a handful of F&B options but each one is different from the other.  
Eat, Play, Relax..Repeat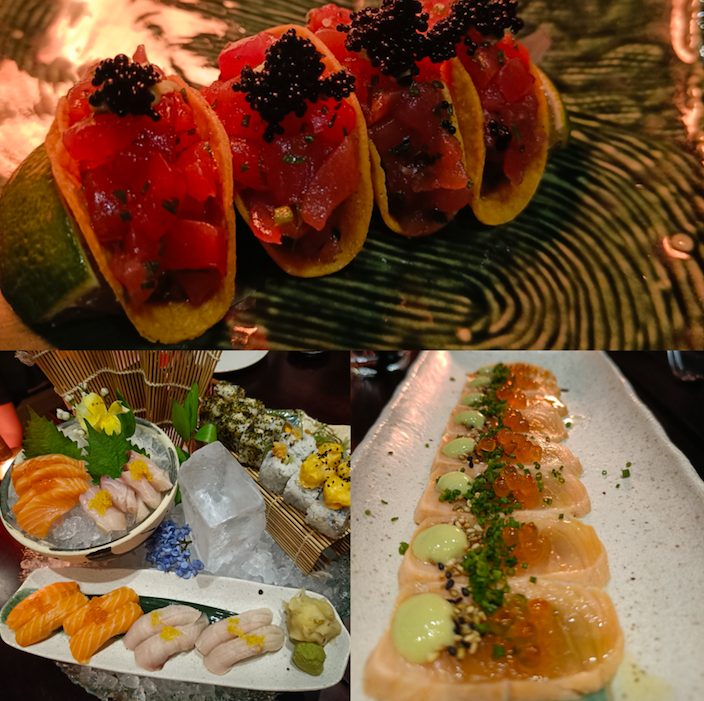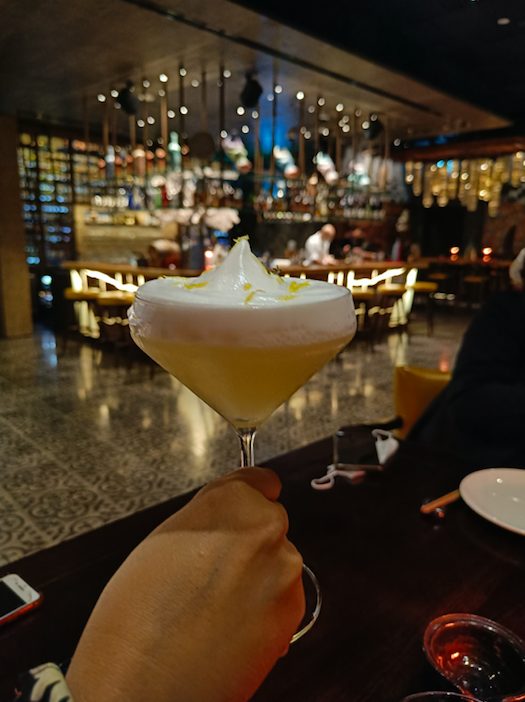 I highly recommend the Sola Jazz Lounge and Matagi that serve novel interpretations of Japanese cuisine. While both the places are elegantly moody, I would recommend Matagi if you want to experience the best food of your life (I am not joking). Pro tip: Order the Sashimi and Maki platter to share with your gang. You haven't lived until you have tried this platter at Matagi.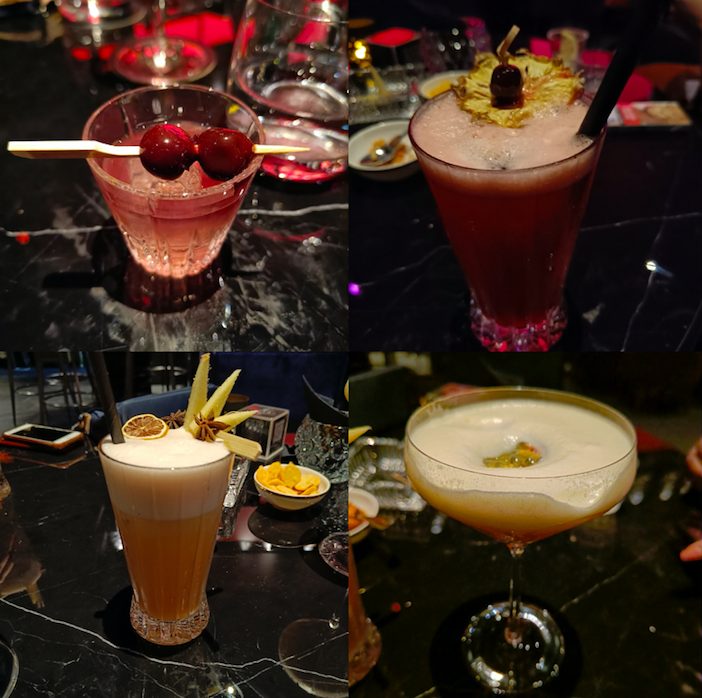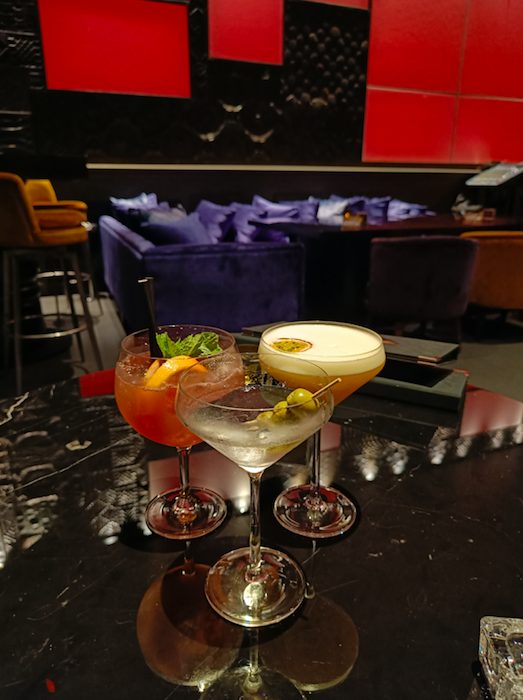 Sola, on the other hand, is chic and an insanely cool jazz lounge. All you have to do here is order the Raffles sling, recline while the performers turn up the tunes.There's also ample open space for guests to dance and mingle.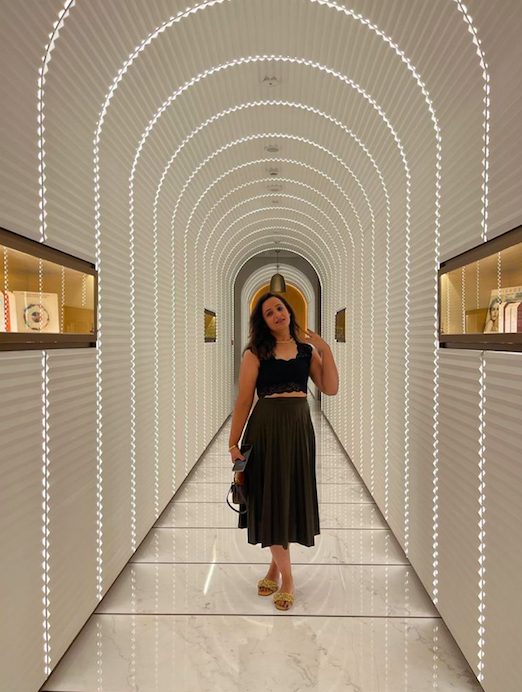 If you are staying at the Raffles, you cannot leave this place without getting a rejuvenating massage at The Cinq Mondes Spa and taking a dip at their indoor infinity pool. The spa offers holistic treatments inspired by travels across the globe. Go for a 60-minute massage or a two-hour hammam if you feel like floating away at this wellness haven.
Eateries I Highly Recommend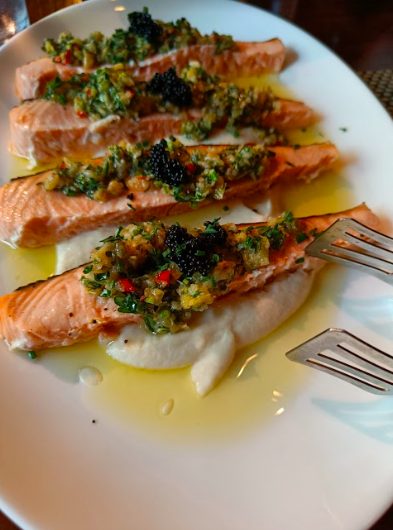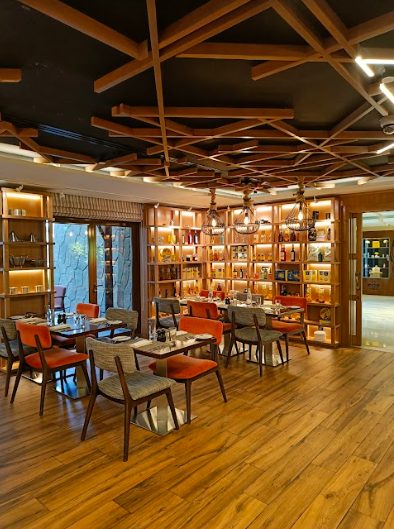 The World Eatery at Sofitel Dubai The Palm: At Sofitel, you experience genuine hospitality (all of their staff keep smiling at you). The World Eatery is a must-visit if you are travelling to Dubai with your fam (even if you are not staying at the hotel). 
My recommendation: Try the Vegan quinoa salad and Opera Cake
AED 560 for two people (approx.) Without alcohol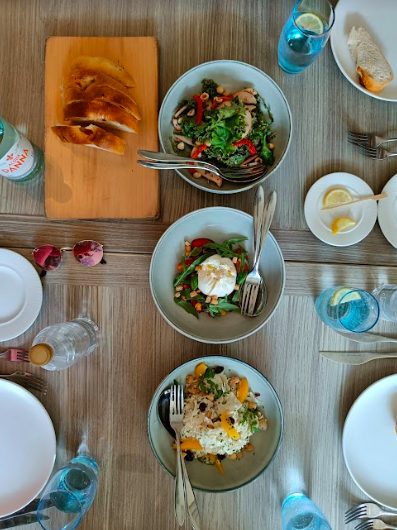 Seagrill Bistro at Fairmont the Palm Dubai: Fairmont promises all the luxury, hospitality, and glamour that Dubai is known for. The hotel has quite a few F&B options but Seagrill Bistro definitely stood out for me. The bistro offers a Mediterranean-inspired menu. It's def a hidden gem and an elegant eatery. Book a reservation and try the Green Salad for starters and Mushroom Fusilli Pasta for main course. Banana Passion Cheesecake also cannot be missed.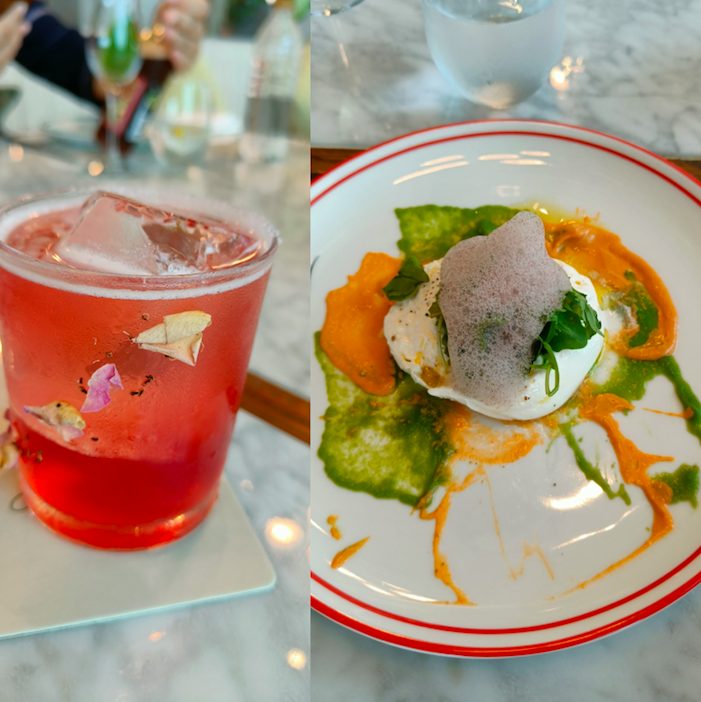 Fi'lia at SLS Dubai: Go here for the views! Because who wouldn't love a slice of pizza and a refreshing cocktail while enjoying a great city view from the 70th floor (you don't even need to see Burj Khalifa after seeing the views from here) . While I would recommend sitting outdoors, indoors also feel like a glasshouse overlooking the glitz and glamour of Downtown Dubai. Fi'lia is also the first fully female-led Italian-Mediterranean restaurant in Dubai, headed by chef Sara Aqel.  My recommendation: Try the Tropical Pavlova and the Calamari Fritti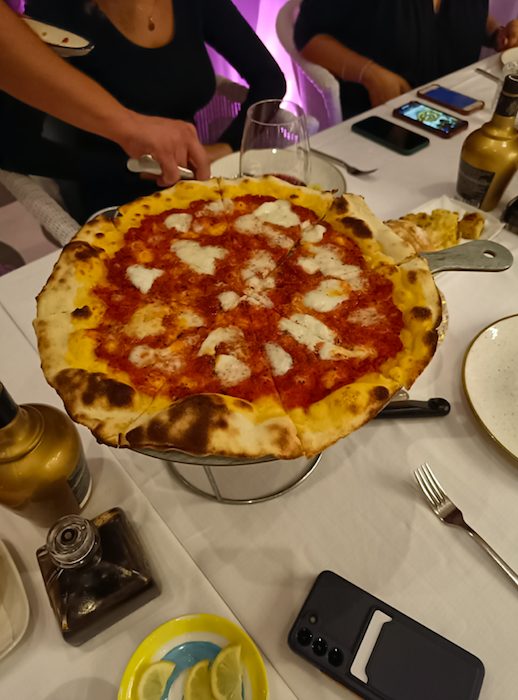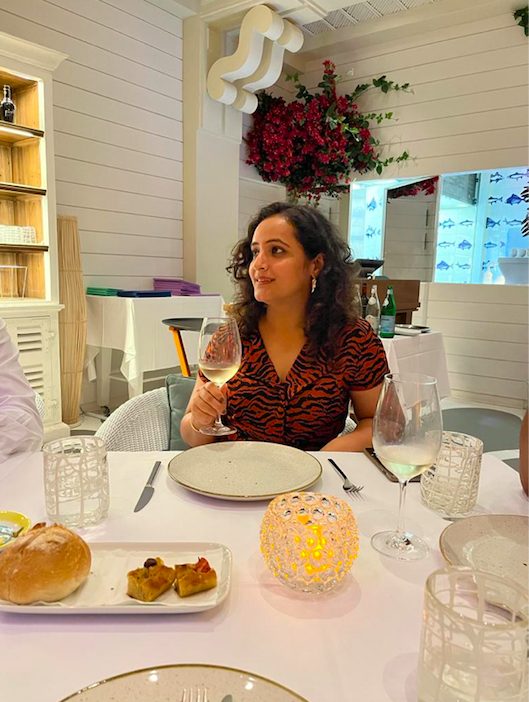 Piatti By The Beach at Raffles The Palm Dubai: If you're looking to eat delicious and creative courses until you literally can't anymore, this restaurant by the waterfront is the place for you. The restaurant draws inspiration from Italy's Amalfi Coast and Positano. I took a little trip to Italy while dining at this restaurant. I am not kidding–the whitewashed walls, the cascading magenta blooms and the panoramic sea views literally transports you there. My recommendation: Try the Wagyu Beef Carpaccio with Wasabi Mayo and Dynamite Carabineros Prawns