And just like that, it is almost Diwali time. We are sure that you are already in the festive spirit and are currently busy managing a to-do list of endless chores and Diwali shopping. Well, today we are here to check a particularly heavy-duty task from your list i.e. Diwali gifting. While festivities and our ways of navigating social situations might have changed in a post-pandemic world, there are some things that remain unchanged. Gifting is one of them 'coz let's accept it, nothing brings in the festive cheer like a thoughtful gift! With exactly that thought in mind, we have curated an expansive list of  50+ Diwali gift options that will keep you duly covered this festive season. Scroll through: 
For The Style Savvy
Frantically scouring the internet to find the perfect gift for your fashion-forward friend? Your search ends right here. From chic accessories to clothing picks, here's something for everyone:
His & Her Wallet Set By Da Milano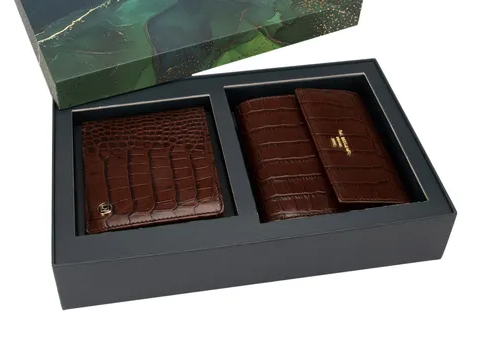 This would be the perfect couple's gift that is sure to get you brownie points for good taste in accessories. 
Luxe Satin Night Suit By BeLuxe World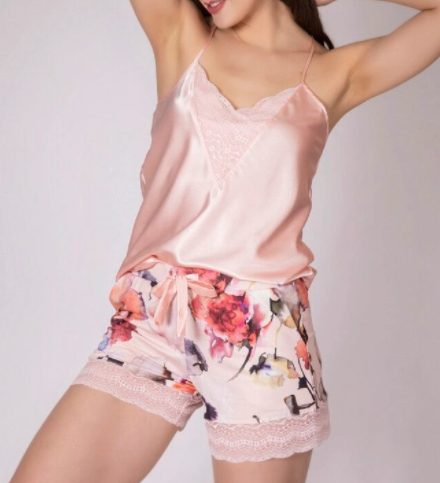 Give your baby sister the gift of comfort and a good night's sleep with this super chic short and top set. 
Versatile Jewels By Cintilla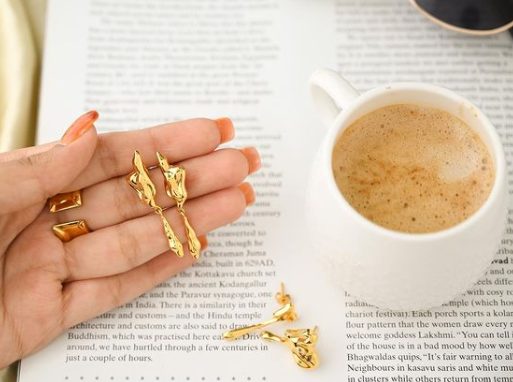 The perfect gift for people who like jewels that go with everything! 
Eco-Conscious Watches By Benetton Timwear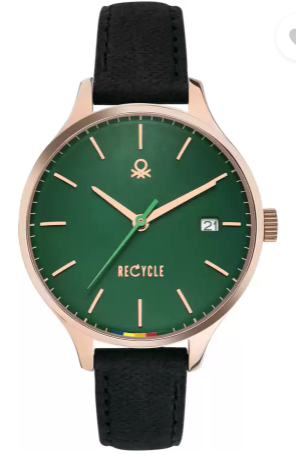 Buy it here.
The outcome of Benetton India's partnership with Timex India, this exclusive line of watches offers contemporary designs, sustainable options, and uber-stylish pieces for both men and women. 
Timex X Coca Cola Collection's Vintage Picks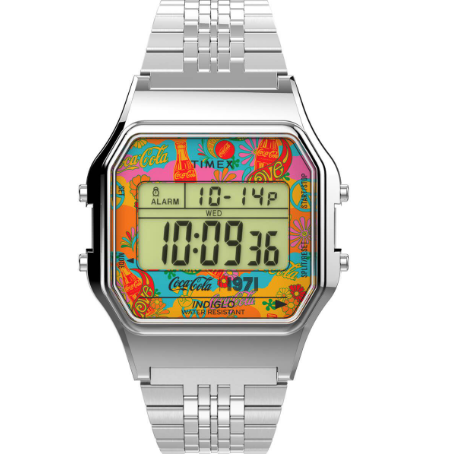 The perfect gift for watch collectors. 
Understated Watches By Skagen Freza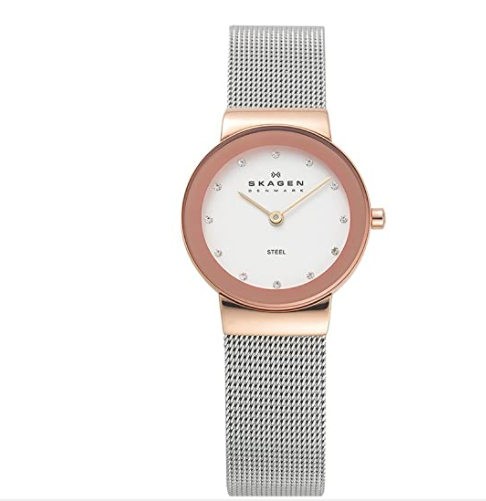 Made for those who have a thing for all things classic. 
1984 Reloaded Collection By Swatch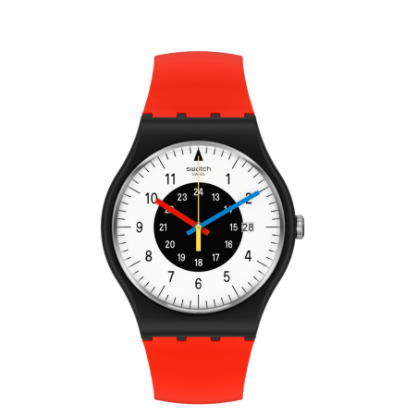 A watch that is sure to invoke tonnes of nostalgia.
Sleep To Street With Dusk Attire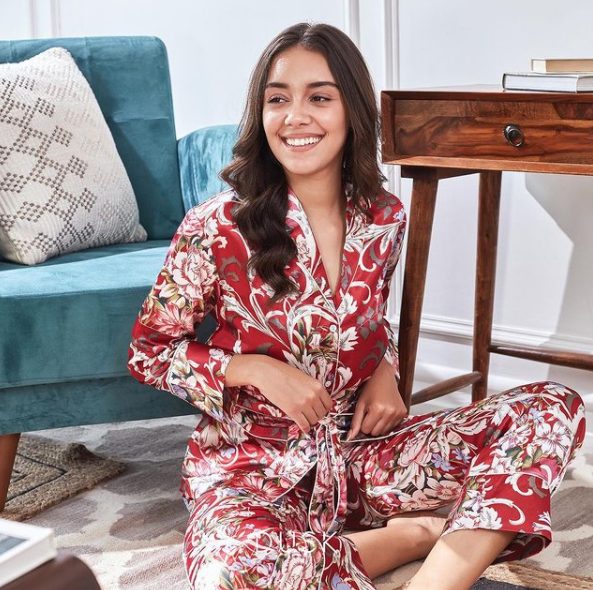 Premium and versatile clothing that can take you from street to sleep and vice versa sans any tweaks! 10/10 this is going to be a huge hit among the ladies in your life.
Nazar Jhumka By Funky Maharani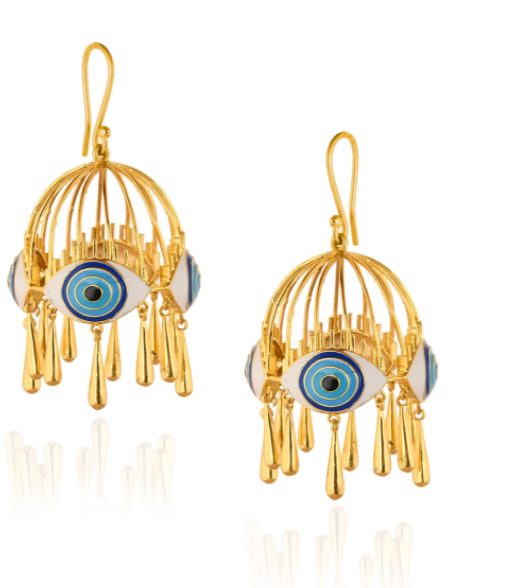 Just in case you want to shield your very precious BFF from the evil eye.
Chic Athleisure Sets By SKNZ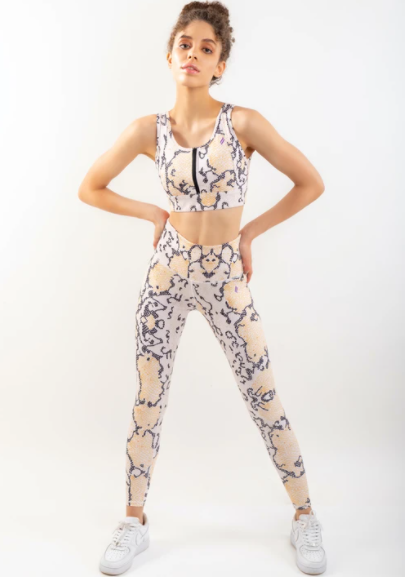 For your fitness junkie siblings who like to take their gym wear out of the gym. 
Gond Art Saree By Saundh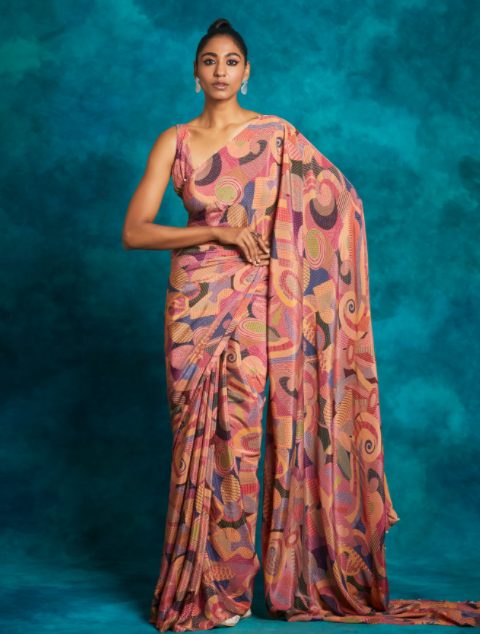 For the connoisseurs of Indian handicrafts. 
Premium Separates By Shirt Theory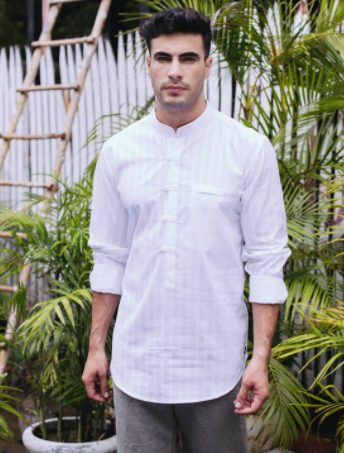 To jazz up the Diwali wardrobe of the men in your life. 
Patchwork Beauties By Detach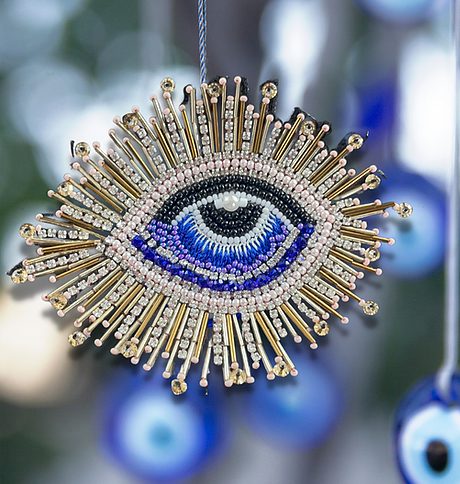 For someone who has an eye for all things unique.
Cutesy Wardrobe Finds By White Dhalia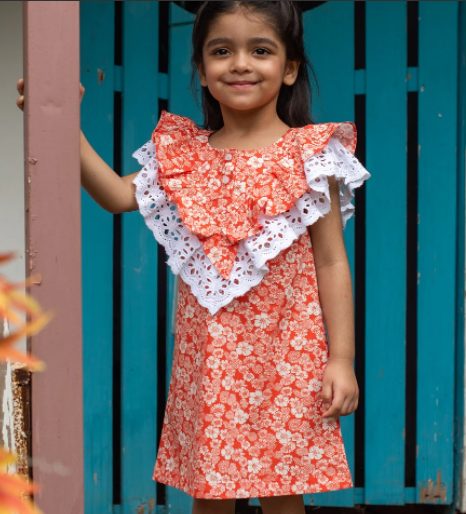 To get your little princess nothing but the best this Diwali. 
Statement Picks By Joules By Radhika
For flamboyant women who enjoy the limelight. 
Regal Jewels By Swabhimann Jewellery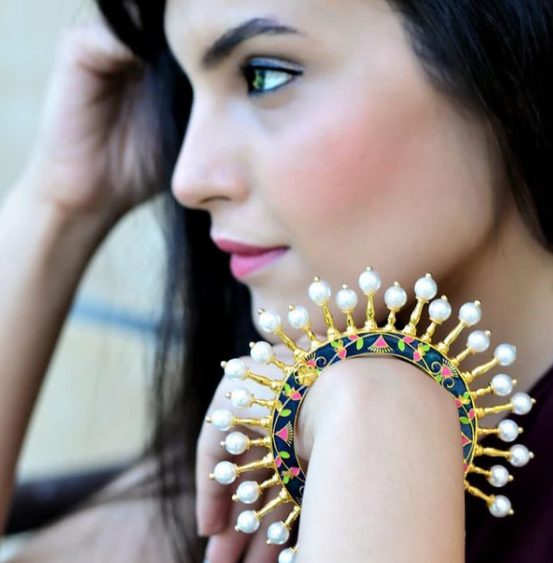 Fit enough for a queen!
Ayana Juttis By Tribe X Fizzy Goblet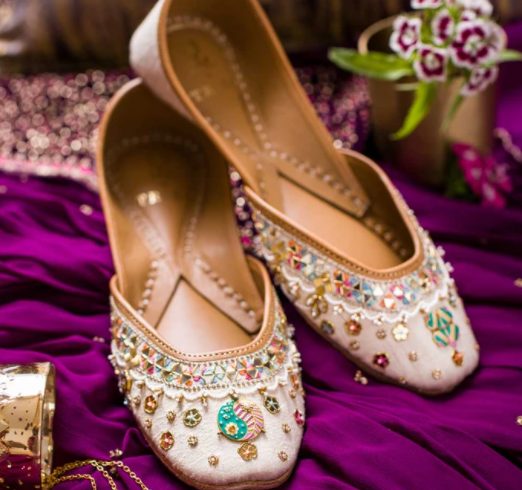 'Coz 'I have enough shoes' is not something that a fashionista says. 
Eclactic Heels By Aprajita Toor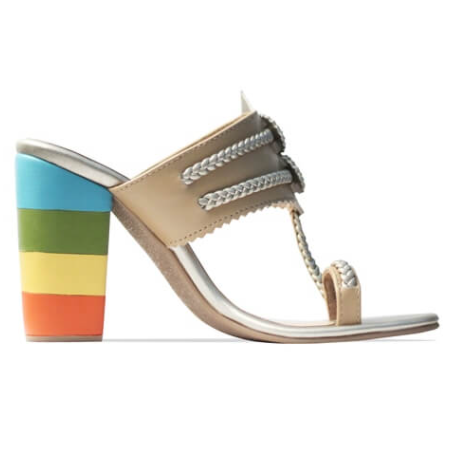 For anyone who's looking for some extra drama this Diwali. 
Silver Jewels By Anita Dongre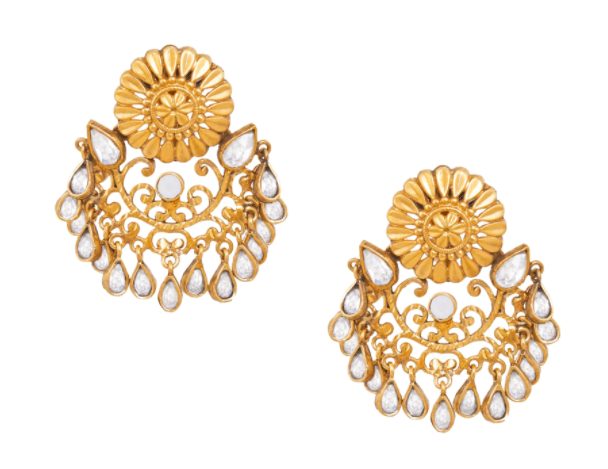 Designer jewellery that your friends will cherish forever. 
Jewellery Set By Runway Rituals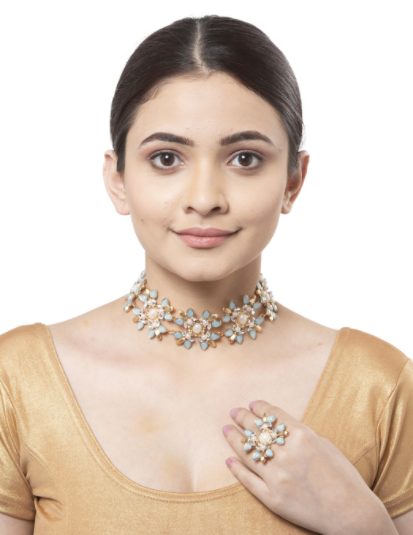 An array of jewels for the jewel of your life. 
Some Gemstone Lovin' With Prakshi Fine Jewellery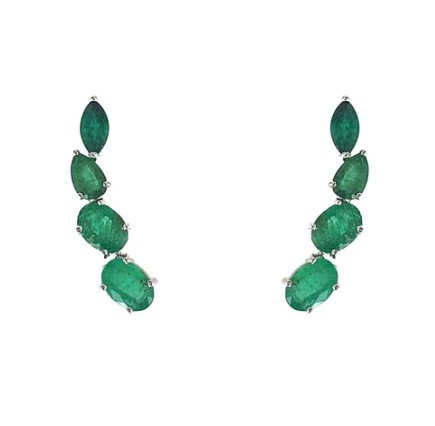 When you want to go the extra mile and investment is something that is truly worthy to your precious one.
Forever Jewels By S'Éternals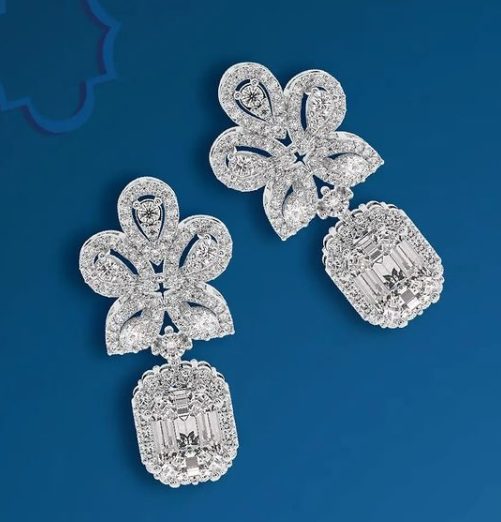 When you want to express just how valuable she is for you.
For The Beauty Bums
How about giving the gift of TLC to your loved ones this Diwali? Here are some beauty and self-care picks that will have you interested: 
Ace The Glow With Light Up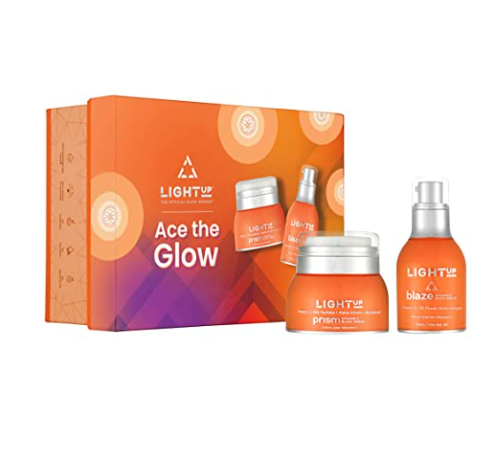 Give the gift of flawless glow and radiance this Diwali with Light Up's Ace The Glow skin brightening set, which comprises Prism Vitamin C Glow Cream (50g) and Blaze Vitamin C Glow Serum (30ml). 
A Burst Of Colours By POPxo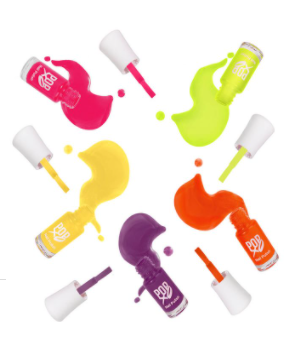 Something that every beauty maven will 100% like.
Get Glamm With Manish Malhotra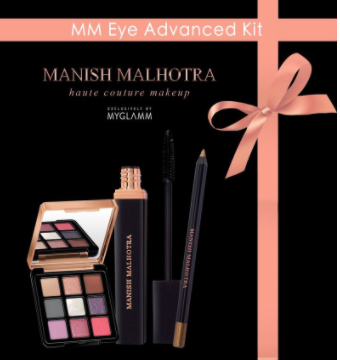 Hands down, the most glamm eye kit in town!
Dromen's Rollers For All Your Needs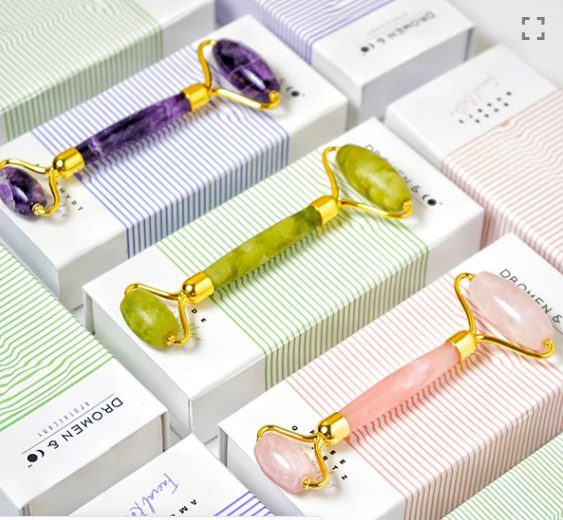 A gift combo unlike any other.
A Bundle Of All Things Skincare By Prolixr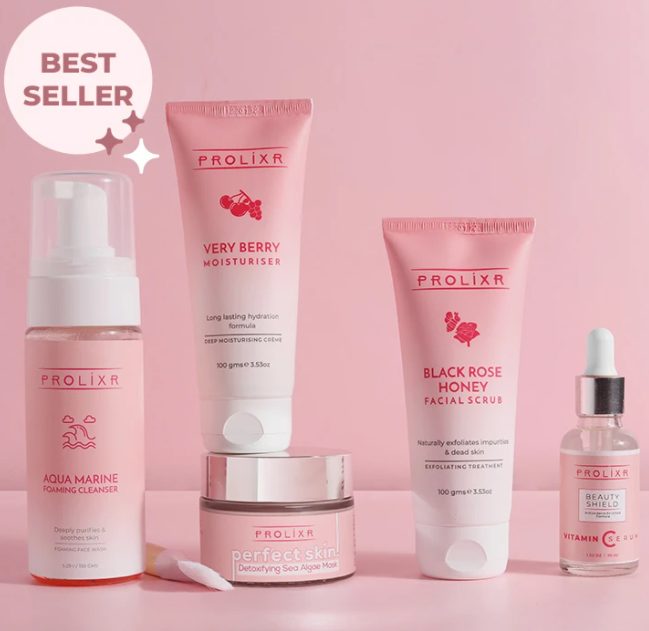 To pamper your loved ones with an at-home spa sesh.
Transiton Weather Haircare By Kama Ayurveda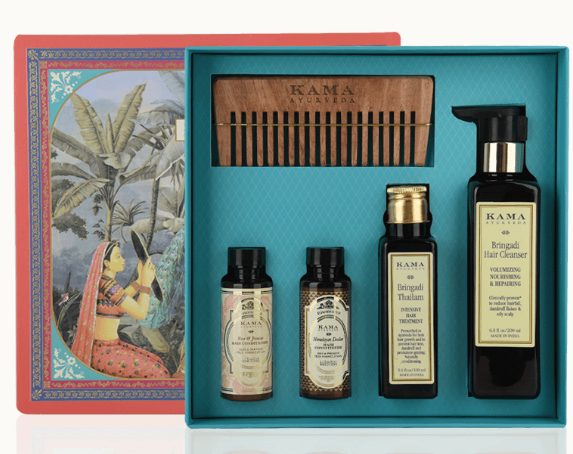 Some mane care for your main.
Japanese Cleanse Box By DHC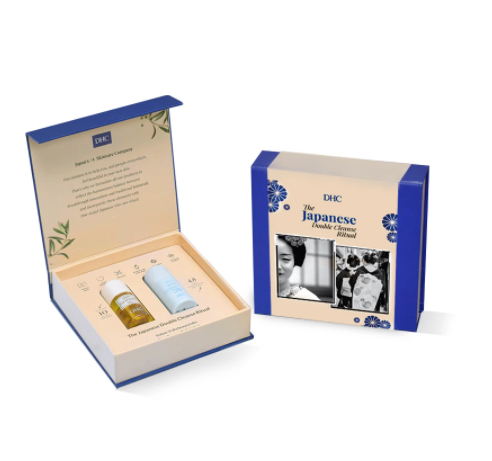 Ensure that your loved ones enjoy the Japanese Double Cleanse Ritual wherever they go.
Heavy Duty Serums By Chemist At Play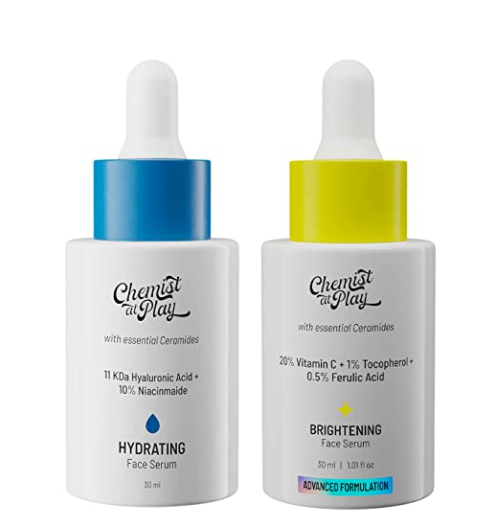 For skin that feels as soft as a baby's bum.
Non-Toxic Skincare Routine By Arata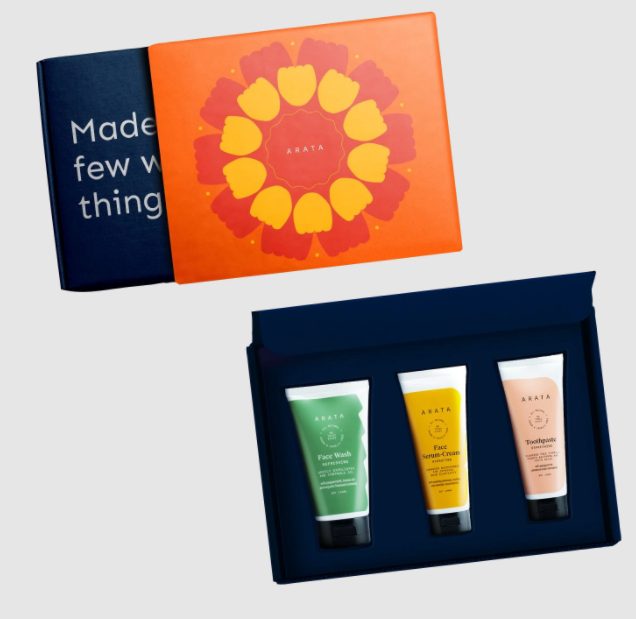 Buy it here
From toothpaste to cleanser, here is everything that you'd need to start your day with all things non-toxic.
Bath & Body Care By Kimrica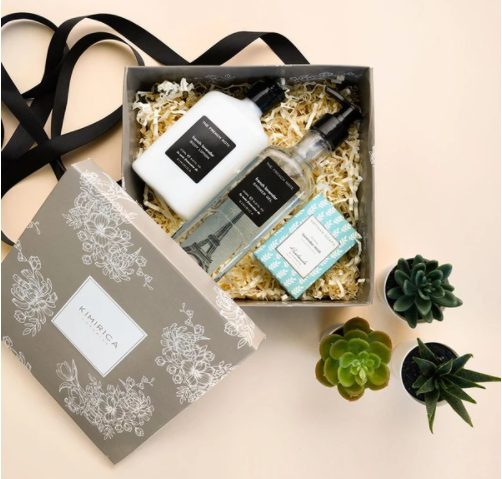 A luscious bath and body care trio that is too indulgent to be true.
Estee Launder's Best Selling Serum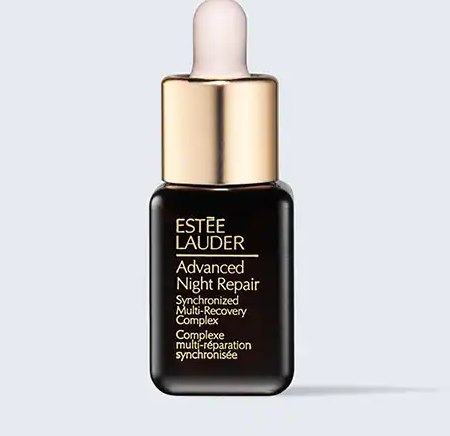 This Diwali, give your mom the best skin serum in the world.
Mini Lippies By Bobbi Brown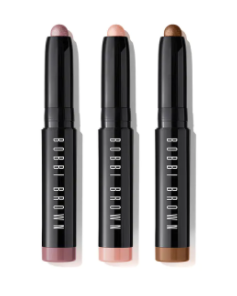 'Coz the world knows that all good things come in threes.
Facial Kit By Mantra Herbal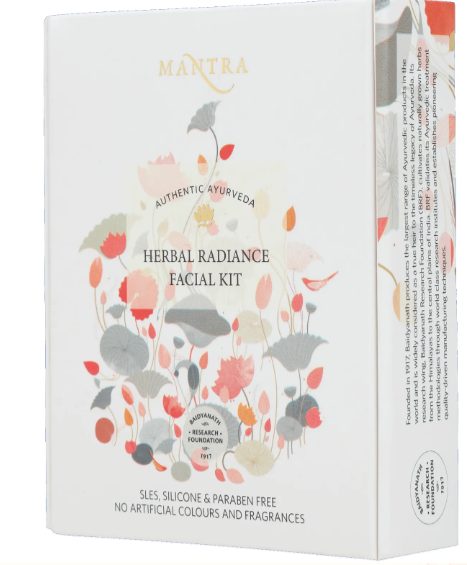 For some much needed festive glow.
The Goodness Of Ayurveda By Ayouthveda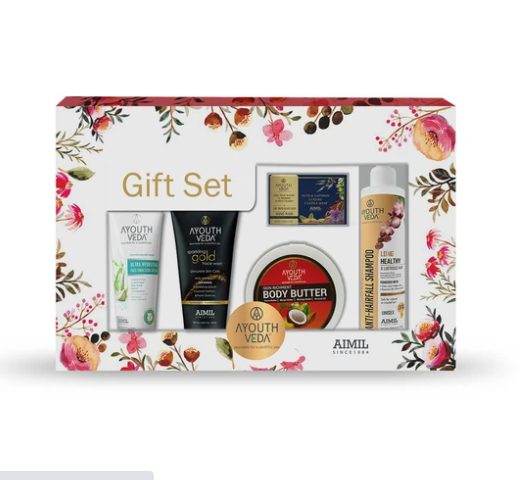 A box full of skincare gold.
Day & Night Skincare Kit By Upakarma Ayurveda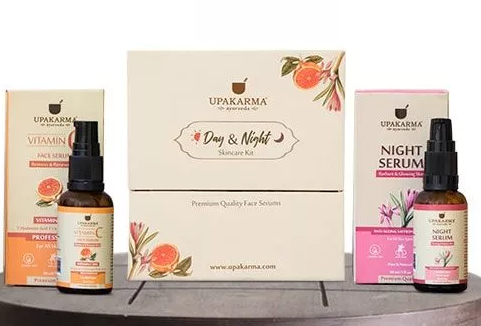 Something to take care of all their skincare needs.
De-Stress Kit By mCaffeine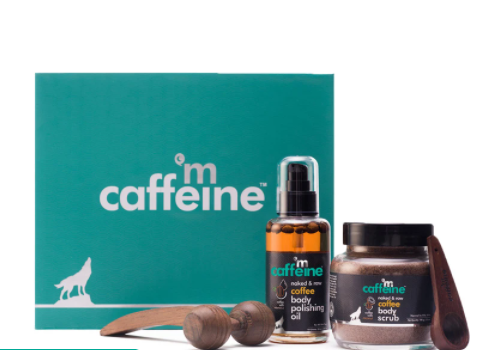 'Coz this has been a tough year for everyone.
Hair Care & Soul Care By Switch Fix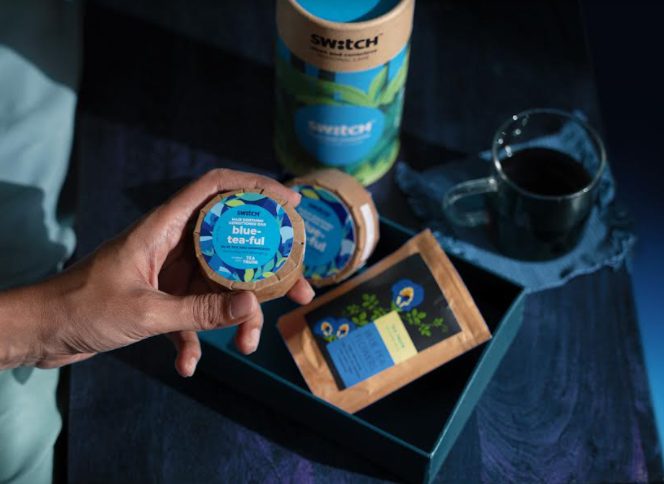 A limited-edition bundle of products for hair care and 'mind' care that will make for an amazing Diwali gift.
ITC Engage's Fragrant Offerings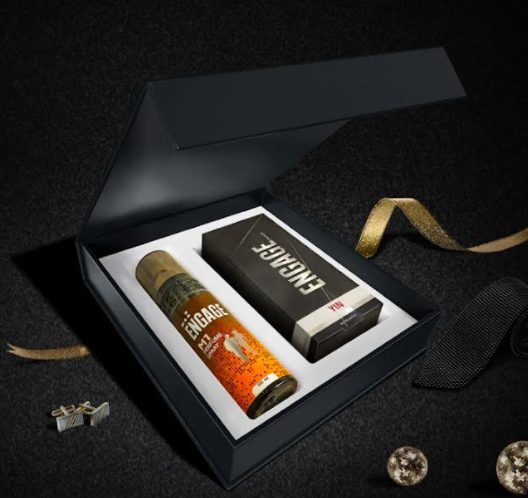 Subtle albeit heady perfumes that men in your life are sure to appreciate.
For Those Who Love To Entertain
This Diwali, how about you lend a hand to your loved ones in setting the house and get in the festive spirit?
Pure Soya Wax Candles By SEVA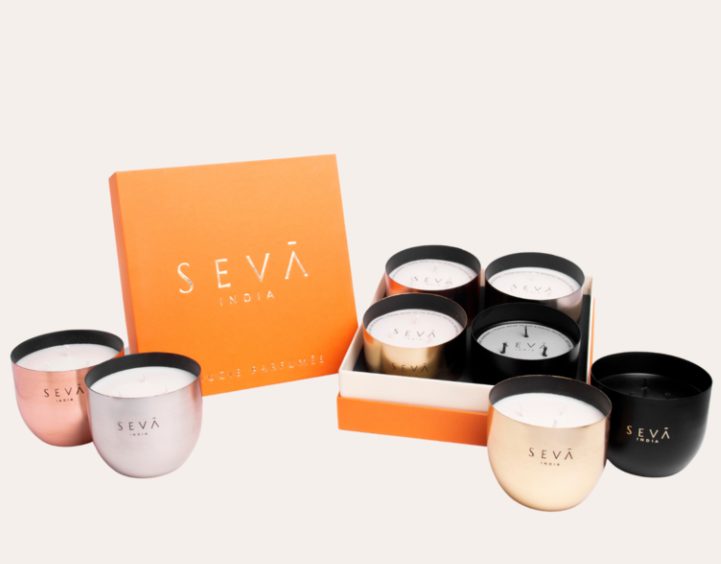 To bring in the much-needed love and light.
Exquisite Cake Platter Set By Madhavi Adalja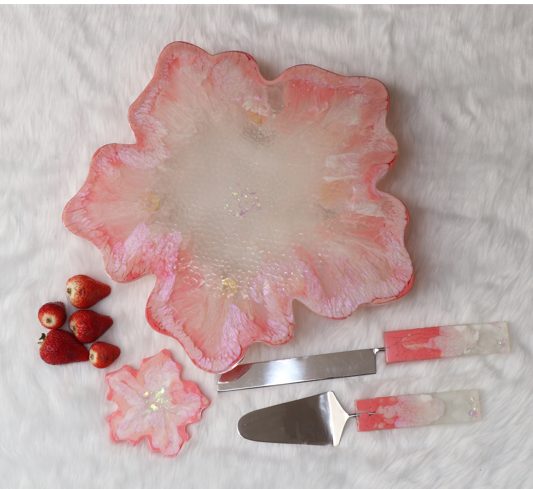 Gifts that will truly stand out from the rest.
Dreamy Linen By Boutique Living India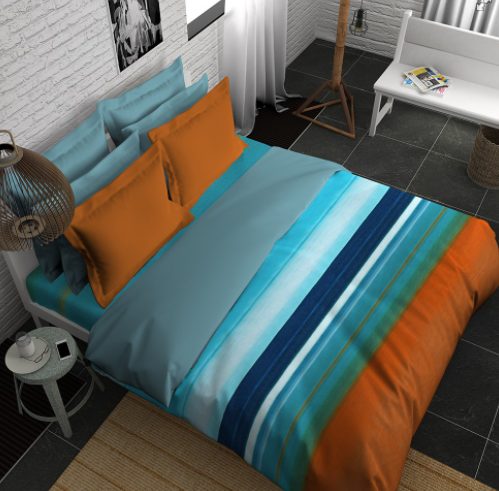 Rest assured, Boutique Living India's bed linen is enough to light up the entire house.
Sustainable Diyas By Rihaa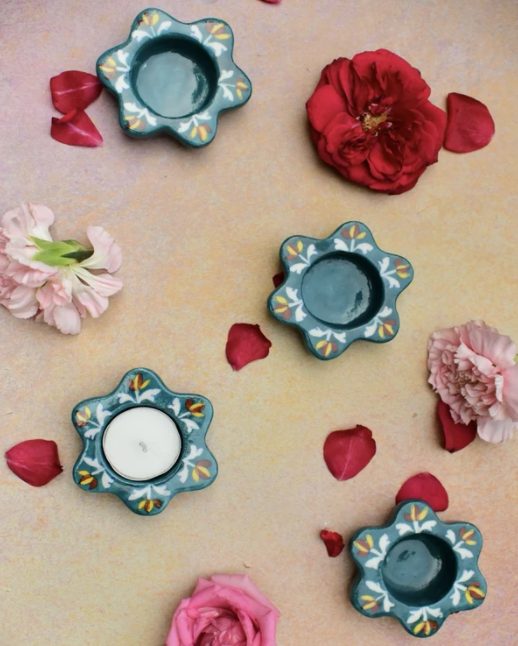 Because mindful celebrations are the way ahead.
Sabai Baskets By Ekam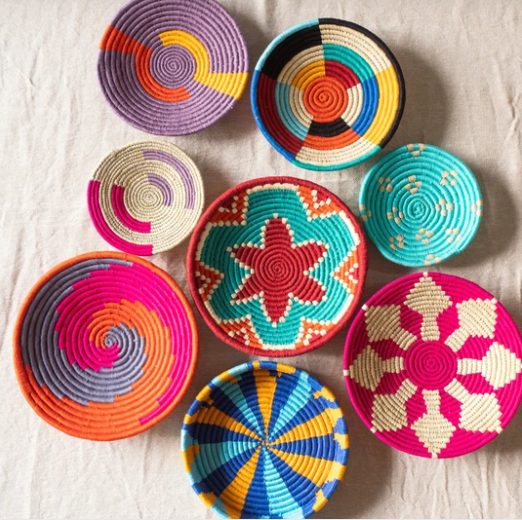 The House of Ekam has employed a cluster of 200+ women in Orissa to create these beautiful home décor collectables that will instantly add a pop of colour to any space.
Earthy Serveware By Ikai Asai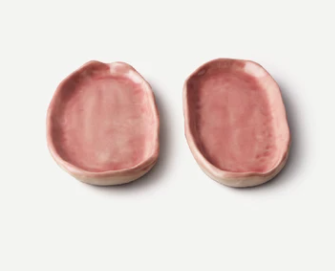 Exquisite pottery made with ball clay to help you with a unique gastronomic experience.
Ombré Diamond Carafe Set By The Decor Kart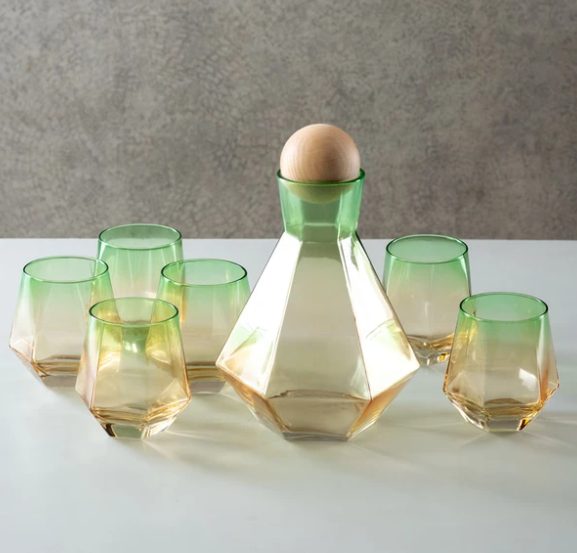 Sophisticated and stylish serve ware that is perfect for those who love to entertain.
Headway Insulated's Drinkware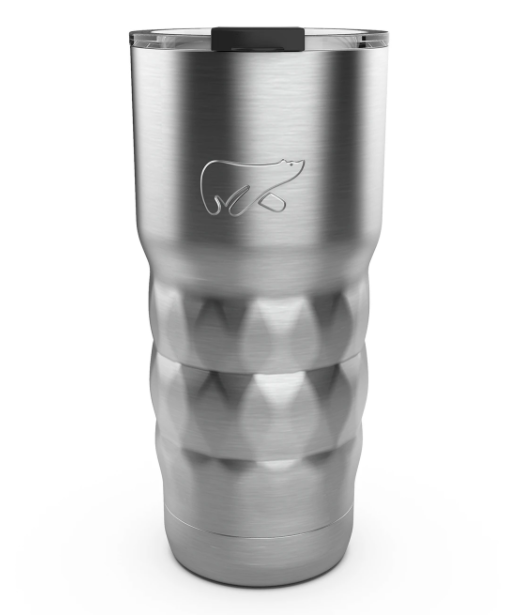 To keep them covered for the chilly months ahead.
Mirror Mosaic Candles By RAD Living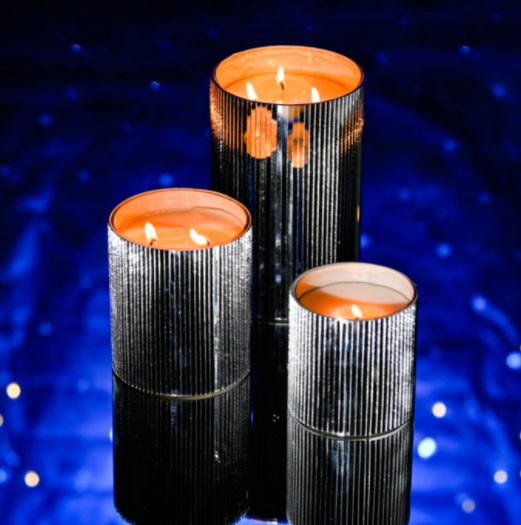 Set in dazzling jars with mirrored mosaic handwork, this gift set is created to bedazzle. 
Cutwork Lantern By Fabindia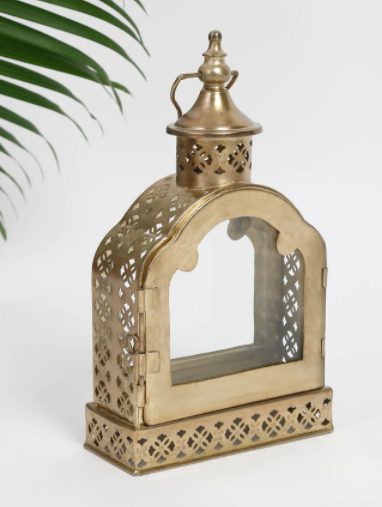 For the one who can not have enough of all the lighting on Diwali.
Boat Airdopes 441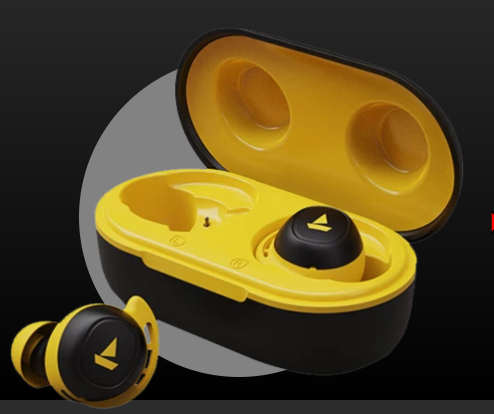 To make things hassle-free for that friend who is always on the phone.
An Apty Named Box Of Happiness By Instax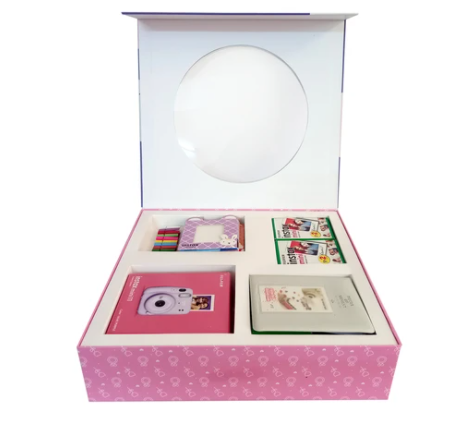 To capture all your happy memories this Diwali.
For The Foodholics
It's never really Diwali until you eat to your heart's content and run the risk of putting on at least four pounds. Facts!
Delectable Curations By Pooja Dhingra X Pavitra Rajaram Design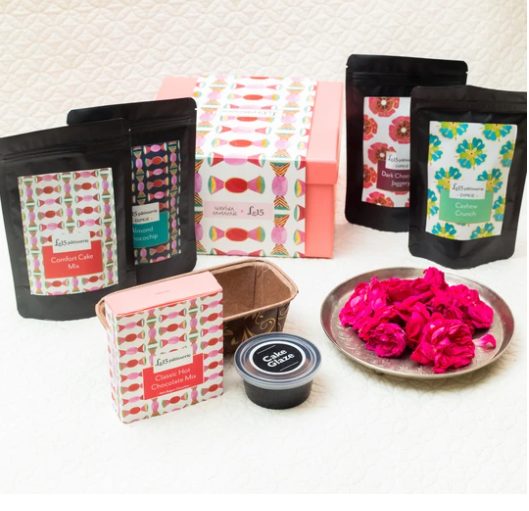 Go big this Diwali with this premium Indulgence gift box curated by Pooja Dhingra in collaboration with Pavitra Rajaram Design.
Healthy Bites By Protein Bake Shop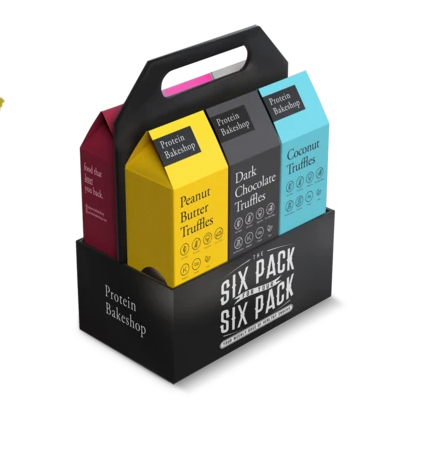 A six-pack for those who cherish their own six-packs more than anything else.
Invoke Some Nostalgia With Go Desi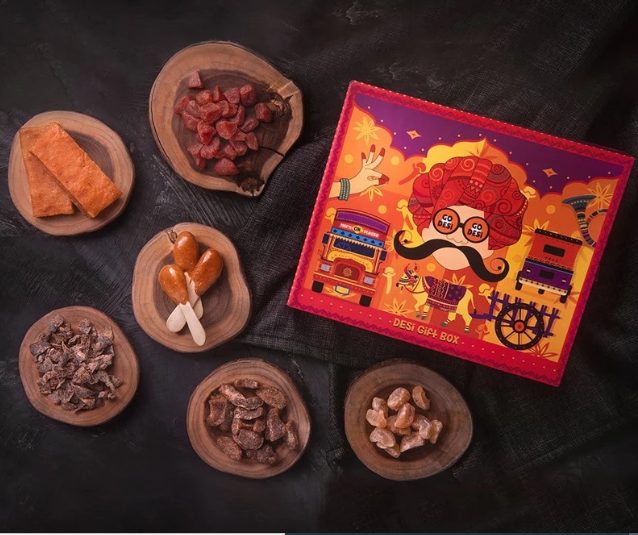 Gift your cousins a box full of childhood memories and nostalgia.
Jelly O' Clock With Mezmo Candy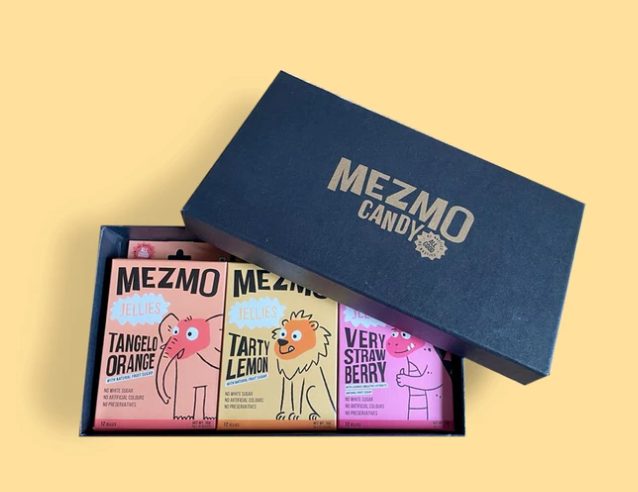 For your darling sibling who refuses to grow up.
A Hamper Of Goodies By The Gift Studio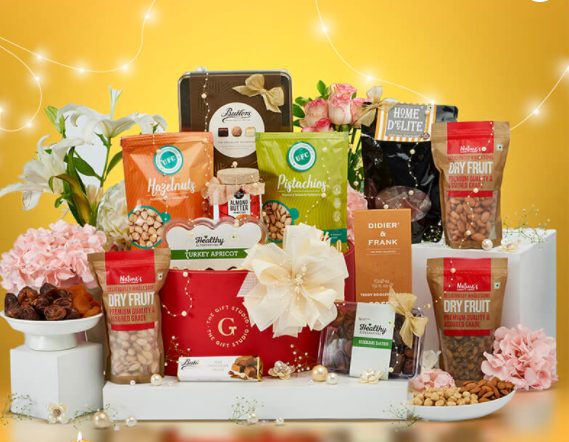 Prepare to stun that one foodie who can't have enough of these goodie hampers!
An Unparalled Chocolate Experience By Coco Cart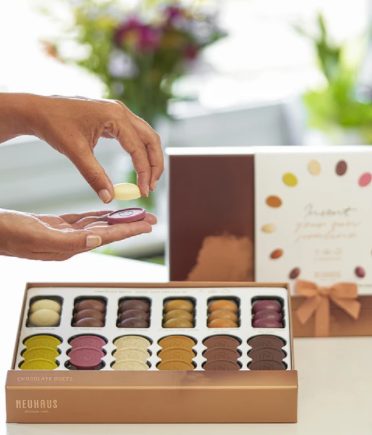 This assorted box of Belgian chocolates is an experience in itself.
Sober Gin To Get Talli With A Twist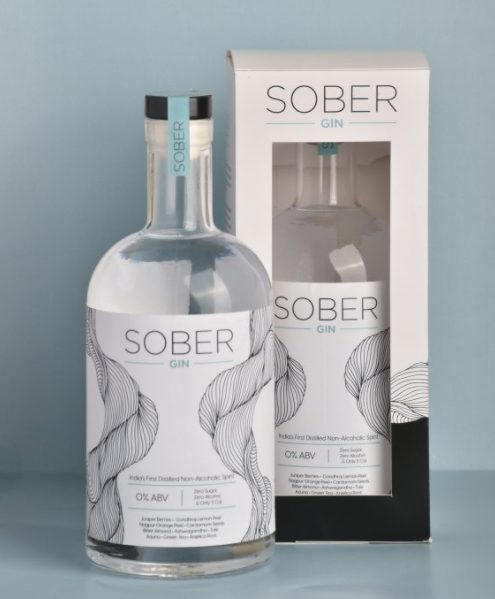 Get the tastes, smell and burn of a traditional gin without getting tipsy. Win win!
Say Yes To Deliciousness With Noto Ice Cream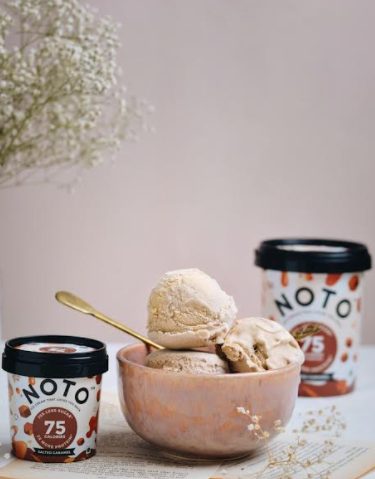 A good-for-you ice cream that you can binge on, any day, every day.
Luxury Hampers By I'M Wholsesome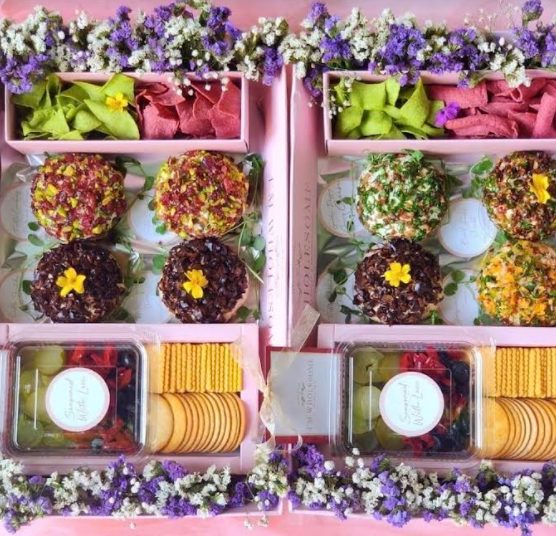 I'M Wholesome–the name says it all!
Assorted Coffee Mix By Coffeeza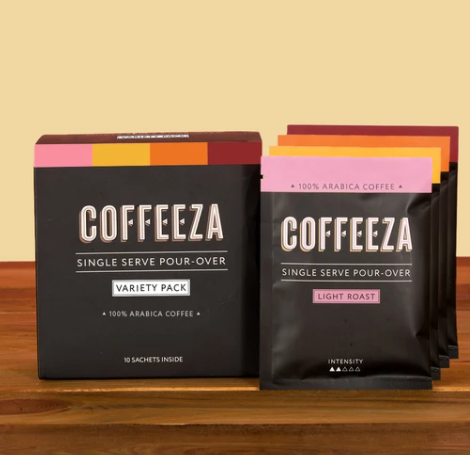 This Diwali, elevate the everyday coffee routine with Coffeeza's assortment of heady flavours.
Show Stopping Snacks With Snackstar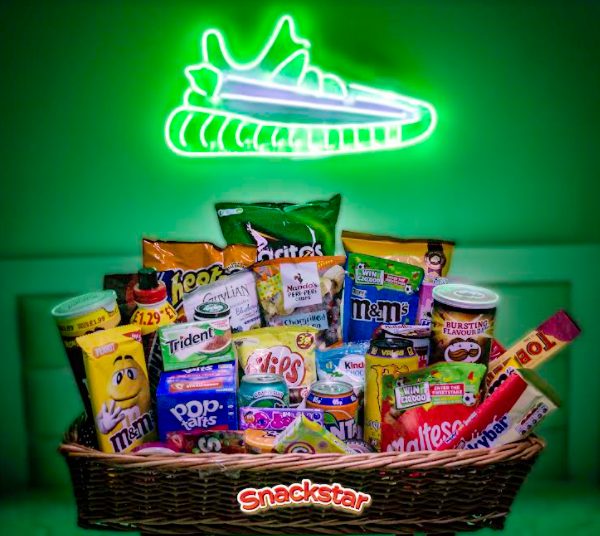 Get an unparalleled range of imported delicacies for your loved ones that have been shipped all the way from the United States, Europe, Japan, the Middle East, and other countries.
Soulful Mixes By Kaashi Wellness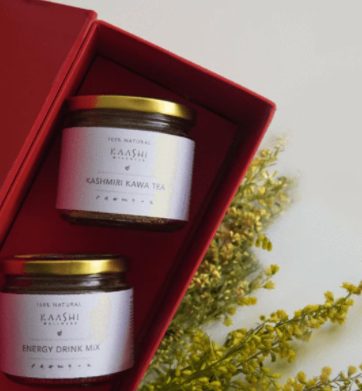 Give the gift of good health with Kaashi's assorted gift box containing their signature Energy Drink Mix and Kashmiri Kawa Tea Nourish.
Jhatpat Khana With Quikish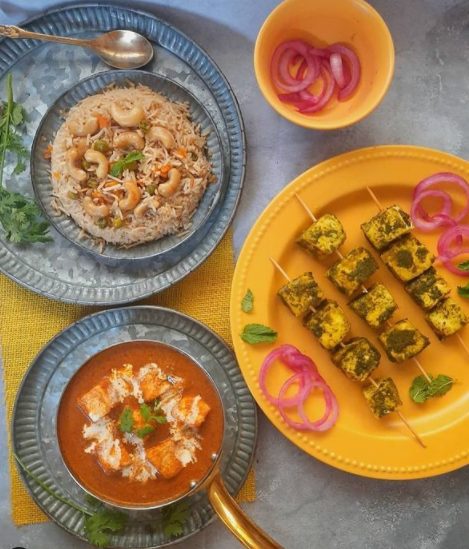 Ready to cook scrumptious meals to ensure convenience in the kitchen this festive season.
Like we said, we have got you covered this Diwali.
Featured Image: Instagram