It's no secret that eyebrows are having a special moment under the sun. And well, let's be honest, we eagerly wait to switch things up while lusting over new trends! And this time, it's a shiny and shimmery makeover. Disco eyebrows, aka glitter eyebrows, surely deserve a spot in your holiday makeup routine to jazz things up. A layer of ultra-fine shimmer adds a shimmery brilliance to the look's fluffy, well-groomed brows. The best part is that disco brows are simple to achieve using your favourite glittery eyeshadow or highlighter and your go-to brow gel. If you love this look as much as we do, read this article to follow the steps and find out the best products that are a must-have to hop on to this viral trend.
What Are Disco Brows aka Metallic Eyebrows?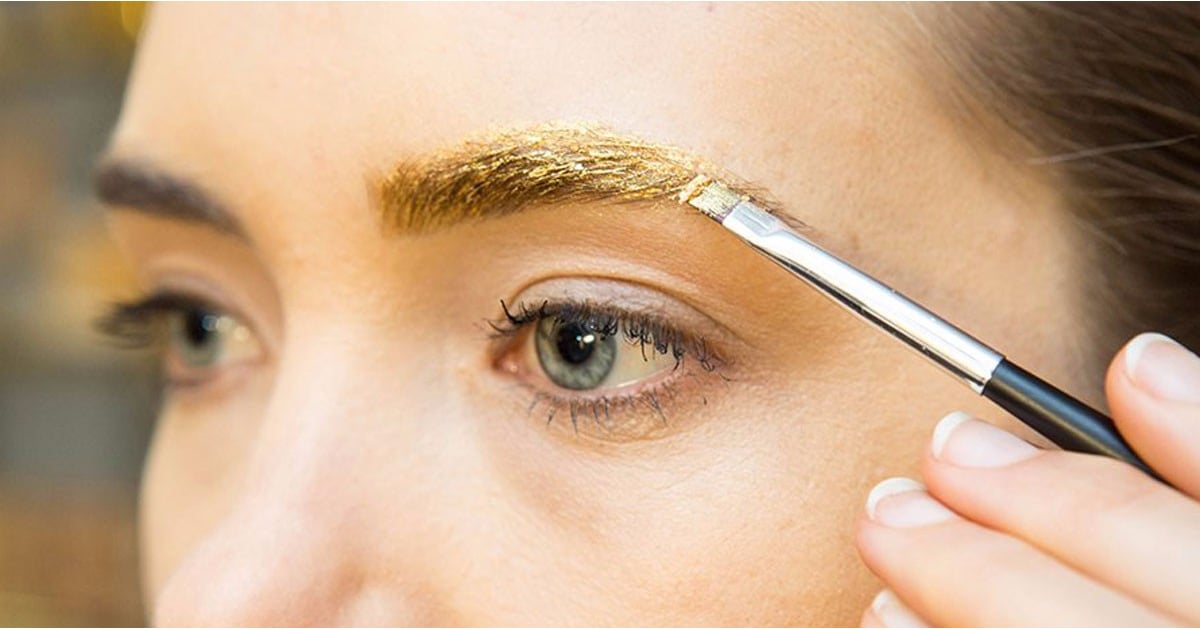 According to Instagram influencers, polished, sleek eyebrows with a noticeable, glittery sheen are known as "sparkly eyebrows," sometimes known as "disco brows." This viral beauty trend is the ideal fusion of festive and wearable makeup, whether you want to dazzle at a holiday party, alter up your present beauty regimen, or make a statement with your daytime makeup.
While most social media viral trends are gimmicky and even a little challenging to pull off (we're staring at you, tape contouring), this one is easy, quick to put into practice, and flatters a wide range of face types.
Here's Your 3-Step Guide To Up Your Brow Game!
Bid goodbye to the skinny brows of the '90s and move over to a glittery enhancement that'll switch up your brow game. The look is muted and, dare we say it, quite subtle, in contrast to the name's suggestion of something with overt sparkle and intense shimmer. Learn how to get the trending disco brows in only three simple steps by reading our guide.
Grab A Clear Brow Gel To Tame Your Brows!
Disco brows are designed to appear clean, sculpted, and fluffy. Start by applying a transparent, waterproof brow gel. Then quick-drying formulation of this waterproof gel will provide a 30-hour wear time. In addition to serving as a superb base coat for disco brows, this long-wearing product will no doubt endure over countless Christmas parties.
It's Shimmy-Shimmy Time, Baby!
It's time to add the shimmer when your brow gel has dried, and there are a few different things you can use for this. To obtain the effect of disco brows, which have a luminous glow rather than a heavy glitter finish, it is better to use a shimmering pressed powder like eyeshadow or highlighter.
We suggest the dazzling white eyeshadow for a luminous glitter that can complement a range of beauty looks. Use your index finger to slightly swirl the eyeshadow before applying it to your brows. The gel ought to produce a base that is sticky enough for the powder to stick to.
A shiny, sparkly eyeshadow that matches the colour of your hair will be even more understated. Brown brows teamed with a glittery brown eyeshadow will result in the most stunning and modest, light-catching finish. Now that you know which glittery shade looks the best, go apply some of the eyeshadow to your finger and lightly dab it onto your brows. Voila!
Set Your Brows Now!
To seal in your glamm and, most crucially, your sparkly disco brows, spraying your face with setting spray after finishing your makeup is essential. Spray it four to six times in an "X" and "T" motion while holding it six to eight inches away from your face.
This one's going viral!
Featured Image: Instagram