Imagine living in a world where you get called out for walking. Sounds scary, right? Unfortunately, that's the reality for most of the celebs on social media these days. Recently, a video of Dipika Kakar Ibrahim went viral on social media for all the wrong reasons and we have a lot to say about it.
Allow us to give you some context—last night Dipika attended an award ceremony where she was clicked by shutterbugs. After the event, a paparazzo page shared a video of her tripping and a fan was trying to save her. However, the actress refused the help, gestured for him to back off, and regained her balance. Sounds fairly normal, right? Well not everyone felt the same. 
Many shared the video and commented on how Dipika was being rude towards the fan. One such comment read, "What's with this attitude?? It was his immediate reflux action she should be appreciating that and not showing big eyes to him .. not done!! She should in fact be thankful…" 

Another one wrote, "Poor guy just helped her from tripping over but look at her expressions! Attitude for nothing!"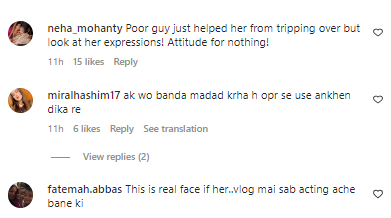 NGL, social media has given people the space to judge everyone for even the smallest of things. The shield of anonymity has made it so easy for them to troll celebs for every move they make. However, people often forget that stars are also humans in the end and they might not always be in the mental space to interact or think before they act.
After looking at Dipika's video closely, it is obvious that she wasn't comfortable with someone else getting in her personal space. The Sasural Simar Ka actress didn't yell at the fan or pushed him, she barely asked him to not touch her.
As a human being, does she not have the right to personal space? Why should celebs be treated like public commodities? All Dipika did was ask a man to not touch her and we should respect it. Just give her a break, folks!
Featured Image: Instagram