Okay, this might be one of the wildest things you have heard in a while and somehow Diljit Dosanjh fans are convinced it is true. Reports suggest that the Punjabi singer was recently seen hanging out with Taylor Swift at Vancouver's Cactus Club Cafe. Oh, and the plot thickens! Apparently, the two were being all giggly and "touch touch" at the cafe. And we have heard this straight from the horse's mouth.
The rumours of Diljit and Taylor going out on a date set the internet on fire recently. A popular publication even claimed that multiple sources had confirmed it. After much hullabaloo on the internet, Diljit just took to Instagram and wrote a message that left the fans convinced that something is cooking between the two.
He shared the media house's report and wrote, "Yaar privacy naam ki bhi koi cheez hondi aa (C'mon, there is something called privacy)."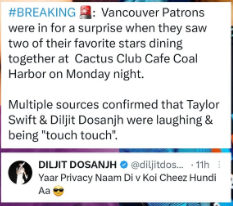 But that's not it. Diljit is having a gala time tripping at the "rumours" and also shared a BBC theory video on how he and Taylor Swift might have fallen for each other.
Meanwhile, the netizens are ecstatic and have the most hilarious things to say about this recent turn of events. Here are some of the comments:




We have just one question to ask though. Wasn't Diljit in love with Kylie Jenner? He really just pulled a "ekdum se waqt badal diya jazbat badal diye" there!
Featured Image: Instagram