We've barely had time to process Zayn Malik and Gigi Hadid's breakup when we got hit with another heartbreaking announcement. Musicians Camila Cabello and Shawn Mendes, the internet's favourite lovebirds, have ended their two-year romance. The two started dating in July 2019 shortly after their music video Señorita dropped. 
Since October, the rumour mill had been hinting that all was not well between Camila and Shawn. The two confirmed the speculations and shared a joint statement on their respective 'Gram feeds. The announcement reads, "Hey guys, we've decided to end our romantic relationship but our love for one another as humans is stronger than ever. We started our relationship as best friends and will continue to be best friends. We so appreciate your support from the beginning and moving forward. Camila and Shawn"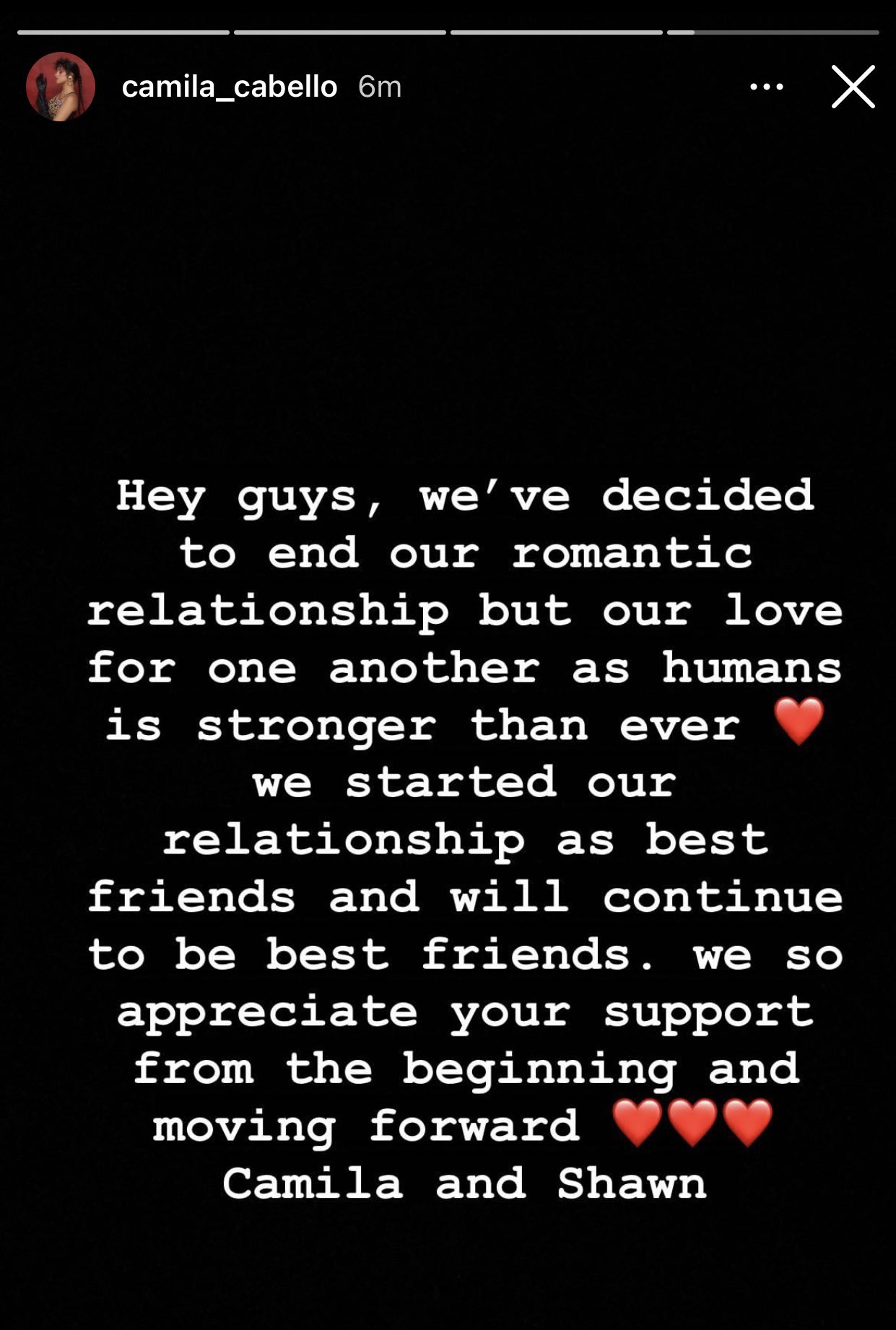 BRB, we need a moment to wrap our heads around this breakup and watch the Señorita video on loop.
Not so long ago, Shawn confessed in an interview that he is planning to pop the question to Camilla. In an interview, the Canadian star admitted the couple have discussed getting engaged and called Camila his "forever person". He said, "I really think when you know, you know. She's been one of my best friends since I was, like, 15 years old. I don't know, at the same time, I know we're really young so I don't want to jump, like, insanely fast. But I think when you find your person, you feel and you know that you have found your person."
Shawn added, "We have a really honest and open relationship, but, but we definitely fight. I think like, especially like, I think the longer the relationship goes, it's like the easier it seems to be to fight."
Just a couple of months ago, the two shared the cutest pictures on the 'Gram to mark their 2-year anniversary. Along with the snaps, Camila wrote, "happy anniversary Kuko here's to more joy, more friendship, and more love"
While we wish things were different, we are proud of Shawn and Camila for handling the situation with maturity. All the best, you two!
Featured Image Credit: Twitter