Every time I watch Kabhi Khushi Kabhie Gham, I am in awe of Pooh's morning routine. She paints her nails, puts on a face pack, reads magazines AND does her makeup while curling her hair! If I can get my drooling self out of the bed five minutes earlier, the sun shines brighter in shock.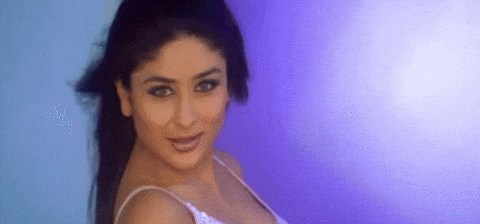 Image: Giphy
BUT, let's just say, what if I was Pooh? What if I had a miraculously long, dance-y morning routine? I know I would do one thing for sure. Change my nail paint every day. So here are my picks of some bright nail paints for every day of the week.
1. Key Lime Mondays
Mondays are never going to be okay. EVEN IF you're doing your dream job. So along with your dose of caffeine, you need to nullify the blues. What better way to do it than with some effervescence?
Price: ₹ 199. Buy it here.
2. Sunshine Tuesdays
Honestly, this day could as well be another Monday, you're still not ready but at least it is one day closer to the weekend. I think a nice yellow would make me feel better about typing vigorously on my laptop all day. Yes?  
Price: ₹ 850. Buy it here.
3. Sky Shot Wednesdays
Now that you're officially at the midweek mark, you could venture into the blues without feeling the blue. Also, if you're daydreaming about the tropics you might as well have the beach on your nails.
Price: ₹ 350. Buy it here.
4. Lilac Thursdays
Okay, you're one day away from Friday. You should ideally give your nails a break to prep them for the weekend. I think lilac is the shade for this day!
Price: ₹ 179. Buy it here.
5. Aubergine Fridays
You thought I was going to pick red here, right? Well what's the point in walking on the same path, we have been going on! A bright aubergine or purple shade is what we need for date night or girls night out. TGIF!
Price: ₹ 275. Buy it here.
6. Peachy Saturdays
Saturdays are for vegetating until noon and then binge-watching your favourite tv show(s) until you realise you did nothing the whole day. Just me? Okay. Well, I think a beautifully bright peach would look gorgeous gripping the pizza slice I am eating while watching The Office.
Price: ₹ 199. Buy it here.
7. Fuchsia Sundays
Pre-Monday is here ladies. Where did the week go, amirite? Well, this colour definitely lifts up my mood and deters me from stressing about the inevitable monday!
Price: ₹ 110. Buy it here.
8. Bonus Top Coat!
Of course I wouldn't end this list without adding my fave shiny fast dry top coat. This can totally change the look of any nail paint. You can use this to refresh your gel manicure, to add shine to a matte nail paint and OF COURSE by itself just to give your nails a little something extra.
Price: ₹ 550. Buy it here.
9. It's All About Matt(e)
Matte is a hot commodity. It's all the rage! I suggest you invest in this tiny bottle of miracles and convert any nail paint into a matte finish, instantly!
Price: ₹ 850. Buy it here.
So, which is your favourite day of the week?
Welcome to #BrandNewPOPxo – POPxo is now more fun when you sign up!