Last night's Bigg Boss 16 promo turned out to be particularly interesting. We saw Shalin Bhanot and Tina Datta face trouble in their "friendly" paradise. This was followed by a clip of Archana Gautam, Priyanka Chahar Choudhary, Ankit Gupta, and Shalin getting punished by Bigg Boss who asked the rest of the housemates to attack them with water. Clearly, high-voltage drama will be brewing in the house today. However, if you can't watch it right now, don't let the FOMO consume you. We're here with all the masaledar live updates from the episode. Read on.
09:25 PM
Sumbul and Tina sort it out and bury the hatchet in the dressing room.
21:26 PM
Abdu Rozik and Stan steal chocolates from the captain's room.
09:39 PM
Tina seeks Abdu and Stan's support to be the next captain.
09: 40 PM
Archana and Priyanka tease Shalin and ask if he likes Soundarya.
09:42 PM
Nimrit has a meltdown and feels sick and tired of the people around her.
09:43 PM
Shiv and Nimrit discuss Tina's strategy of asking for captaincy as her birthday gift.
09:46 PM
Priyanka and Archana make fun of  Tina for spending time with Abdu Rozik while Shalin sits alone. Soundarya takes advantage of the situation and sits with him.
09:49 PM
Archana imitates co-contestants in front of her "mandali". Ankit walks off and it turns into a fight between Priyanka and him. 
09:52 PM
Shalin tells Tina that housemates are questioning their relationship and that he is scared of her. Meanwhile, Priyanka continues to rant about her fight with Ankit.
09:55 PM
Archana and Shalin discuss Ankit's composed nature and share a light moment.
09:56 PM
Sumbul reveals that he and Fahmaan have a pact–they will get married if they are unmarried at 40 and 27.
09:56 PM
Ankit and Priyanka hug and make up post the fight.
10:00 PM
Shekhar Suman takes a dig at Shalin and makes fun of him for not leaving the BB house after claiming that he would.
10:16 PM
Tina tells Bigg Boss she desperately wants to be the captain. Nimrit, Shiv, and Sajid agree on putting up a fair fight in the captaincy task. 
10:19 PM
Priyanka and Ankit continue to struggle with their unresolved issues and engage in yet another discussion. Ankit walks away in the end.
10:20 PM
Shalin continues to console Tina. Shiv tells Abdu that their priority will be Nimrit and not Tina in the captaincy task.
10:22 PM
Nimrit tells Soundarya she finds Tina as desperate as Gautam when it comes to winning the show. They also discuss how Tina tries to keep them apart.
10:25 PM
Archana, Ankit, Priyanka, Shalin, and Soundarya are spotted sleeping despite kukadakoo playing in the background. Bigg Boss schools Shiv for being an irresponsible captain and declares he'd be punishing them with a water attack by other contestants. He asks Shiv to ensure that it goes on till the next announcement.
10:29 PM
It starts with Ankit sitting on the chair and Sajid throwing water at him, followed by Priyanka and Shalin. Archana is the next person in line but she refuses to have water thrown at her, saying she is "allergic to cold water". 
10:31 PM
Shiv tries to reason with Archana and she agrees on having hot water thrown at her once. She goes to the washroom to change while accusing Bigg Boss of not punishing other contestants when they sleep or speak in English. 
10:34 PM
Bigg Boss announces punishment for the entire house in response to Archana's rebellion and takes away half of the house's weekly ration. Archana relents and agrees to take the punishment but it's too late. The housemates turn against her.
10:37 PM
Archana changes her stance and says she won't sacrifice her health for this punishment. She claims that the ration will be returned in two days and threatens Nimrit about the consequences if she catches her sleeping again.
10:40 PM
Archana gets into a heated argument with Shiv, Nimrit, and Abdu and says "bhonkte reh" to the captain.
10:44 PM
Nimrit and Shiv talk about how Archana is selfish and doesn't think beyond herself. Meanwhile, Archana tells Soundarya that she would have fallen sick if she had agreed to take the punishment.
10:46 PM
Shalin and Tina finally hug and make up.
10:47 PM
Shalin, Shiv, Sajid, and Stan discuss whether Gautam and Soundarya's relationship was real. While Sajid thinks it's genuine, Shalin says Soundarya would have a second affair in the house if she stays long enough.
10:48 PM
Captain Shiv's two favourites–Tina and Nimrit–get a scrumptious treat.
10:51 PM
Sajid tells Archana that she needs to apologise to the house. Archana makes a special dish to please the annoyed housemates. 
10:55 PM
Bigg Boss sends steamers for Shalin, Priyanka, Ankit, and Soundarya on doctors' advice. Archana realises her mistake.
10:56 PM
Shalin plays charming and shows a little magic trick to Tina while talking about relationships.
10:57 PM
Abdu and Stan steal and secretly enjoy the special dish sent for Tina and Nimrit. 
10:59 PM
Tina asks Soundarya if she thinks Gautam would be waiting for her. Archana, Tina, and Nimrit discuss if Ankit feels suffocated with Priyanka.
11:00 PM
Ankit tells Soundarya that he is done trying to patch things up with Priyanka.
11:01 PM
Shalin surprises Tina with a cute message written by him on the mirror with lipstick. Tina gets emotional.
11:04 PM
Nimrit, Sajid, and Shiv discuss how Ankit and Priyanka are in denial of their relationship status.
11:05 PM
Nimrit tells Shiv she wants to see what happens if Tina gets the captaincy. She adds that Shalin and Tina weren't happy with Fahmaan's entry.
That's it for tonight folks!
Featured Image: Voot
Support your favourite contestant by voting for them on this Bigg Boss 16 voting line.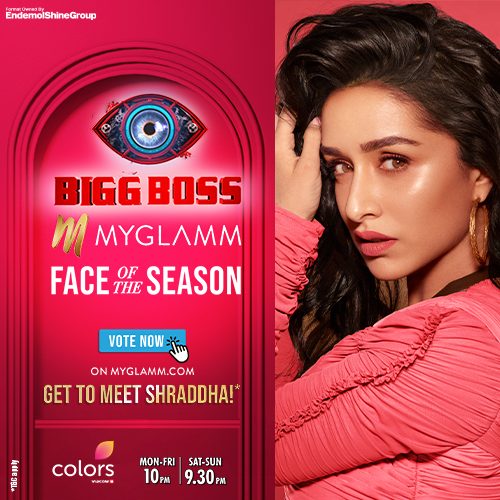 Vote for your favourite contestant on MyGlamm & get a chance to meet Salman Khan.