Fahmaan Khan's entry in Bigg Boss 16 gave the house and us ardent viewers some much-needed masala. Last night we saw a whole new side of Sumbul Touqueer and we hope this happy avatar of the actress stays for a while. Meanwhile, Salman Khan also shone some light on Sajid Khan and Archana Gautam's issues. Tonight it will be exciting to see if these two will hash out their differences.

Scroll down to check out all the live updates from Bigg Boss 16…

21: 45 PM
Salman Khan schools Priyanka Chahar Choudhary for making fun of Archana Gautam at her convenience. He also asks Soundarya Sharma where all Archana went wrong.
21:48 PM
Salman tells Priyanka that she claims to be a lone wolf but she doesn't stand for her friends. The actress replies that it is hard for her to stand for Archana as she disses her time and again.
21: 52 PM
Sajid Khan also gets questioned by Salman for getting sucked into the world of 'yes mans'. The Dabangg actor asks Nimrit if she thinks the filmmaker was wrong this week. He asks Shiv Thakare the same question and he too agrees.
21: 56 PM
Salman scolds Sajid for bringing Archana's father into the argument in the first place. Archana refuses to back down from the argument and tells Sajid he is threatening her with the eviction.
22:00 PM
The host questions Sajid for questioning Archana's return to the house. Later, Priyanka talks about how Tina and Nimrit twist words when it comes to the filmmaker and whether they do it to instigate him.
22: 05 PM
Archana attacks Tina and says that the actress doesn't ever admit her mistakes. Salman then announces that Ankit has been eliminated from the show.
22: 07 PM
Salman reveals that Archana and Ankit are safe. Archana and Sajid apologise to their fans for their fights.
22: 09 PM
Kajol arrives on the set and the two have a staring contest. Kajol loses it because of the Dabangg actor's jokes. Filmmaker Revathi makes her way to the show to promote their film Salaam Venky.
22: 14 PM
Kajol asks the housemates to name someone they can't trust at all. Sajid, Abdu, Shiv, Tina and Sumbul pick Archana. MC Stan, Archana, and Nimrit name Priyanka. Shalin picks Sumbul. Ankit claims he can't trust Tina at all. Priyanka also names Tina. Soundarya slams Shalin during the task.
22:24 PM
Priyanka and Archana decide to let go of their arguments and start afresh. Ankit is a little skeptical of their friendship.

22: 25 PM
Salman invites Tina's mom and Shalin's mother and father for a discussion about the duo. Tina's mom claims she doesn't want to form an opinion about Shalin and the Uttaran actress' relationship as she is yet to meet her daughter.
22: 30 PM
Shalin's mom defends the actor and Salman says, for every mom their kid is the best. Shalin's parents approve of Tina's bond with the actor. Tina's mom also agrees with it.
22: 33 PM
Salman invites Sumbul's dad to the discussion. Sumbul's dad apologises for using inappropriate language when talking to Tina. Tina's mom says that everyone knows what kind of show Bigg Boss and questions why should she apologise on her the actress' behalf.
22: 40 PM
Tina's mom refuses to entertain Sumbul's dad and tells him that they should let the kids play the game. Shalin's dad calls out Sumbul's dad for making up a reason to call Sumbul into the house.
22: 43 PM
Tina's mom questions Sumbul's dad that he claimed that he was sick, so how did he know about Tina and Sumbul's problems? Salman also slams him for this.
22: 46 PM
Salman asks Sumbul's dad to stop watching Bigg Boss as it is impacting his health. Shalin's parents and Tina's mom still question Sumbul's intention.
22: 53 PM
Salman invites Fahmaan and Kritika Singh on BB16 to promote their show. They ask Salman to enact an arranged marriage meet-up scene.
23: 04 PM
Salman asks the housemates to name the contestant they feel is being used. Most of the contestants named Archana, Ankit and MC Stan in this task.
23: 05 PM
Salman announces that there won't be any elimination this week. Sumbul cries since she isn't eliminated this week.
That's all the drama from tonight's episode!
Support your favourite contestant by voting for them on this Bigg Boss 16 voting line.
Feature Image: Colors TV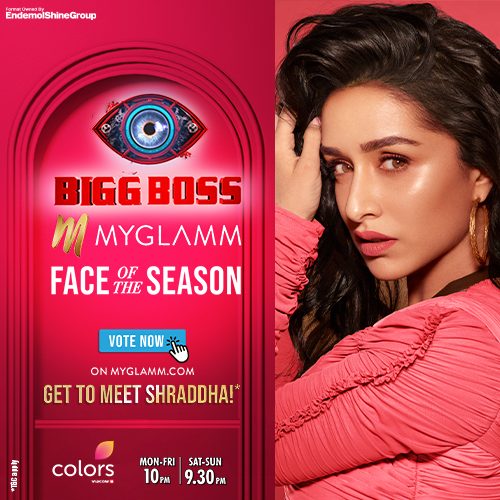 Vote for your favourite contestant on MyGlamm & get a chance to meet Salman Khan.