Yesterday, we witnessed several shocking tiffs inside the Bigg Boss 16 house. Apart from Sajid Khan and Archana Gautam's brawl, we also saw Sumbul Touqeer, Shalin Bhanot, and Tina Datta get into an argument once again. Now as per the promo, it looks like it's only going to get more intense as the contestant's parents get involved.
So, are you curious to know what's happening inside the BB house tonight? Well then, here are all the updates of the drama that is taking place in today's episode.
9:45 PM
Host Salman Khan takes the stage and speaks about the unexpected things that happened last week, including the call from Sumbul's father. Salman also plays a recap of yesterday's captaincy task.
10:03 PM
Abdu Rozik tries to calm Sajid Khan down and tells him to refrain from yelling at Archana Gautam.
10:06 PM
Priyanka Chahar Choudhary and Soundarya Sharma get into a fight about the captaincy task with MC Stan. They tell sanchaalak Stan, that the other team is being unfair, but he doesn't listen.
10:14 PM
Archana has a sudden outburst and cries. She tells Priyanka and Soundarya that the house is against her and contestants like Sajid have said nasty things about her as well as mother. The two girls console Archana and tell her to be strong.
10:17 PM
BB house celebrates Sajid's birthday. However, Archana doesn't take part in the festivities. Meanwhile, Bigg Boss announces that there is a new wild card entry in the house.
10:19 PM
Fahmaan Khan enters the house as the first wild card entry. He is Sumbul's co-star on the TV show Imlie, as well as a friend outside the BB house. 
10:21 PM
Sumbul is excited to have a friend in the house and she shows him around the place. Sumbul also insists that they sleep in the same room. 
10:23 PM
Fahmaan and Sumbul discuss her father's call. She tells him that Tina Dutta and Shalin Bhanot are against her with a talwaar. Archana interrupts their conversation and asks Fahmaan what the outside world thinks of her. He tells her to play the game true to her personality and forget about what other people think. 
10:26 PM
Shalin tells Tina that though he wants to welcome Fahmaan, it is awkward for him. Meanwhile, Fahmaan is telling Sumbul that she needs no one to support her but herself. 
10:29 PM
Nimirt Kaur tells everyone in the house that she thinks Fahmaan is the hottest contestant in the house. Abdu's friends tease him and ask him if he's heartbroken. 
10:32 PM
Fahmaan and Shalin discuss the Sumbul issue. Fahmaan tells Shalin to stay clear of Sumbul after her father's conversation and Sahlin agrees.
10:38 PM
There is a fight in the house about the raashan. Archana says that the ghee has been overused, and Priyanka tells people not to eat from their room's raashan as she gave extra flour for rotis. The fight escalates and Archana leaves the room where Ankit, Priyanka, and Soundarya sleep.
10:46 PM
Faahman tells Sumbul to listen to his advice and play her own game. He also asks her to stay away from people who affect her mental health. 
10:50 PM
The next morning Archana starts to cry about what happened last night and Soundaya consoles her. 
10:53 PM
Priyanka tells Sumbul and Fahmaan she's glad he came to the house so Sumbul has a support system. She also tells him to speak his mind when there's a need. 
10:56 PM
Archana and Tina get into a tiff about cleanliness issues. And then, Tina tells Fahmaan about their argument and also explains how Archana exaggerates every issue. 
11:00 PM
Salman welcomes Fahmaan into the BB house. And when the host asks Fahmaan who was most happy when he entered the house, he says it was Sumbul. 
11:05 PM
Salman plays a game with Fahmaan. Salman directs contestants to play the good, old galat fehmi ke gubbare task. He asks Fahmaan to pop a balloon while popping an assumption about themselves. 
11:09 PM
Salman then shocks everyone and says that Fahmaan isn't the new wild card. In fact, he's just here to promote his new show, Pyaar Ke Saat Vachan: Dharam Patni.
11:13 PM
Archana and Soundarya try to sort out their differences. In another place in the same house, Priyanka tells Sajid and Ankit that Archana is the one making a mountain out of a molehill. 
11:16 PM
The cast of Tanaav enter the BB 16 stage. Salman makes them play a game where the cast says famous dialogues from the show. However, the twist is that they say the dialogues after inhaling helium gas from balloons. Everyone on stage is left in splits.
11:20 PM
Archana and Sajid are asked to sort out their differences. Sajid says that it's always Archana who provokes him and calls him names like "chamcha" and "raja". Archana retaliates and says that she needs to voice out her opinion because it is important. She also says that he taunts her saying she begged to be on the show after her eviction. She reminds Sajid once again that she didn't come here because of the contestants who forgave her, but because of Bigg Boss himself.
That's all for tonight folks! Stay tuned for more updates.
Support your favourite contestant by voting for them on this Bigg Boss 16 voting line.
Feature Image: Colors TV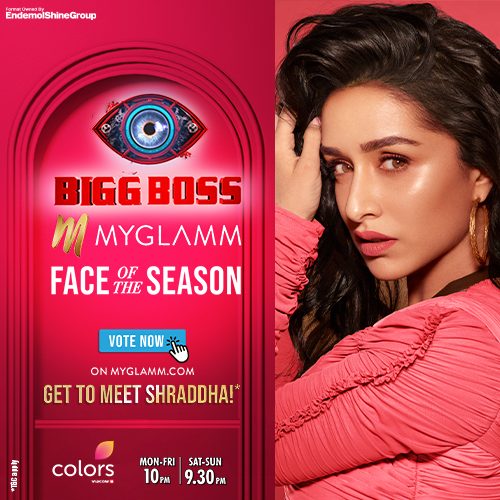 Vote for your favourite contestant on MyGlamm & get a chance to meet Salman Khan.