6 Perfumes That Will Make Your Valentine Come Begging Back For More
Just a quick little PSA for y'all: You definitely don't need to be in a relationship to celebrate Valentine's day. Whether you have any big plans or not, we always see Valentine's day as an opportunity to truly cater to you and feel your absolute best. And what better way to feel magnetic, confident, and full of grace than by spritzing on an irresistible new fragrance. Wearing one is certainly an easy way to earn compliments and leave a long-lasting impression, so yeah, we say treat yourself. 
This year, maybe you want an airy, citrus scent that hints at the thrilling butterflies-in-your-stomach sensation of a new crush. Or there could be a sweet symbolism in a warm, grounded floral, a nod to your long-term relationship. Wherever you currently stand in your personal life, scroll ahead for the most heavenly perfumes to try this Valentine's day. And, oh yeah, you'll want to keep wearing them long after the fact – they are just that good!
A Cool Girl's Guide To The Best Perfume For Valentine's Day And Beyond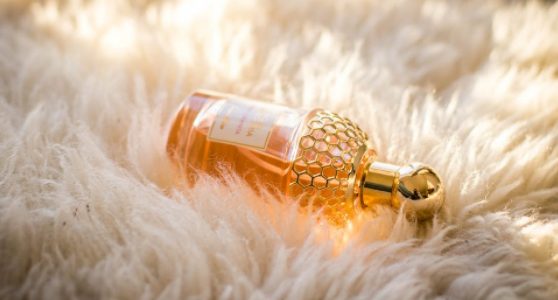 The One We're Lusting Over
A tribute to femininity, this perfume boasts a love affair consisting of vivid vanilla, refreshing lavender, and sandalwood. The sparkling vanilla and woodsy blend make it the perfect fragrance to elevate your overall style. Fresh and floral meets warm and sexy in this perfume. The heady, long-lasting fragrance will last long after the party is over, making it a great choice for those who like being the center of attention.
Parisian Charm In A Bottle
This perfume honestly feels like the perfect fragrance for Valentine's day. It's rich and warm and has notes of Sichuan pepper and Damascena rose. It's definitely a unique scent and one we'll probably be wearing all season. You don't need a lot of this one, a tiny spritz works well for bundling up in a coat, as it can definitely be a bit overpowering if you overdo it. But with a small spritz, you are golden.
The Reviews Of This Fragrance Don't Lie
Inside this gorgeous, iridescent bottle is a flowery combo of soft, sweet, and playful notes. If you're itching for a vacation, this can be the 'it' perfume for you, splash it for you next night around the town or date night for that extra something. It feels like we are getting a warm cosy hug from a friend when we wear it. 
To Grab The Attention Of That Special Someone
For something with a little more zing to it, go for Bvlgari's Eau Parfumme Au The Vert. It's citrusy, invigorating, and almost guaranteed to grab the attention of that special someone. It's truly the perfect supplement to any holiday outfit, really. 
Fragheads Love This One!
Ok, we're not exaggerating when we say, this fragrance is one of the most incredible scents we've been lucky enough to spritz. Designed to make its wearer feel sensual, wear it before your date to enhance your power of seduction. This has a particular level of charisma and grace we seem to always find ourselves reaching for. 
To Score Tons Of Compliments
To be perfectly honest, this is my exact V-Day pick. Tuberose flowers are nocturnal bloomers, adding a sweet air of mystery to the fragrance that feels soft yet captivating.
A Floral That Goes With Everything!
This perfume is a confidence boost in a bottle. If you like warm, vanilla-laden scents, this will be your V-day vibe. Add in a few subtle, floral notes and you have yourself a truly extraordinary scent. 
Memorable to the last drop!

Featured Image: Instagram
© 2023 THE GOOD GLAMM GROUP