Most of us skincare fanatics (including me, duh) never thought we'd take a fancy to body oils until treating your body to a relaxing hot oil massage felt like a warm, cosy hug. Pampering your body is equally important as caring for your face. Most of us do our best to cover all of the basics, from eating healthy to exercising consistently. But ladies, we often forget to treat ourselves to a therapeutic H2T massage sesh that helps in reducing muscle strain and detoxifying both the mind and body.
So take a step back and squeeze some time out of your busy schedule to book yourself a spa day at home. If you're still not sure which one to add to your cart, our selection will leave you with plenty of options.
Benefits Of Body Oil Massage
What most of us don't realise is that while you may be completely relaxed, your body has slipped into a full activation mode during a relaxing massage sesh. Lit candles, soft music, a mood-setting scent, a feeling of tranquillity—it's bliss. A calming massage awakens your nerve cells, stimulates your muscles, organs, and glands; moves blood and lymph fluid; and causes a slew of cells to synthesise and release chemicals and hormones. It also works well to calm your mind and melt away all your worries while moisturising dry, flaky skin.
4 Upbeating Body Oils That Will Give Your Skin Some Much-Needed TLC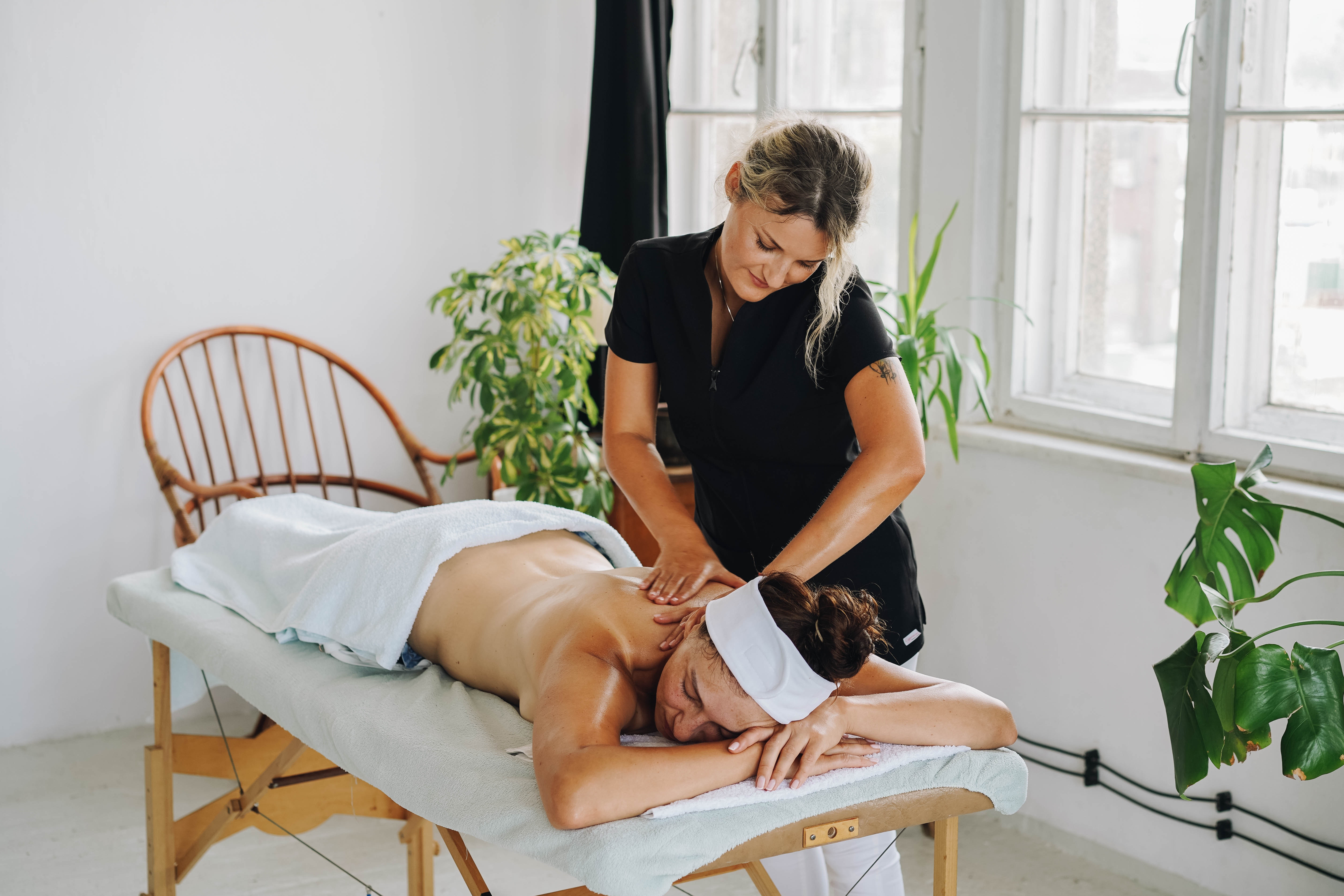 For Friday Night Ritual
For days when you're all over the place, Oriental Botanics Sandalwood & Neroli Body Massage Oil will help reduce muscle tension and fight anxiety. It is a unique blend of lightweight and non-greasy oils like almond, jojoba, grapeseed, coconut, and avocado to gain temporary relief and ease muscle pain. After a long, stressful day, pamper yourself with a full-body massage using this oil and enjoy the revitalising scent of sandalwood and neroli! This premium oil blend contains no additives, parabens, or silicones.
For The Zen You
Biotique Bio Avocado Stress Relief Body Massage Oil is one of the second best body massage oils for relieving stress due to its unique blend of avocado, almond, sesame, sunflower, and margosa oils. A full-body massage with this oil will eliminate all of your body's exhaustion, tension, and aches. This oil, which is naturally moisturising, softens rough skin and stops it from becoming dry.
To Relax Your Senses
Soulflower Sandalwood Aroma Body Massage Oil, made with the goodness of jojoba oil and olive oil, is extremely therapeutic for people suffering from stress and exhaustion. People dealing with chronic ailments might also benefit from this oil for temporary relaxation and pain relief. This oil is high in vitamin E and has a pleasant aroma, which can also be used for a luxe aromatherapy massage.
The Magic Elixir
Tired to drag yourself to a salon and spa? Enter Oriental Botanics Jasmine & Mogra Bath & Body Oil that will check all the right boxes. This rejuvenating body oil has the most romantic scent that is too tantalising to completely give up. It not only makes your skin soft, silky, and beautiful with each use, but it also tightens up wrinkled skin and improves your mood with its lingering aroma.
Enjoy an invigorating me-time at home with this selection of body oils. Get ready to soothe all your senses.
Featured Image: Instagram