You may already have your little one's skincare routine sorted, complete with a nourishing oil massage, a moisturising body bath, and then following it up with a rich and hydrating body lotion to keep their delicate skin protected and nourished. But did you know that following a dedicated haircare routine for your baby is equally important and can help maintain your little one's mane? In fact, the most important step in your baby's haircare routine should be oil massage, followed by a wash with a mild and plant-based shampoo.
Oil massage is essential for your baby's scalp and hair as it provides several benefits that ensure good hair health and strong growth. But to reap the maximum benefits of hair massage for babies, you need to use the best baby hair oils, enriched with vital hair-strengthening nutrients and minerals, such as coconut oil and almond oil.
To help you make the right choice, we have covered the factors that you should consider before purchasing a hair oil, and the best baby hair oils that you can try. Keep reading to know more. 
Why Use A Baby Hair Oil?
Like adults, a hair oil massage for babies boasts multiple benefits. Om improving their scalp health to removing dry flakes, a hair oil massage can do it all! Remember to be gentle while oiling your baby's hair and use circular strokes for massaging. Avoid putting any kind of pressure on their scalp and gradually pat the oil on your baby's head to allow it to soak into their scalp. 
10 Best Baby Hair Oils In India
While purchasing a hair oil for your child, you must stay away from all kinds of harmful ingredients. In particular, you should keep an eye out for allergens or any irritants that might not suit your baby's skin. Here we have listed the best baby hair oils that are plant-based and free of toxic and harmful chemicals.
BabyChakra's Organic Coconut Oil
This organic coconut oil from BabyChakra gives the gentlest care to your little one's scalp and keeps it moisturised to prevent dry scalp conditions. The best part is that this oil is formulated with cold-pressed and virgin coconut oil which boasts antimicrobial and antifungal properties and penetrates deep into your little one's scalp to keep their hair follicles stimulated and prevent dandruff. It also helps hydrate their scalp and loosen cradle cap flakes, which you can then remove with a wide-toothed comb. 
Moreover, this organic coconut oil is a multi-tasking product, and can also be used for baby body massage for healthy skin and strong bones. With so many benefits in a single product, you definitely don't want to miss trying this out.
The Moms Co.'s Natural Baby Hair Oil
The natural baby hair oil from The Moms Co. is specially made for your baby's delicate scalp and helps strengthen and promote hair growth. It is blended with 10 powerful botanical oils like argan, amla, avocado, and marula oils that help protect your baby's delicate hair and prevent scalp dryness and itchiness. The hair oil is hypoallergenic, mild, and USDA-certified, and considered suitable for use since day 1. Additionally, it contains no mineral oils, toxins, and synthetic fragrances, making it the best choice for your little one.
BabyChakra's Strengthening Baby Hair Oil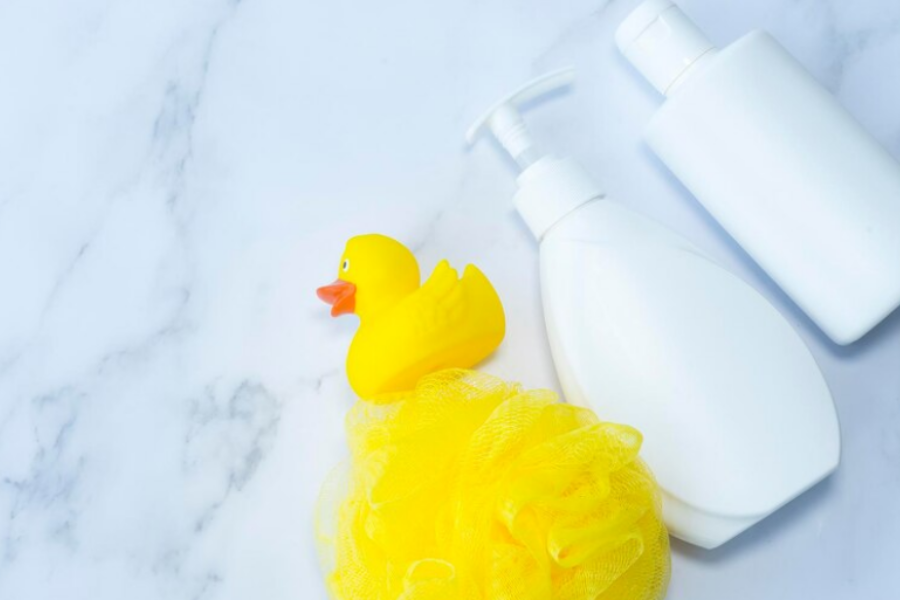 If you want to promote better hair growth in your little one, you should try this strengthening baby hair oil from BabyChakra. This oil is enriched with superstar ingredients, such as baobab oil, avocado oil, and marula oil that moisturise your hair roots from within and promote stronger hair growth. While avocado oil is considered a storehouse of fatty acids that nourish your scalp, baobab is known for its anti-hair fall and strengthening properties. Additionally, this hair oil is lightweight and non-greasy, meaning you can use it regularly to promote good hair health in your little one.
Himalaya Baby Hair Oil
The key ingredient of this hair oil is amla, and it is designed with the purpose of strengthening and promoting your baby's hair growth. The oil contains a blend of bhringraj, fenugreek seeds, and coconut that ensure your baby's scalp and hair are nourished and moisturised and promote regrowth of damaged hair. Dermatologically and clinically tested, this product is great for softening and conditioning your baby's scalp.
Chicco Baby Massage Oil
This non-sticky baby oil is excellent for your little one's skin and hair. It is formulated with natural active ingredients like vitamin E and rice bran that nourish and moisturise your baby's scalp and are useful in combating cradle cap and dandruff. It is safe for daily use and is a sleep-inducing agent that soothes your baby's senses.
Well's Almond Oil
This is also a multipurpose hair oil, which you can use on your baby's hair and skin. Almond oil is known to be rich in vitamin E, which acts as a great moisturising agent and also helps prevent free radical damage. This raw almond hair oil deeply nourishes your baby's scalp and promotes strong hair growth. It also keeps scalp concerns like dandruff and cradle cap at bay.
Mothercare's All We Know Baby Oil
This hair oil is hypoallergenic and dermatologically tested, making it suitable for your baby's extra-sensitive scalp. It contains natural extracts like olive oil and chamomile oil and is perfect for massages. It keeps your baby's scalp moisturised and stimulates their hair follicles to promote healthy hair growth.
Mom & World's Baby Hair Oil
This product meets all your baby's hair and scalp requirements. It contains a range of cold-pressed and organic oils, such as jojoba, coconut, and olive oil that protect your baby's scalp from excess dryness and strengthen their hair strands. The oil is lightweight and contains no parabens, mineral oils, and toxins, making it a suitable product for your baby.
Max Care Virgin Coconut Oil
Are you looking for an oil that offers much more than just hair benefits? If yes, then this baby oil will not disappoint you. It is formulated with fresh coconut milk and virgin coconut oil that is virgin, unrefined, and unbleached. It promotes healthy hair growth, controls dandruff, and strengthens your hair strands. Additionally, it helps improve your child's metabolism and immunity.
Johnson's Baby Hair Oil
Enriched with pro-vitamin B5 and avocado oil, this hair oil keeps your baby's hair and scalp healthy and prevents dry scalp conditions like cradle cap and dandruff. The oil is clinically proven to be gentle and mild, and you can also use it to stimulate your baby's senses.
Massaging your baby's scalp with hair oil is essential for keeping their scalp clean and healthy, and also ensures proper hair growth. Moreover, it relaxes them instantly and hence is useful for soothing fussy babies. However, you should be careful while purchasing hair oil for your baby and ensure to stay away from chemically-loaded and artificial products. Make a safe choice and choose from the list of the best baby hair oils that we have mentioned above to give your munchkin proper love and care.
Also read:
Skincare routine for baby's sensitive skin: Check out this list of potent baby skincare products suitable for your little one's sensitive skin.
Chemical ingredients in baby skincare products: Watch out for these chemical ingredients the next time you go to purchase baby skincare products.
Feature image: Pexels.com