Kareena Kapoor Khan's Gradual But Phenomenal Beauty Evolution Traced Through KWK
'Main Apni Favourite Hu,' Kareena asserts. But does she know that she's everyone else's favourite too? That was rhetorical. Much of our love for Kareena comes from cinema (s/o to Jab We Met); but the rest of it is courtesy of her controversy-coated, gasp-inducing answers on Koffee With Karan. Remember her not-so-subtle jabs or her in-general quips on the B-town bunch? While Bebo's dialogues are forever cemented as iconic and impeccable, it's her beauty looks on KWK that have been crowned as statement-making. And that's why we're looking at how Kapoor's sense of beauty evolved over the years through her appearances on KWK — from her Barbie-like Poo era to her soon-to-be-mom era, here are Kareena's biggest beauty moments on the chat show. Because 'kaun hai woh jo Kareena ko mud kar nahi dekhega?'
It's Time To Spill The Tea—Or Coffee: Here's Every Time Kareena Kapoor Stunned Us On KWK
Season One
Koffee With Karan debuted in 2004 — it's no surprise that Y2K trends dominated every mood board back then. The relevance of the era wasn't lost upon Bebo either — with the star tight-lining her eyes with jet-black kohl and punctuating her look with a dusting of gold shimmer-laden eyeshadow. Further playing into the aesthetic, the Kabhi Khushi Kabhie Gham actress' lips are outlined with a purple-tinted lip-liner and filled in with clear, shiny gloss. Her side-swept tresses boast a caramel-ish shade that is glamorised by OTT curls.
Season Two
While Kareena retains her overall aesthetic from KWK's first season, she does swap her gold-coloured eyeshadow for a wash of silver on the lids and opts for a middle part complemented by a straight, sleek blowout instead. Her lips are drenched in splashes of gloss, and her look sings the praises of '90s minimalism.
Season Three
Kareena is dripping in black — her eyes display thicker-than-ever streaks of black, and her tresses have disposed of their blonde-brown alter-ego for a jet-black makeover. Her cheeks sing to the miracle of pink-toned blush, and her lips boast the lightest hue of glossy pink. We're loving how dewy and radiant her skin looks in this episode.
Season Four
Nothing rivals Kareena's hairdo in this one — her side-swept tresses are paraded on one of her shoulders, and graze her collar bones in curls. Notice the stamps of pink on her lids, and how well they marry with the streak of grey (a welcome change from black) on her waterline. The pink from the lids migrates to her cheeks too and drips down to her lips — all while lending a certain softness to the whole look.
Season Five
We've gotta say — this one's all about that mumma-to-be glow, and we're living for it. It seems like Kareena has enlisted the pregnancy glow for this look — with the subtlest evidence of blush gracing her cheeks. She opts for a shade of nude on the lips, and the softest hue of pink on the lids. Her hair has undergone a transformation too — bidding adieu to its neat, polished look for a messy, voluminous one. This look is subdued and classic, and we love it that way!
Season Six
Kareena makes a head-swivelling comeback on KWK's sixth season — the actress struck her waterline with white to make her eyes pop, and embellished her lids with a shimmery shade of eyeshadow that matched her skin tone effortlessly. An orange-red flush comes into bloom on her cheeks, and her lips display a shade of subtle pink. And all we can think is….marriage and children look so good on her. Such a diva!
Which one was your favourite Koffee with Karan Kareena Kapoor look? We'll wait.
GLAMM Up Like a Star with a FREE gift: Click Here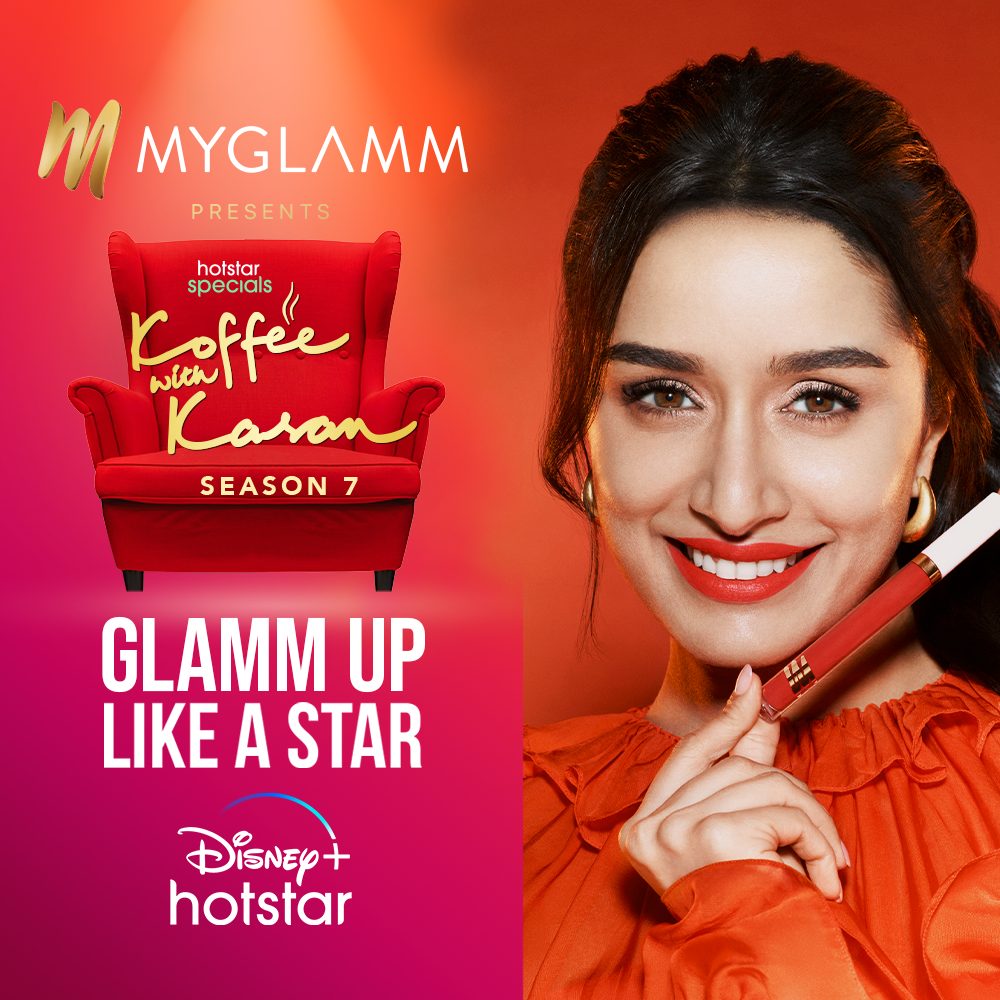 Related Stories:
Featured Image: Instagram
© 2022 THE GOOD GLAMM GROUP