We've said it a million times, but it bears repeating: you are what you eat. What you put in your body is equally important as what you put on your face. You could have a very detailed skincare routine with all the bomb products, but if your skin isn't feeling and looking its best – it's time to make some healthy eating choices. Certain foods can worsen skin and promote aging. But DW boo, there are tons of collagen-boosting foods that'll pave your way to better skin and hair. 
If you want skin like J.Lo, we're listing down ten anti-ageing foods that will stave years off your face. You need to add magical wrinkle-fighting food you need to add to your diet, stat. 
10 Anti-Aging Foods That'll Help You Look Younger
ICYMI, a stellar skincare regimen isn't a guaranteed ticket to healthy, youthful-looking skin. Don't get us wrong, it plays a major role, but there are so many other things to consider in the guest for skin like J.Lo, and food choices top the list. As we blow out our birthday candles, the natural collagen levels in our skin deplete which then leads to signs of aging, dullness, and dryness. Adding collagen-stimulating food items can help attain the glowing skin of your dreams. So to help you with the task, we're listing down ten anti-ageing foods that can help you look younger. 
Red Bell Pepper
When it comes to maintaining your skin's health and keeping dullness and dryness at bay, this vitamin C-rich treat is an absolute genius. Red bell peppers are rich in antioxidants and vitamins that help with a range of skin concerns. You can slice bell peppers and eat them with hummus as a snack or cook them up or add them to a raw salad. 
Natural Ceramide Face Serum
This anti-ageing serum will ruin all other serums for you. Enriched with ceramides along with hyaluronic acid, vitamin E, Cici, and niacinamide, it boosts collagen levels in the skin and increases the skin's elasticity. Thus giving smoother, brighter, and tighter skin. 
Papaya
This juicy, delicious anti-ageing fruit is loaded with minerals, antioxidants, and vitamins that can help you increase skin elasticity. It's rich in vitamins A, B, C, E, and K as well as other nutrients such as calcium and magnesium. These vitamins and minerals can help curb damage from free radicals. It also contains an enzyme called papain which offers a myriad of anti-ageing benefits. 
Broccoli
Broccoli is chock-full of anti-ageing and anti-inflammatory nutrients. It also contains vitamin C and K along with calcium and fibers. Vitamin C helps in boosting collagen production which leads to better skin health and elasticity. Mix it in a salad, steam it, or eat it raw – the choice is yours. 
Natural Ceramide Face Cream
Meet the day cream that'll make your beauty-loving heart skip a beat. Boasting powerhouse ingredients such as ceramides, hyaluronic acid, cica, and niacinamide – it gives the skin a hard-hitting hydration while reducing the appearance of fine lines and wrinkles and preventing UV damage. We like!
Nuts
Most nuts are a great source of vitamin E – the holy-grail ingredient that helps in nourishing the skin as well as protect it from the harmful effects of UV rays. The anti-ageing food hydrates the skin leaving behind a lit-from-within radiance. We suggest you don't peel off the skin as some of the vitamins are in the skin. 
Avocados
Avocados contain inflammation-fighting fatty acids that promote soft, supple skin. They are also rich in nutrients that help in preventing and delaying early signs of ageing. Much like salmon, they are rich in omega-3, which is responsible for keeping the immune system functioning properly. Eat it with toast or add it to your green salad to reap its skincare benefits. 
Natural Age Control Night Cream – Anti-Aging
This night cream toils as you snooze to unlock the dewiest skin of your life. All you need to do is apply a generous amount of this night cream before going to bed and let it work its magic. The heavenly-smelling night cream blankets the skin while it soaks in the goodness of the cream. Add it to your pm routine to wake up to skin that has a halo of its own.
Sweet Potato
If you're bored of white potatoes, it's time to add their cooler cousin to your diet. They are jam-packed with vitamin A – which gives the fruits the orange hue. It not only helps in revitalising damaged collagen but also fights off the appearance and slows down the process of formation of fine lines and wrinkles. 
Black Sesame Seeds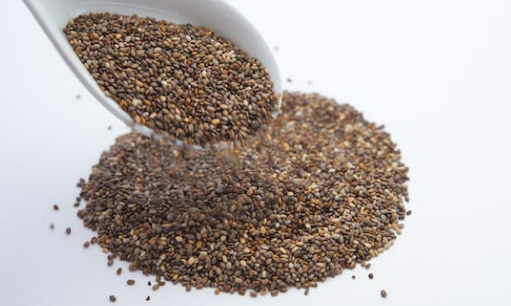 When it comes to miracle workers for skin, black sesame seeds deserve the G.O.A.T status. Packed with amino acids, essential fats, potassium, oleic acid, and fiber – the seeds offer infinite skin-beautifying benefits and need to be added to your every meal. Add it to your avocado toast for an extra boost. 
Natural Age Control Face Oil – Anti-Aging
This face oil is legit like glass skin in a bottle. It'll make your skin glow with the lights of many suns. Just apply it evenly all over your face and you're sure to score a lot of compliments on how gorgeous your skin looks. 
Heirloom Tomatoes
No hyperbole here: Tomatoes have natural SPF. The presence of lycopene in the anti-aging fruit helps prevent UVA and UVB damage. This doesn't mean you can skip applying your sunscreen, but you can increase its effectiveness by adding tomatoes to your diet. 
Green Tea
Green tea is packed with antioxidants that help in fighting damage due to environmental aggressors as well as sunlight.
Natural Ceramide Face Toner
This toner is an absolute must-have for dewy skin devotees. It'll have you at the very first spritz. Enriched with plant-based AHAs and ceramides, it rebuilds the skin while leaving a beautiful dewy glow.
Flax Seeds
Meet the anti-aging food that will majorly up your glow game. Flax seeds are rich in antioxidants such as lignans, omega-3, and alpha-linolenic acid (ALA) which supports a healthy skin membrane. Add it to your salad and smoothie to take your skin from zero to a hundred. 
Natural Vita Rich Under Eye Cream – Anti-Aging
It's time to perk up those peepers. If you're on the hunt for an under-eye cream that helps you curb the under-eye darkness and puffiness, this is the eye cream to call on. Hyaluronic acid and chia seed oil in the formula hydrates the skin while reducing the look of fine lines and wrinkles. 
Buh-bye, fine lines!
FAQs
What foods make your skin look younger?
Foods rich in vitamins, minerals, antioxidants, and fatty acids can help delay signs of aging. They inject much-needed nutrients into the skin, leaving behind a healthy glow. 
What foods to avoid for aging?
You need to avoid greasy and fried food, white bread, processed meat, trans fat, charred meat, and spicy food in order to maintain your skin's health. 
Can you reverse aging skin with diet?
Aging is a part of life and you cannot wholly reverse it. You can, however, slow it down and help delay it by adding collagen-boosting foods to your diet. In addition to this, you need to apply sunscreen every single day to prevent premature aging. 
What foods age your face?
Processed food, frozen food, oily food, sugar, alcohol, and caffeine are the major culprits behind aging. 
Featured Image: Instagram