Iconic! Alia Bhatt Marks The New Generation of Sabyasachi Brides In An Ivory & Gold Bridal Saree
It's a tale as old as the time. For aeons now, we have been waiting for a Bollywood bride who does not look like she is wearing a uniform. For forever, we have been looking for a Bollywood bride who embraces a bridal look that is a reflection of her persona. Never did we think that Alia Bhatt would be the one to push the envelope but guess what? That's exactly what has happened. Today is iconic and not just because it marks one of the biggest Bollywood weddings of our lifetime. Today, we behold the next generation of the Sabyasachi bride—she is bold, she is unique, and she is glorious. She is Alia Bhatt.
Here's a lowdown on the actress's bridal look and everything that we are loving about it:
Alia Bhatt: The Stunning Bride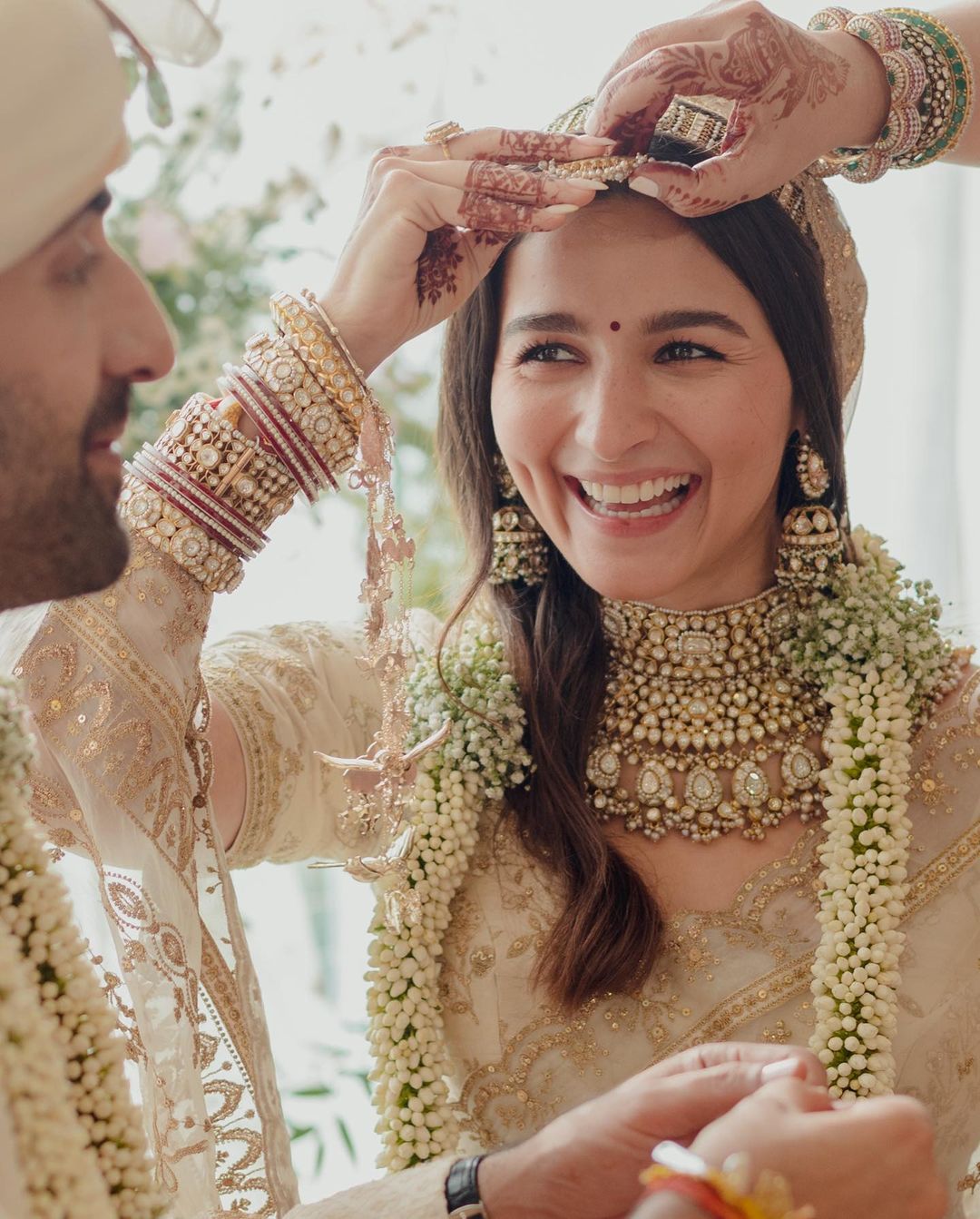 In the past couple of months, when we saw Alia Bhatt showing up in one ivory look after the other, we thought it was only for the Gangubai Kathiwadi promotions. Little did we know that some intense foreshadowing was into play.
Taking a sharp departure from hoards of crimson and scarlet brides, Alia opted for an ethereal ivory and gold outfit that has won our hearts. Oh, and did we tell you that it is not a lehenga, it is a saree! Basically, Alia went as far from the reigning bridal trends as she could and we stan her bridal avatar. For the ceremony, Alia Bhatt opted for a hand-dyed ivory saree crafted in organza. The drape was embroidered with Sabyasachi's signature tilla work and enhanced with a scalloped border that added to its gauzy feel. To finish off the look, she added a handwoven tissue veil and we are going to take a while to recover from this. This look has everything that it takes to make an iconic bride. This look is what trends are made of!
The actress aptly finished off her ensemble with a seeshphool that is suiting her really well, a pearl and polki necklace and matching kangans. To date, we have seen Alia in so many bridal looks on the screen but nothing beats this one. Nothing.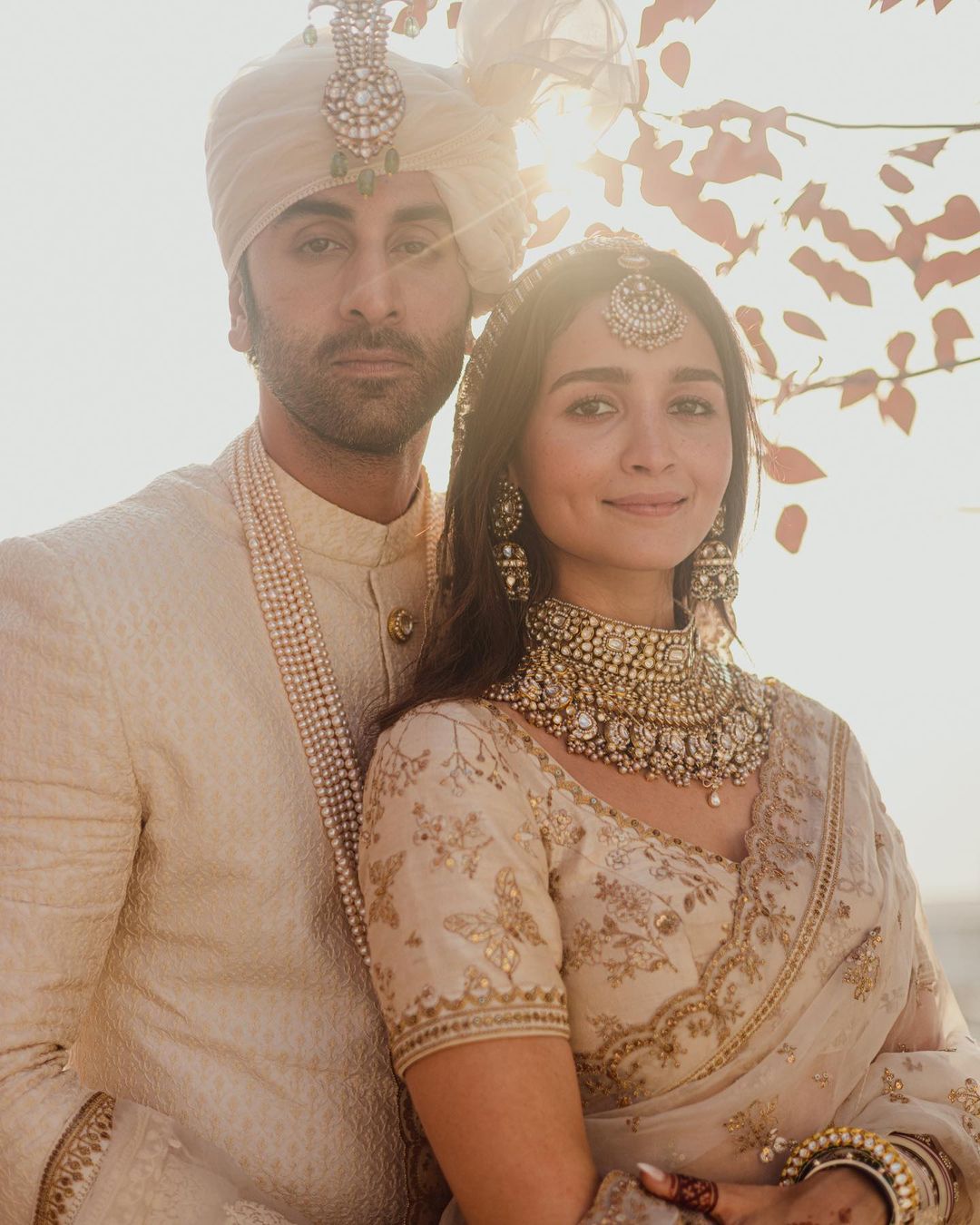 Ranbir matched his gorgeous bride in an embroidered silk sherwani beautifully elevated with uncut diamond buttons. A silk organza safa and an embroidered shawl were added to finish off the look along with an embellished kilangi and multistrand pearl necklace by Sabyasachi Heritage Jewellery.
Here, take a look at the couple in all their glory:
But wait till we show you the dreamiest video of Ranbir and Alia. Here's something that will ensure you that all this waiting for the #RaAlia wedding was absolutely worth it:
Guess, we will never get over how divine the two of them look together! Then again, we did not expect anything less from the Bollywood shaadi of the decade. Here's wishing Alia and Ranbir a lifetime of joy and happiness!
Featured Image: Instagram
© 2022 THE GOOD GLAMM GROUP