After almost two years I made my way back to a movie theatre and what a glorious return it was! Kabir Khan's 83 is the kind of film that demands to be seen on the silver screen and I am so glad I got the chance. NGL, my cheeks are hurting ATM from smiling so much throughout the film. If I was asked to sum up 83 in one sentence I'd say— if you love cricket watch 83, if you don't love cricket watch 83 and you'll fall in love.
Ranveer Singh as Kapil Dev is nothing short of perfection–from his body language to dialect–the actor has killed it. A few minutes into the film, Ranveer gets lost in his character and all you can see is the 1983 Indian cricket team captain.
It Is Ranveer Singh's Film Through And Through
When 83 was announced everyone was curious if Ranveer can capture the charisma of Kapil Dev? He certainly has! In his career, the actor has played OTT roles like Khilji in Padmaavat, Bajirao in Bajirao Mastani, but this time he has not acted but lived as a 24-year-old cricketer from Haryana who doesn't want to settle for anything less than the world cup trophy.
There are countless moments that will stay with you once the film is over and most of them feature Ranveer.
5 Moments From 83 That Prove It Was Ranveer Singh's Best Performance Yet
The Opening Sequence
The moment when we see Ranveer as Kapil, he is practising his trademark yorker and he nails it. The entire theatre erupted in cheers and that's how you know the actor has made an impact.
The Iconic Press Conference
This part is a personal favourite fosho! When Kapil is faced with disrespectful questions by the English press, he shuts them down with, "As I said before, we are here to win". Ranveer was so calm in this sequence but his eyes delivered the much-needed rage.
The Turning Point
After making an impactful start in the world cup, the team India falters and that's when we see the best of Ranveer in the film. Despite his fears, he pushes his team to try their best. "Koi kahe ishone humse better bowling ki, batting ki, fielding ki hai, mujhe koi phark nahi padta, par koi yeh naa kahe ki unhone humse jayda koshish ki hai," says Ranveer with great convocation in one of the most impressive scenes of the film.
Kapil And Romi's Adorable Moments
While I honestly don't think that the film needed any romantic subplot, Ranveer and Deepika's chemistry did make a mark. DP as Romi Bhatia (Kapil Dev's wife) is every bit charismatic and confident as the OG. It was pretty exciting to see #DeepVeer back on the silver screen.
Annnnddd The Broken English
The OG Kapil Dev has often said that he had a tough time due to his broken English. This is exactly what Ranveer has portrayed in the film. When the actor speaks in a blend of Punjabi and English, it is how you would imagine Kapil Dev speaking back then. It appears genuine!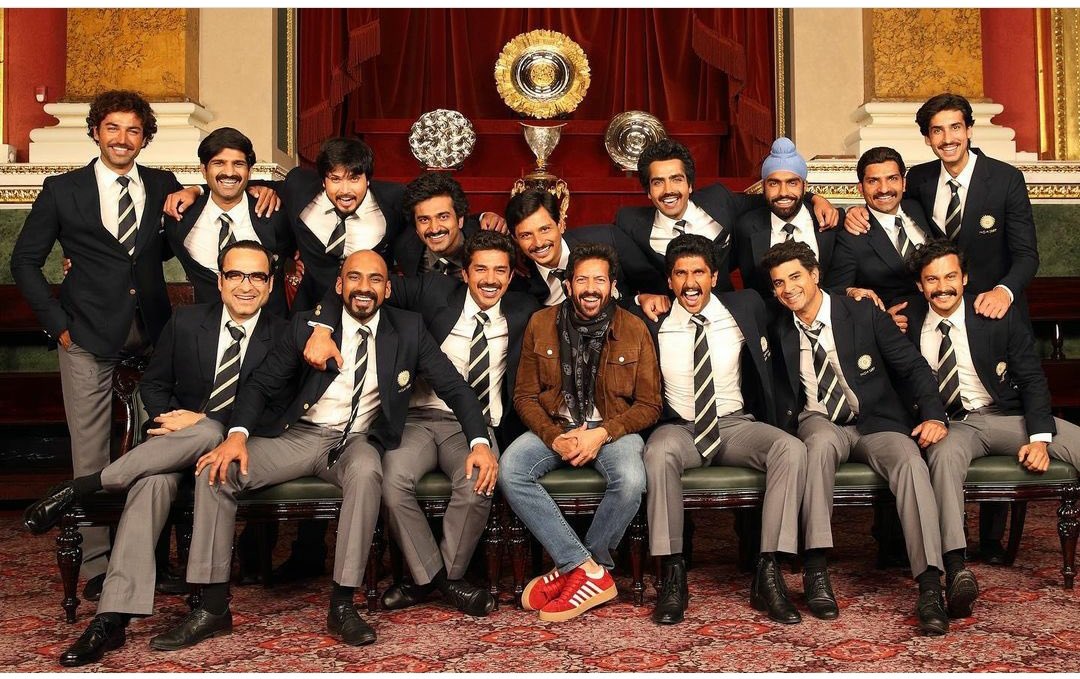 While 83 captures the success story of the underdogs, it also reminds you of the magic that defines Bollywood. Sure, there are OTT moments, not-so-subtle background scores, but almost nothing feels unnecessary. 
The on-field action in 83 is entirely convincing, and there is a beautiful confluence of real-life footage and film scenes. From Yashpal Sharma's (Jatin Sarna) explosive batting to Roger Binny's (Nishant Dahiya) impressive bowling, every actor understood the assignment.
However, there are a few things the film could have done without—Deepika Padukone's cameo as Romi Bhatia, OTT emotional storyline involving Balwinder Sandhu (Ammy Virk) and a few other things. 
I just want to give a special shout out to Jiiva, who played Krishnamachari Srikkanth's part, to perfection. Pankaj Tripathi as team's PR Man Singh did exactly what was asked of him and nothing more.
When the film ended, there were tears, smiles and a feeling of pride. For those of us who weren't there for the 1983 victory, this film is a chance to live it. As the OG Kapil Dev once said in an interview, "After 83 world cup, we, as a country, changed and felt we weren't less than anyone and could do anything. It gave us that self-belief, and see where we are today." 
This is exactly what the film does— it makes you believe! Kabir Khan took a spirited real-life story and gave it the flare it rightfully deserves.
So, fam if you are looking for something to do this Christmas, you can't go wrong with watching 83.
Feature Image Credit: Twitter