NGL, as a kid I was obsessed with the 2006 film Bunty Aur Babli! I danced on Kajra Re at every family function, I bought Rani Mukerji-inspired suits for shaadis and I even had a CD (yes, I am that old!) of the film. So, when the sequel of the film, Bunty Aur Babli 2, was announced, I was thrilled AF! I was ready to get my mind blown, but unfortunately, the sequel just couldn't recreate the magic of the OG Bunty Aur Babli. TBH, it is not a bad film, but as a sequel, it's a let down.
But before you get a peek into my take on the flick, have a look at the trailer.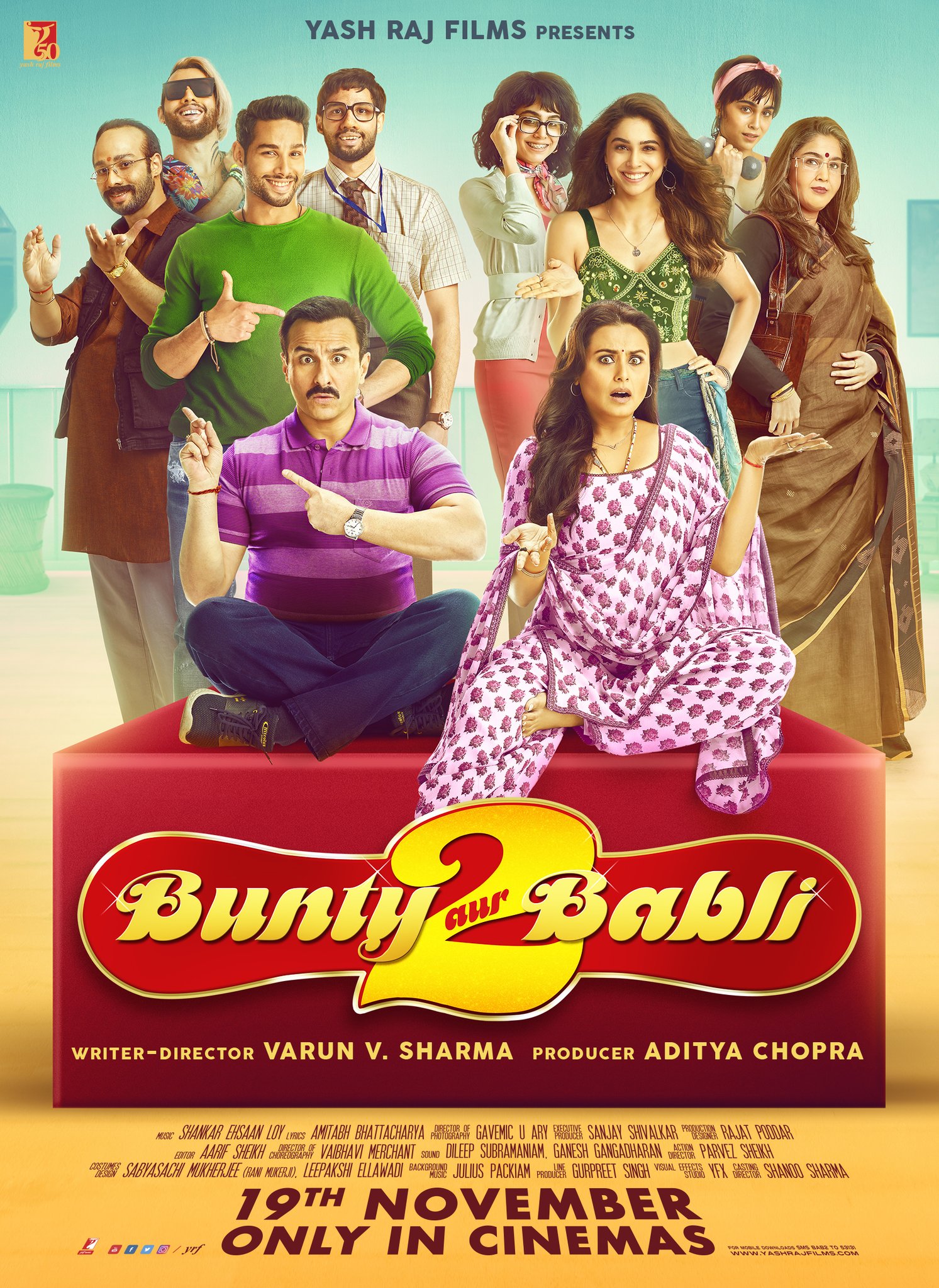 In the sleepy town of Uttar Pradesh, we meet Bunty (Saif Ali Khan) & Babli (Rani Mukerji) who are now living an honest life as Rakesh and Vimmi. Now let's get to my honest thoughts! 
Rani Mukerji as Vimmi aka Babli is ICONIC! She is my spirit animal and I couldn't get enough of her on-screen.
One question though – why is Babli wearing such garnish suits?
I miss Abhishek Bachchan as Rakesh Trivedi! Though Saif Ali Khan has done a good job in the sequel, he just couldn't match Junior Bachchan's brooding intensity.
Now comes the twist, there is a new Bunty and Babli in town! Siddhant Chaturvedi and Sharvari Wagh come into the picture and I have a lot of thoughts about them.
Siddhant is just playing a con artist version of Gully Boy's MC Sher. I was expecting a lot more!
Sharvari is stunning but she doesn't stand out like the OG Babli. Her performance is not bad but she brings down the energy in the film. Sorry, not sorry!
The two are doing a decent job but damn their dialogues are a yawn-fest…
Remember the Taj Mahal scam in Bunty Aur Babli? Well, in the sequel, scams are bigger but somehow duller. 
Why is everyone moving in slow motion? Honestly, I am getting Race 3 deja vu and that's not a good feeling!
I miss how unapologetic and badass the OG duo was! The new Bunty and Babli are trying to show their moral side in the film and it is *yawn* boring AF.
Pankaj Tripathi as a wacky police inspector is SO massively underutilised in this film. I am so bummed about this!
Where are the catchy songs?
Am I getting old or is this film just too loud? Maybe they are trying to distract me from the fact that the screenplay is super flat?
The best part of the film is Vimmi and Rakesh's son who got my attention right from the first scene. 
Pankaj Tripathi's screen time is so limited, I want to call it a cameo role.
The film's description on Wikipedia says it is a dark comedy. I am waiting for the darkness to arrive.
So now everyone is chasing everyone and I am trying not to cringe at these caricaturish side characters!
Boy, this film is looooongggg….
I honestly wish someone would make a sequel of Hum Tum, 'coz Rani and Saif are so cute together.
The second half of the film is a mess, chalo khatam karo ab!
It is over now and all I can say is – perhaps some films are better left alone? 
I genuinely wanted to like this film…But I couldn't! If someone has not watched the 2006 film, then only they can enjoy it. I am going to rate this movie a 2.5 out of 5, simply because it's a one-time watch. But don't have too many expectations guys!
BRB, I am now going to stream the OG Bunty Aur Babli and make a day of it!